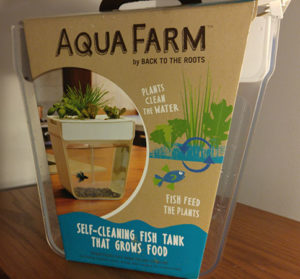 Hey Pet Parents & Pet Lovers,
I'm a bit sad to let you all know that we are getting rid of the Back to the Roots Aqua Farm.
When we first got the tank we were excited to start our self sustainable garden. My s.o. is keen on all things green and was excited to start growing our own herbs.
I will say, this tank was fantastic and had our plants growing for months at a time. Even our cat grass survived a month and a half (longer than it has ever lasted in potted soil.)
Beau even loved sleeping next to the tank at night and we made sure to grow him his own cat grass at the top just in case he had the munchies at night and wanted a midnight snack!
The thing is… The Aqua Farm wasn't a very good fish tank. Now, please note that my experience shouldn't deter you from trying the product out for yourself, but it definitely wasn't the product we
thought it would be.
The Aqua Farm was extremely hard to keep clean. It doesn't have a carbon or charcoal filter. Because of this, a lot of debris would stay stuck in the pump's tubing. The tubing is pretty thin and poop would get stuck to the insides causing me to have to clean out the tubing every third day. I made my own makeshift filter with a regular sponge and hoped that it would catch debris, but that still didn't work.
Most recently I waited a week to change the water in the tank (as long
as I wait to change the water in Blub's tank) and the water completely turned yellow.
So after just over a month of using this tank I would say it is high maintenance and not a good fit for new fish owners.
Do any of you have experience with this tank? How did it go for you? Did you solve any of the problems I was facing?