It's no secret that humans have used cats as a form of pest control for centuries. Even still, farmers often use cats to catch mice, bugs and other small vermin, but are cats any good at catching city-life pests?
With the rising number of cockroach infestations, especially in big cities, many apartment dwellers find themselves squishing these pesky bugs on the daily. I know I've had to kill my fair share of spiders, beetles and other creepy crawlers over the years. So, I have to be honest in saying, it would be amazing if my cats could hunt these bugs for me.
It's actually becoming more common that city dwellers turn to cats to kill cockroaches and in some cases this method of bug-killing has actually been proven as effective. The only question is is it safe for cats to catch or kill any type of bug? Are cockroaches safe for cats to eat or are they considered toxic?
CAN CATS EAT COCKROACHES?
While there are certain bugs that are considered toxic when cats eat them, cockroaches are not one of them.
Cats can happily hunt and eat most forms of roaches.
ARE THERE ANY BENEFITS FOR A CAT TO EAT A COCKROACH?
Not really, there is no real benefit to your cat eating a cockroach, other than the fact that they are very high in protein.
The main benefit of having pests in your house, if there is one at all, is the exercise your cat will get from chasing them for hours.
Cats, especially domestic cats, will spend quite a bit of time playing with their live food before eating it. You may notice your cat meowing at the bug, or batting at it over and over without placing much pressure on the bug.
Cats may also kill a bug but never eat it.
In my childhood home, Walker used to spend countless hours playing with centipedes. Sometimes you'd think that there were a few since he would take so long to kill and eat them, but he was mostly having fun!
MY CAT THREW UP AFTER EATING A ROACH… IS MY CAT POISONED?
Throw up, gagging and vomiting are three extremely common symptoms for a cat. While they can be a sign of being poisoned, in relation to cockroaches the chances very unlikely.
If your cat has thrown up after eating a roach the following could be the reasons.
1. Your Cat Is Not Used to Digesting Roaches
If this was the first time your cat has eaten a roach, your cat may have thrown up because they are not used to breaking down the proteins inside of the roach.
Due to the fact that roaches have a thick exoskeleton, it is harder for cats to break down their matter. Oftentimes pieces of the exoskeleton are not fully broken down and will appear in your cat's feces.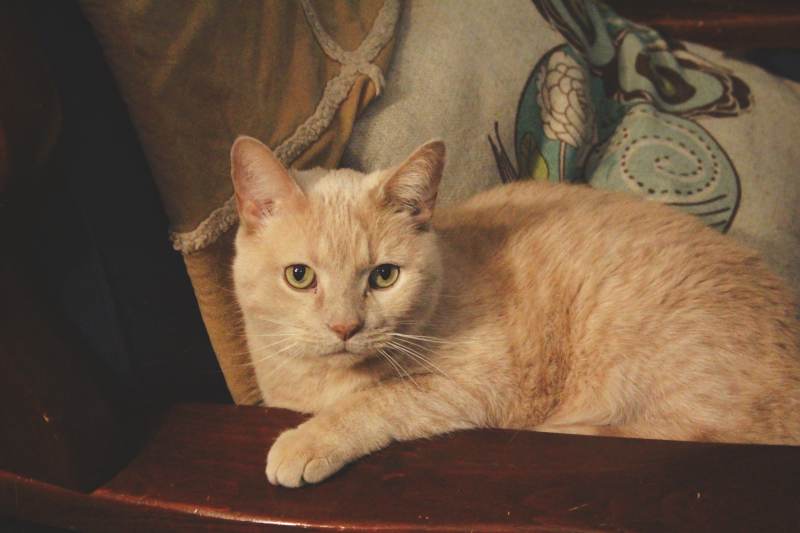 Your cat may be experiencing gastrointestinal problems from the roach. This somewhat ties into the first point, however, some cats will always experience gastrointestinal issues from eating insects.
Similar to cats who have G.I. problems from certain pet foods. G.I. problems don't always lead to throwing up, however dependant on how upset the insects make your cat's stomach. You may have to brace yourself to see the remains of all the bugs your little one has killed.
3. There Was a Piece Lodged
If you heard your cat coughing before they threw up, this can be a sign that pieces of the roach's exoskeleton have been lodged in the cat's throat. If the cat coughs for enough time, they will try to make themselves throw up.
Coughing is actually more fatal than throwing up as your cat may have trouble breathing.
In the circumstance where a cat is coughing due to pieces of the exoskeleton, it is best to call the vet and get assistance. Do not facilitate CPR unless you have been trained in it or have been instructed to by a vet.
4. Your Cat Ate Something Weird
It's hard to always keep an eye out on your cat, especially if you have a few of them.
I know that we've had some issues keeping track of what Beau eats because he's a bit of a sneak. Same with Kalista, she's always killing bugs and trying to sneak eating our chinchilla's hay.
Oftentimes cats get their paws on small pieces of food that dropped from the table or pieces of garbage that were left on the floor. These have been known to cause some cats to throw up, especially if they are plants or green matter.
5. Your Cat May Have Eaten Too Much That Day
Roaches should not cause your cat to get sick, especially if they are your standard everyday cockroach.
There are other types of roaches that can potentially be poisonous to cats, however, these depend on your location.
Often-times if you catch a roach you can call an exterminator to analyze what type of roach you have and they will let you know whether or not they are poisonous.
Note: If ever your cat is experiencing any of the above make sure that you keep them well hydrated and rush them to the vet immediately.
CAN CATS GET WORMS OR PARASITES FROM ROACHES?
Commonly insects don't carry parasites, however, some do carry stomach worms (Physaloptera). Insects that do carry this type of parasite are fairly rare, so you're usually in the clear.
WOULD YOU RECOMMEND I GET A CAT SPECIFICALLY TO KILL ROACHES?
No, I would not recommend it. Not only would I say it's a bad idea, especially because cats can be a lot of work to maintain, but I would also say it's a fairly bad idea because cats catching roaches is actually not very effective.
Again, cats will spend most of their time playing with these insects, especially if they are not hungry. Not only that, a lot of times cats will actually ignore small insects.
For example: Beau ignores most bugs, unless they are flying/buzzing around, Walker plays with insects and eats them about 20% of the time unless you kill them for him first, then he eats them 100% of the time, Kalista loves to hunt and kill bugs, but doesn't like eating them.
HOW MANY CATS DO YOU THINK IT WOULD TAKE TO KEEP MY HOME PEST FREE?
The number will vary based on the size of your home, the activity level of the cats and the personality of the cats (whether they are hunters or not.)
I did some research and it seems like 2-3 cats in an apartment usually do the trick or 5-7 in a house. Note that this information was not gathered from scientific studies, rather from forums and pest control blogs, but it does give you a good idea that you may need a number of cats to keep your house fully pest free.
WHAT PRODUCTS WOULD YOU RECOMMEND INSTEAD?
Being someone who has never had roaches in his life, I am making these suggestions based on reviews and research. The following are pet safe roach traps/repellants that have the best ratings: Ultrasonic Pest Repeller, Upgraded Ultrasonic Pest Repeller, Diatomaceous Earth, and Adhesive Traps.
CONCLUSION
Though it is considered completely harmless for a cat to both kill and eat a cockroach, I wouldn't recommend using cats as a method of pest control, especially if they have only been indoor cats.
At the end of the day, you would need between 2-7 cats in your house if you are hoping to eliminate all of the pets in your home.