Hey Pet Parents & Pet Lovers,
After adopting Kalista, I've been on a bit of a Calico addiction and we already know that I have a huge love for finding cute and quirky names for pets!
Although she's already named, actually after a League of Legends champion (because we're nerdy that way), it would be nice to see what other names we could have come up with that were either specific to her colouring, or named something "punny."
So let's get cracking and try to find and make up some of the best names you can give a Calico Cat! Same as the other post, I'm going to bold my favourite names! Let me know in the comments below which ones you liked the best!
My Favourite Names that Have to Do with their Colouring
Calicos being tri-coloured have the luxury of being named a number of artistic things. So, I dug deep into the art books for some of these and searched the web for ones when I got stuck!
Amber
Cami / Camo
Confetti
Dot
Dottie
Freckle
Inky
Jigsaw
Marble
Mosaic
Oriole
Patches
Picasso
Pixel
Pollock
Scraps
Splat
Splotches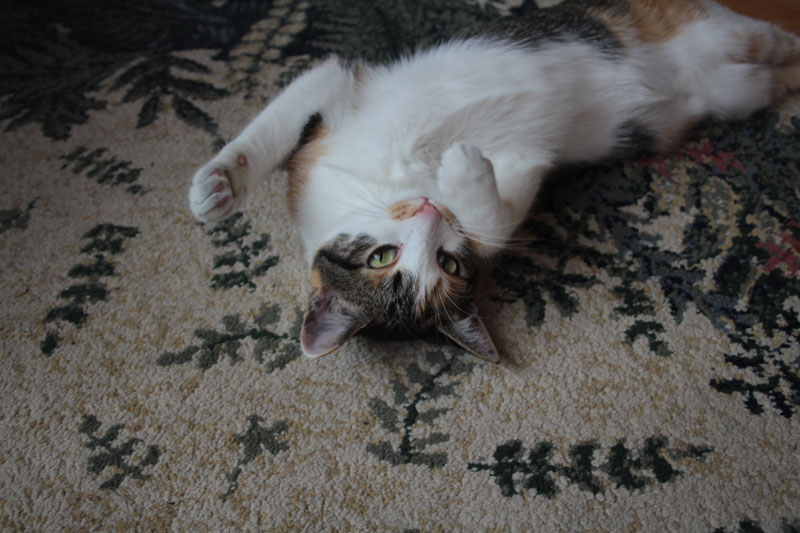 Food Related Calico Cat Names
It's always fun to name your cat after some food, and quite frankly, I think it's one of the easiest kinds of names to come up with… maybe it's because I love food so much.
Amaretto
Biscuit
Bon Bon
Butterscotch
Caramel
Carmela
Carmelita
Cheeto(s)
Chilli
Cinnamon
Clemintine
Coral
Ginger
Honey
Mimosa
Mocha
Muffin
Neopolitan
Papaya
Paprika
Peaches
Peanut
Pudding
Pumpkin
Reese('s Pieces)
Saffron
Sherbet
Snickers
Sorbet
Spice
Sundae
Tabasco
Taco
Taffy
Tangerine
Toast
Toffee
Tootsie
Tortilla
Trixie
Twix
Twixie
Waffle
Calico Names that are "Punny" or just… funny!
Aurora
Callie
Hobbes (from Calvin and Hobbes!)
Kali
Kalika
Kamiko (Japanese for tortiose child)
Khaki
Nemo
Tiger Lily
Tigger
Tortie
Tortoise
Pretty Sounding Calico Cat Names
Autumn
Blondie
Dawn
Orange Blossom
Sunset
So, which ones are your favourites? Is there one that I missed or one that is better than the ones I've provided? Let me know in the comments below!