Hey Pet Parents & Pet Lovers,
As you may already know, we have been a multi-cat household for quite some time now and even before we adopted our beloved Kalista, my cat Beau lived with my mom's cat Walker. Over the years we've seen some intense catfights that commonly end up with snuggles and grooming, which brings on the question… why do cats groom and clean each other?
There have been multiple studies to see why it is cats groom each other, and let me tell you, some of the reasons surprised me.
SO WHERE DO CATS FOCUS WHEN THEY GROOM?
Studies have shown that cats commonly groom each other's heads and necks, which may also explain why they love being scratched so much in these areas. It can be safely assumed that getting groomed in these areas feels like a massage due to cat's scratchy tongues.
WHERE DOES THE INSTINCT COME FROM?
Researchers believe that cats are taught to groom each other from a young age. Since the mother cat commonly grooms her children, mutual grooming tends to take place amongst siblings. Now, that being said, male cats will also groom which breaks the belief that this is a "nurturing" or "motherly" act.
MY CATS SEEM TO HATE EACH OTHER, WHY DO THEY STILL GROOM EACH OTHER?
We were in a similar situation. Walker and Beau never really got along, it even got to the point where Walker would attack Beau. Walker is a fairly dominant "Alpha-Cat" so it makes sense why he didn't get along with Beau, who while docile is still fairly Alpha. Studies have shown that Alpha cats tend to groom lower ranking animals and will commonly stand above those they groom, while the groomee will lay down.
Note: this doesn't necessarily mean that your cats are getting along as research has shown that antagonistic behaviour is present in 35% of these interactions.
As seen in the video above, commonly cats will re-groom themselves if they are unhappy or are upset with the cat who has groomed them.
All this being said, it is believed that the alpha-cat will also groom what we'll call the "beta-cat" as a way of redirecting their aggression. As you can see below, Beau wasn't so happy with this diverted "aggression" and still went in for a swat when Walker groomed him.
IT IS ASSUMED THAT GROOMING IS A WAY TO RELIEVE STRESS
Although it cannot be fully proven, it is believed that cats groom each other to relieve both their own stress and the stress of the cats around them. This is why you will commonly hear your cat purring as they clean themselves. That being said, cats who enjoy each other's company will also synchronize in purring.
It's cool to have seen Beau interact with two different cats. His relationship with Kalista has been much different than his relationship with Walker. When cats are comfortable with each other, they sometimes groom each other as a way of saying "hey, I'm comfortable with you."
Commonly both cats will groom each other at the same time or will take turns grooming each other. An easy way to tell the difference between this type of grooming and dominant grooming is the fact that both cats will be lying down. Most cats will also purr as they are being groomed. Check out this adorable video of our cats grooming each other below!
CATS WILL LICK EACH OTHER SO THEY SMELL THE SAME
It's sometimes odd to think about the things your cat will do to "keep themselves safe." For instance, cats will dig in their litter boxes to hide the scent of their feces to make sure that their predators don't know that they are around.
It's quite easy to forget that even though our cats are indoors, they still have some of the same fears due to their primal instincts. That being the case, some cats will groom each other to make sure that they smell similar in case they are in a fight or flight situation. If things get rough, they know who their family is, even if they aren't blood relatives.
SO IS THIS WHY MOTHERS WILL LICK THEIR KITTENS?
Yup! This is a huge part as to why mothers will lick their kittens, however, of course, grooming is also about keeping the kittens clean. If a mother cat doesn't lick her kitten frequently enough it can lead to her rejecting her kitten since she will not recognize their scent. Unfortunately, mother cats will also reject their kittens if they suspect that they have an illness and may even choose to kill her kitten if she does not feel like they will survive.
This is why it is commonly said that you should never play with kittens when they are too young and allow the mother to bond with them. When she is ready, she will give you the kittens to play with.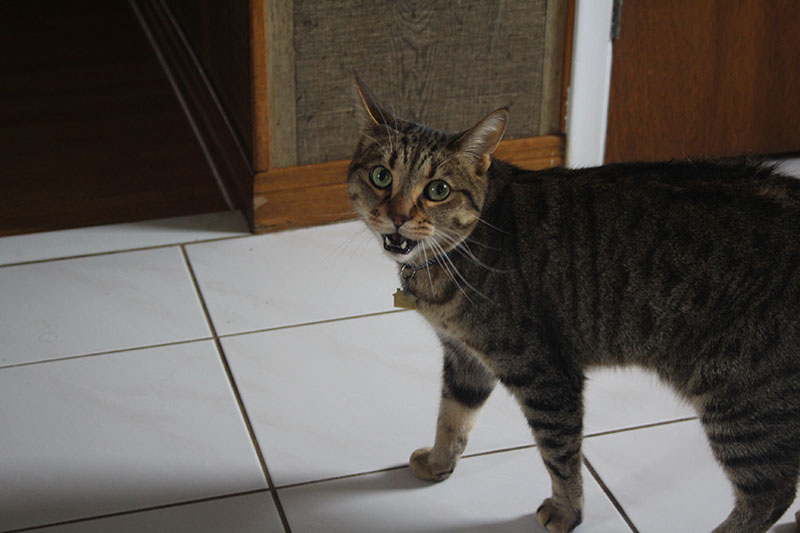 CATS MAY ALSO LICK OTHER CATS TO WARN YOU THAT THEY ARE SICK
This is an interesting one, but sometimes cats will lick other cats in the areas where they are experiencing health problems. This could be something as minor as a small wound, to something as serious as kidney diseases or heart failure.
It's not completely understood why cats do this, other than hoping to console their loved ones, but it is very helpful, especially if you have a cat to likes to hide their pains. If you ever catch your cat licking your other cat in the exact same spot (that isn't their head or neck), it's best to take your cat to the vet.
CATS WILL CLEAN EACH OTHER IF THEY FEEL LIKE THEY'RE NOT CLEAN ENOUGH
This is a terribly funny type of grooming that actually happened between Beau and Kalista. When we first adopted Kalista she was a fairly stinky cat. I wouldn't say that she was so wretched that we had to give her baths all the time, but between her farting and what seemed to be a lack of interest in grooming, Beau did a lot of the work for her.
Since being adopted, I would say that Kalista cleans herself twice as much. Her fur is a lot smoother and she's much better smelling (though that also has to do with the fact that we completely changed her diet.) While the cats still groom each other here and there, it's a whole lot less now, and Beau can officially keep his tongue to himself!
CONCLUSION
So while there are so many different types of grooming, it is fairly easy to differentiate between all the types. It's a good idea to keep a close eye on your cat to make sure you understand why it is they're allogrooming.
So Pet Parents, I'm curious. How many of the things that I listed did you already know about? What are some of the cool new facts you learned today! Let me know in the comments below.