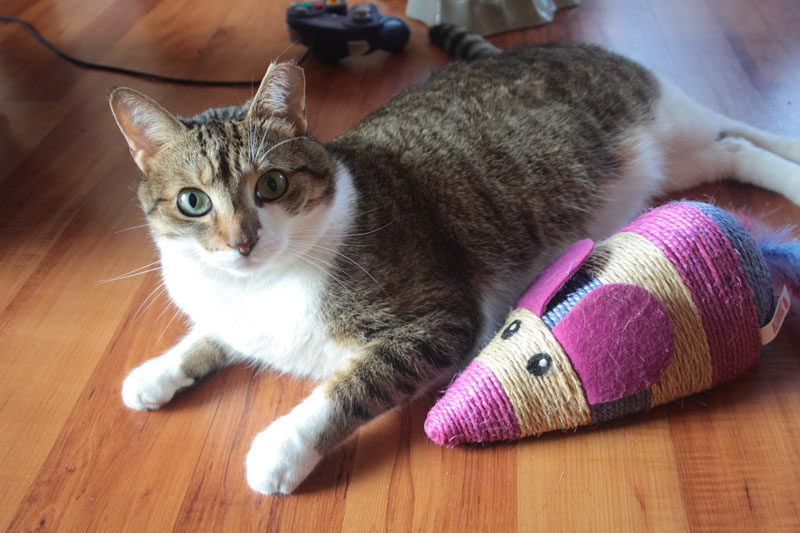 I'm so happy to report we found another toy Beau absolutely loves! We picked up a KONG Wrangler Scratch Mouse at the local pet shop and I can say it was a pretty great purchase right off the bat.
We thought the Kong Wrangler would be a great addition to our toys since Beau loves to Kangaroo kick and used to be a professional Puma who used to hunt little mousies on the street. In the first few minutes, Beau actually went straight for the wrangler, pouncing it and scratching away. If that isn't a 5/5 from him, I don't know what is!
Now, I'm going to give the warning that this toy has feathers attached as the tail. So if your little one likes to eat feathers, please cut them off! Luckily, we've gotten Beau to stop eating feathers so he hasn't actually gone for them.
We actually love the size of this toy (10.5 x 4.5 x 3.2 inches) and it's a pretty good weight (5.9oz), making sure it's light enough for Beau to move around but not kick it all over the apartment. Now, because it's so big some kitties aren't really fans of it. I would recommend playing with the kitty, trying to get it near their stomach so they can kick away. Maybe enticing with some of the sacred herb, (although it's supposedly already got some catnip in it.)
To be honest, Beau is immune to the nip, so this wasn't a requirement for us and we actually try to actively seek toys that don't have it (especially to see how effect non-nip toys are.)
My favourite moments so far are when Beau pounces the toy while eating. He'll grab a bit of kibble, attack the toy then return to eating.
It's also great since I can move the scratcher to and from my office giving him that extra toy to sharpen his nails on since we only have one post at this time.
In conclusion, I actually give this toy a 5/5. It's been very durable and Beau uses it at least once a day, pushing to about 6-7 times on a great day.
How do you feel about this toy? Have you had it before? Can you recommend other similar toys you think Beau will like?