Since writing my piece about Cat Puzzle Feeders and Slow Feeder Toys I've received some questions about what slow feed cat bowls I would recommend.
Cats can be notorious for eating fast and not all of them are going to love puzzles or toys, but a slow feed cat bowl might be a good halfway point for you and your furry little friend.
The main difference between feeder bowls and feeder toys is the complexity. While most feeder toys, like the Catit Senses 2.0 Tower, play on one of your cat's natural instincts to paw at or dig, feeder bowls are simpler as they only require your cat to move their head ever so slightly to get food.
Between the two types of toys, I still feel like puzzle feeders or slow feeder toys trump in our household since both of our cats are extremely playful, however, feeder bowls are just as effective if your issue is merely slowing down your cat.
The question still remains, are certain feeder bowls better than others?
In my experience, absolutely! There are a number of food bowls that are made for cats & dogs which allow too much access to the food. I'll cover some of these, but my main piece of advice is… if there's a larger open area in your feeder bowl… don't get it! Your cat will shove all of their food to that open area and eat all their food as quickly as possible.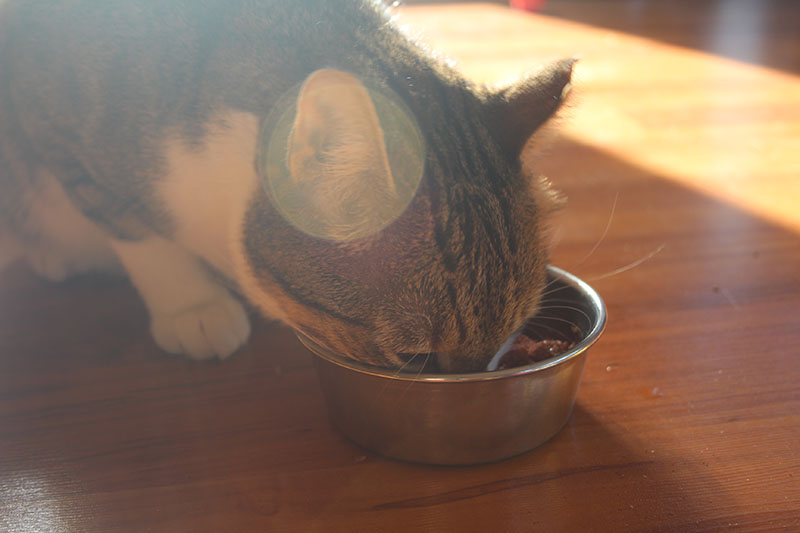 *A PETS OVERLOAD FAVOURITE*
Although this product is marketed towards dogs, it can definitely be used for cats.
What I love about this feeder bowl is the amount of higher partitions that will help block your cat from reaching all of their food.
Your cat will still have access to the food, however, even in the smaller partitions, there is a bit of a barrier for your cat to get their food. This will either cause them to paw at their food or slowly swallow as much kibble as they can.
By far the middle is my absolute favourite quality of this feeder toy as it has a few sizes of partitions in the center.
The fact that this bowl is bigger also means that it's less likely to be flipped over in aggravation, although I can see this bowl sliding across the floor.
If you're a pet parent who hates bowls that slide on the floor I would recommend getting yourself a tray, placemat or some anti-slip tape.
---
While extremely simple, I absolutely love this bowl.
The raised centre is extremely large, making it quite difficult for your cat to shove their faces inside.
This feeder also fits into most standard elevated feeders, making it even easier for you to switch your cat over to it!
The rims are very steep, increasing the difficulty of this feeder bowl and as long as it's placed inside of a stand or another bowl it shouldn't topple over!
All-in-all, a great start for cats who have never used feeders before.
---
Quite frankly, this feeder bowl is the most stocked product in pet stores and you can really see why.
Other than the fairly large openings at the base of the swirls, this bowl is pretty much perfect!
Given the fact that you probably wouldn't feeding your cat as much as what is shown in the picture, this bowl should give plenty of challenges for your cat to get their food quickly.
The edges of this bowl are at a 90° angle­, making it hard for cats to scoop out the food quickly and the barriers are fairly high and large making it extremely difficult for your cat to shove their faces inside.
Can't really find something to hate about this feeder other than the size of it. It is fairly large for a cat and I wish they made a smaller version of it.
---
*A PETS OVERLOAD FAVOURITE*
Look similar? That's because this slow feeder bowl is very similar to the first one I listed.
It's actually kind of crazy how many pet products are almost exactly alike, especially as new companies hop onto concepts that haven't been or can't be patented.
I can't really say which bowl I prefer, but I think they would both get the job done nicely.
This bowl features a series of taller barriers as well as small barriers to make sure that your pet can't easily get their food.
The bowl has fairly steep edges and while still challenging, should be simple enough for cats to paw their food out (if necessary.)
The bowl is top-rack safe and also includes non-skid technology. Definitely on the top list.
---
Outward Hound is a company that has a variety of feeders all under the same name.
Again, this is a company that is highly stocked in most pet stores and while they have some nifty designs, some are better than others.
In my experience, the food bowl that is the best is the one that looks like a dart board.
This is simply due to how close the barriers are to each other.
While the flower and the spiral do really well for dogs, Beau was able to easily get the food from both.
The best part about Outward Hound is the fact that they have different sizes for bowls, so if you like the style… you're able to choose!
---
I'm only "alright" with this feeder. The main reason being, my cats could probably get the food out of this bowl really quickly.
I, personally, would always use the centre for wet food, which I'm sure the designers intended, however, the heart barriers seem too small and spread apart to really stop cats from chowing down.
Again, this would depend on the size of your cat and whether or not they are full-grown.
Great that the bottom has rubber on it to help stop the bowl from slipping and sliding and also great that it's dishwasher safe.
I'd say it's an alright introduction to slow feeder bowls, but it's not my absolute favourite.
---
Super Design is a brand that has a few selections of styles including squigglies and a circle pattern.
I'd say both are alright, but only if you get the smallest bowl.
That being said, the squigglies may be a bit better because you can put in your own golf balls or ping pong balls to make it a bit more difficult for your cat.
The only reason I say this is because the circle design seems like it would be fairly easy for your cat to eat out of the sides, especially if kibble gets stuck on the outside part of the barriers.
My favourite thing about these feeders if how steep the ledges are. So even if you don't put in golfballs it should still extend the amount of time it takes for your cat to get their food.
All bowls are anti-glide and the company states that they cannot be flipped over by cats.
---
*A PETS OVERLOAD FAVOURITE*
I'm very hit and miss with this feeder.
I love the fact that this feeder is large and has a number of barriers for your cat to get through before they get their food, but I feel like it's terribly easy for them to get their food out quickly by pawing at it.
At the end of the day, that will still slow down their gobbling, but it's not going to be as effective as a feeder with a ledge.
You see, when bowls have ledges and barriers, the chances of your cat dropping the kibble increase. While it can be both funny and sad to watch your cat fail at getting their food, providing your cat with challenges can help stimulate their minds to problem solve.
That being the case, I think this feeder is a great introduction to slow feeders but isn't the be-all-end-all.
That being said, it still makes it on the top list for "favourites" due to it's design and ease for "starter feeder bowls."
---
By far this is one of the most popular designs for cat slow feeders, but it's one of my least favourites.
While dishwasher safe, skid safe, and has enough room for 1 cup of food, the center of this bowl makes me concerned that cats would be able to get their food out immediately.
Now, this will depend on the size of your cat, but I know Beau would immediately get the food out of this toy with his tongue.
A way to avoid this is by sticking a golf ball or ping pong ball right in the center to ensure that your cat can't get the food immediately.
My other concern with this bowl is the size of it. We've had experiences where Beau has physically flipped bowls similar to this due to the side and the openings at the bottom. Something Beau can't resist is putting his paws inside of openings as pawing & batting are some of his favourite past times.
For me, this feeder bowl is a "no go" but I'd be interested in hearing if any of you have this bowl and what your experience with it was like.
---
I have to start off by saying, I find it hilarious that this company chose to photoshop kibble into the photo of this feeder.
That being said, I'm not the biggest fan of this feeder, though I like it for convenience. Neither of my cats has problems drinking next to their food so the extra bowl would be perfect for water, or if you're like us and you feed both dry and wet… perfect for wet food!
My main reason for disliking this product is how far the prongs are from each other.
While this would be great for larger dogs, I don't think it's going to be that complicated for your cat to get their food out.
That being said, I'm not sure much can be done with this feeder to improve it.
At least it's non-slip, right?
CONCLUSION
While at the end of the day it doesn't really matter what feeder you choose, it's still best to be aware of what the benefits of each are.
Some feeders are great beginner bowls while others are great for cats who have experience, making sure that you really extend the amount of time it takes to feed your cat.
Remember, slowing down the process of your cat's eating isn't "inhumane" as long as your cat still gets the food.
Eating fast can lead to a number of health problems and while it's nice to see your cat excited to gobble down, it often does lead to throwing up or gastrointestinal problems.
As always, I'm curuious which bowl you liked the best or which ones you've already tried? Did I miss one on my list that is even better? Let me know in the comments below!