When we first adopted Beau I joked that he was a vacuum cleaner because he always scarfed down his meals. Now, that's not so surprising since he was a stray who was brought into a "multi-pet" household. When we first adopted Beau we also didn't realize he had Pica, which with the combination of eating way too quickly didn't go so well.
Beau would eat so quickly that he didn't realize he was full and oftentimes threw up a few minutes after he ate. At first, I thought something more serious was happening, but it turned out that it was a much more common problem with pet parents all over the world.
WHY DO CATS THROW UP IF THEY EAT TOO FAST?
Well, it's fairly simple, if your cat eats too quickly they are not going to have enough time to properly digest their food. Whatever food is not digested commonly comes right back up. Cats also break down food primarily in their mouths (unlike humans whose stomachs do most of the work.) If the cat's stomach is unable to fully break down the food, cats will also upchuck in hopes of it being the right pH/consistency the second time down.
IF MY CAT THROWS UP AFTER THEY EAT IS IT ALWAYS BECAUSE THEY'RE EATING TOO FAST?
Unfortunately not. Sometimes your cat has other conditions that may be causing them to throw up such as worms. If you suspect that this is the case, I highly recommend getting your cat checked out by your vet.
VET RESULTS ARE CLEAR, MY CAT IS JUST EATING TOO FAST! WHAT DO I DO?
Well, there are a few things you can do, we just have to help figure out what's your cat's favourite way of playing is so we can tie it into their feeding.
FOR CATS WHO LOVE TO RUN OR CHASE TOYS
All three of our cats love to run and two of our cats will actually chase and fetch toys, because of this we actually throw kibble for them. This keeps them running and active. We can usually get them to chase kibble for about 10-15 minutes before they completely lose interest and while it's one of my favourite methods it is a bit harder when you have two cats at home. I will say, the real added benefit of this form of feeding is the fact that your cat will lose weight. So if you've got a lazy cat who needs a bit more motivation, this is the way to go!
FOR CATS THAT LOVE TO DIG
It can be hard to tell whether or not a cat is a digger, especially if they are an indoor cat. One of the easiest ways to tell is if they try to bury their wet or dry food when they are done eating. Another way to tell is to check to see if they like to play in their litter or will completely cover their poops. Again, two of our cats are big diggers, while the third is not so much. For cats like this try separating their food with household objects like muffin pans.I'll personally admit, I'm not a huge fan of the muffin pan method just because the pans are fairly big and didn't slow my cats enough. Instead, I opted out to buying some digging toys such as the Catit Senses 2.0 Digger or the Trixie 5-in-1 Activity Center although the latter also has other obstacles that will help slow your cat down.
FOR CATS THAT LOVE TO BAT OR SWAT
I personally have never met a cat that didn't like to bat or play with balls. So the first feeder toy I ever bought was the slimcat ball. It's actually my #1 slow feeder to recommend because it's cheap and easy to use. Not only that, we made it more difficult by taping up some of the holes to extend the amount of time it takes for our cats to get their food. This was also my favourite toy to recommend when I worked in the pet store and never did I receive a complaint, so I'm very happy with its track record. Alternatives include the Legendog Cat Slow Feeder and the Doc & Phoebe's Indoor Hunting Cat Feeder.
FOR CATS THAT LOVE TO REACH INTO OR UNDER OBJECTS
This is for those of you who have kitties who like reaching under doors or underneath the couch. Kalista, our youngest, will actually go as far as to putting springs under the couch or under doors on purpose so she can try to get them out. She also paws under every door you close whether or not you're inside. What a goofball! For cats like her, you're going to want a toy like the Catit Senses Tree or the TRIXIE Tunnel Feeder. You can also DIY your own toy out of a cardboard box, just make sure you change it out every so often because cardboard tends to absorb oil.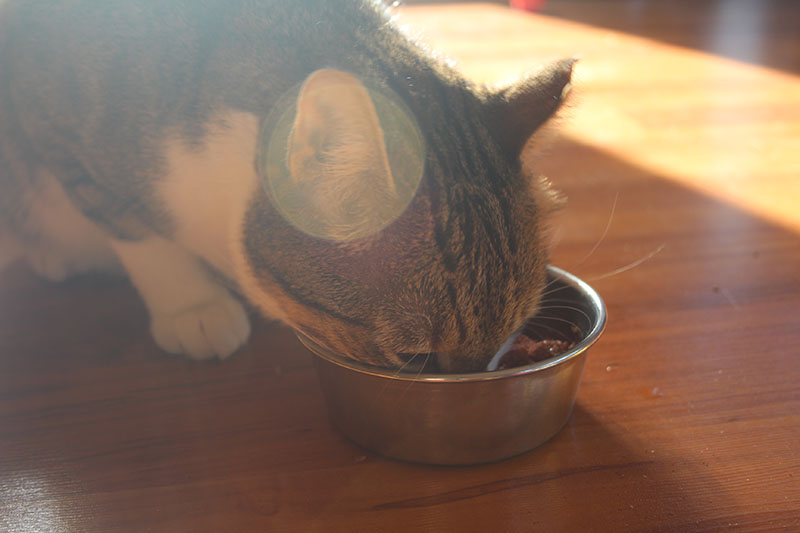 FOR CATS THAT ARE SUPER LAZY
Don't worry, I haven't forgotten about you! Lazy cats can benefit from ping pong balls or golf balls placed in their food dishes. This will give them a bit more of a challenge when they are trying to vacuum up their food. Cats will have to either push the balls out of the way with their noses or move them with their paws. If this doesn't work for your cat, you can also try looking into slow feed bowls. They don't have to be specific to cats and can actually be made for dogs. It honestly just depends on how complicated you want it to be. You may also want to look into timed feeders, although those usually come at a higher price.
FOR CATS THAT ARE TOO SMART FOR THEIR OWN GOOD
Some cats are like Beau who finds loopholes around many of the toys. Although we still primarily use the catit senses tree and the SlimCat ball, he has found ways to beat the system. Cats like him benefit from different types of puzzle toys. There aren't very many great ones out there yet, but I listed my top picks in the article linked here. I'm always looking for new ones to try and test out, so if you see any let me know so I can try it out and hopefully add it to the list!
OTHER THAN THROWING UP, WHAT ARE SOME OF THE OTHER DANGERS OF EATING TOO FAST?
Well, similar to you, if a cat eats too much they are at a higher risk of obesity. Obesity can lead to diseases such as diabetes which can severely shorten your cat's lifespan. Short-term issues such as vomiting cause also cause a cat to miss out on the nutrients they need to survive.
CONCLUSION
Although cats who throw up after they eat quickly can be a hassle, it doesn't mean that you can't help manage your cat! There are plenty of ways to get your cat under control. How do you get a hold of your cat? Let me know in the comments below!