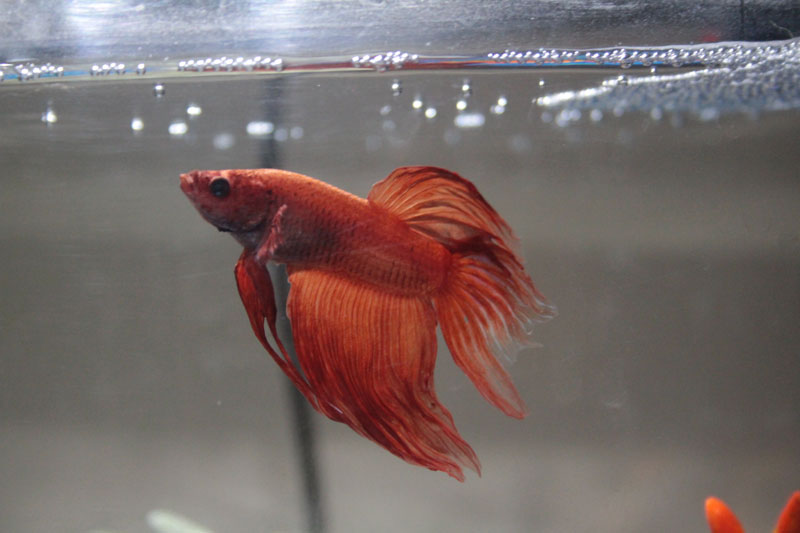 Hey Pet Parents & Pet Lovers,
I don't often give updates about our Betta fish, especially because it can be hard to. A few months ago I wrote a piece that mentioned how excited I am for winter break because I would try to train Blub to do some awesome tricks, but I'm not too sure that's going to happen anymore.
I've been keeping it a bit of a secret that Blub doesn't seem to be doing so well because I wanted to stay as positive as I could about his health, but with each passing day it seems like he's getting worse.
Blub has been through a very tough year. He's gotten a few of the most common Betta Fish Illnesses including Popeye and minor fin rot, and while he was cured of both it seems like something else is affecting him. He's acting lethargic, like any sick Betta Fish would, but he's still eating as well as he can, just having difficulty swimming.
At first, I thought Blub may be experiencing constipation, although he didn't show any physical signs of constipation. I gave him some peas over a few weeks and that didn't help. I then started treating him for fin rot with some Bettafix, but that also didn't seem to help. So I tried a few of the other tips and tricks and it seems like nothing is helping.
I mean, the biggest positive is the fact that Blub is eating fairly well still. He's eating at least 3 pellets a day, sometimes up to 5 (which is fairly normal), but I haven't seen him so lethargic ever.
I'm wondering if Blub is just getting old or if there is just a condition I'm not aware of. I've asked a number of my friends who are "fish experts" at both pet stores/in clinics and they don't see anything wrong with him, other than the remnants of fin rot, which in general takes time to disappear.
So what does this all mean? Well simply put, it means we don't know how much longer we have with Blub. It's clear that something's wrong, but we can't tell if he's in pain or how unhappy he is. As a pet parent, that shatters my heart. I wish I knew what could make him feel better or tell what is really going on, but again with fish, it can be very difficult to tell, even when you've studied or read up on them.
I'm just sad that whenever I check on the fish tank now he no longer swims up to the front to say hello. I'm sad that I can't tell if he's in too much pain and if by me medicating him I'm just prolonging his pain. I'm sad that even though I'm seeking help and answers it doesn't seem like I'm going to be getting them anytime soon.
At this time my partner and I are trying our hardest not to grieve Blub since he is still with us and there is a chance that he will pull a full 180 as that can sometimes be the case with fish. However, my partner and I have discussed what will happen if Blub does pass and we have both agreed that we won't be getting another fish for a while. To us, this means a few years. We're choosing to do so so we can focus on the animals that we do have, especially because we are still learning about Gary, our Chinchilla, daily.
While having a house full of animals is amazing when everyone is healthy, it can be emotionally draining when you can't figure out just what is wrong. This is especially true about a creature so small who has no verbal way of communicating what is going on.
I'll keep you all updated, and let you know if we somehow figure out what's happening. Right now we've been convinced that it's probably age, which again is difficult to confirm since we do not know how old Blub is and there's no way of telling.
Sorry for a bit of a sad/angsty post today everyone. I just felt like it was time to give you this update about our dear family member.