Having olives around the house is not uncommon, especially if you're someone who enjoys the occasional drink. I know every time we order pizza the first topping my partner calls out, though I wish he didn't, is black olives, but do cats have the same affinity to olives as humans do?
The truth is that many cats love the taste and smell of olives and some even experience a euphoric sensation from the olives. So, don't be surprised if you catch your little one sniffing away at an empty olive jar, because they are definitely not alone.
I thought it was time to start bringing back the posts about what cats can eat since it seemed like a number of you enjoyed the previous topics I talked about such as if cats can drink almond milk, can cats drink soy milk, can cats drink coffee, and if cats can eat watermelons.
So today I'm going to a popular fruit known as the olive! So, let's get cracking, are cats able to eat olives?
CAN CATS EAT OLIVES?
Eh… depends on the olive! Natural olives, that contain no artificial preservatives, should be fine for cats to eat. If olives are salted or seasoned they should never be fed to cats, even if you are only feeding one.
While seasoning and sodium may only cause slight stomach upset to some cats, reactions or symptoms caused by either may be more severe for other cats.
But let's dive into the reasons you may want to avoid olives with your cats!
OLIVES HAVE ZERO NUTRITIONAL VALUE FOR CATS
Some fruits and veggies can be beneficial for our furry friends, even if they are obligate carnivores. Some of the "safe foods" you may have heard of are apples, pumpkin, cashews, and peanuts, though something that's common in all "safe foods" is that they should be fed sparingly.
Olives are considered another one of these "safe foods" though olives have no nutritional value for cats.
For humans olives are great since they supply us with vitamins A & C, however, cats produce their own vitamin C and vitamin A can be found in the flesh of the animals they eat. The only time you want to feed your cat fruits or veggies is if they're lacking specific nutrients or fibres.
ARE OLIVES EVER BENEFICIAL FOR CATS?
Yes, olives can be beneficial for cats when a cat needs more antioxidants. The thing is there are lots of other fruits and veggies that have antioxidants that also contain other vitamins and minerals your cat will benefit from. So, olives are extremely low on this list.
Olives are very similar to sweet potatoes, where their primary benefit (Vitamin A) is wasted on cats, making them lesser than their competitor pumpkin.
Pumpkin is a great addition to a cat's diet if they are lacking antioxidants or fibre. Pumpkin is commonly added to wet foods, dry foods or can even be fed to your cat on its own. As is with all things, it's still recommended that you speak to a vet before changing your cat's diet.
More recently olives have shown signs of preventing cancer in cats. Olives have also shown signs of helping with arthritis due to their anti-inflammatory qualities, but again these properties can be found in other foods that are more beneficial for cats.
If your cat is suffering any sort of ailment that requires anti-inflammatories, I would definitely speak to your vet about whether or not to feed your cat olives. I would also make sure to research other foods (or medicines) that may help.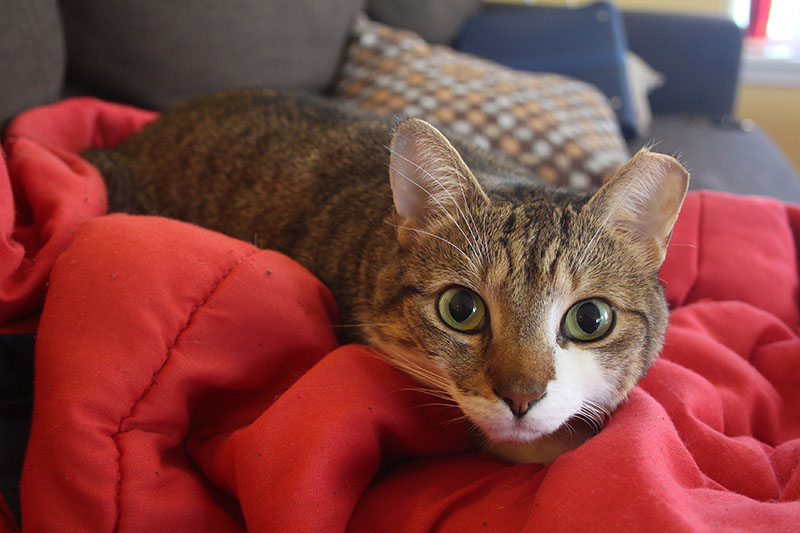 ARE THERE ANY RISKS IN FEEDING MY CAT OLIVES?
As mentioned, sometimes there are risks to feeding cats olives. The olive itself isn't poisonous, to cats although the way they are handled can be.
Lots of olives are overly salted which can actually poison your cat. Sodium poisoning usually manifests itself with extreme thirst, excessive urination, vomiting, diarrhea, tremors, seizures, loss of appetite, lethargy and can even lead to kidney failure (which is one of the top causes of death in cats.)
Cats may also develop high blood pressure if fed too much salt, which will lead to long-term health problems such as strokes or heart attacks (note: this is not from the olive itself but from the salt on the olive).
You may think that you can just wash the salt off of olives, but it won't actually help. If you are going to choose to feed your cat olives, you will want to make sure that you buy unsalted, unseasoned olives.
Olives are also dangerous if they still have the seeds in them. They can be a choking hazard, so make sure you always remove the seed before giving the olive to your cat.
Olives are also highly acidic, this can give your cat a very upset stomach or can even change the pH in their urine leading to other problems such as urinary tract infections (if fed frequently).
DO CATS GET A EUPHORIC REACTION FROM OLIVES?
Yes, some cats will get a euphoric reaction, similar to catnip. Olives actually have chemicals that are similar to catnip, but this is from the scent and not the taste.
So, if you are curious in seeing whether or not your cat likes the smell, let your cat take a big whiff from an empty can of olives and see if they roll around like hooligans as Walker does with catnip!
Now, please note, not every cat will react this way. Just like catnip and valerian, some cats just aren't affected by it and to be honest, since Beau is not affected by both I've been very tempted to try this with him (although, we never have olives in the house.)
Conclusion
Would I feed olives to my cats? No, never. Would I look down on folks who do? Probably not as long as they are being very careful when feeding their cats.
I personally see no reason to feed your cat olives, since there are so many other things you could be feeding your cat that will benefit them more.
So pet parents and pet lovers, have your cats ever eyed your olives before? Have your cats ever tried to eat olives? Let me know in the comments below!