It can be extremely tempting to give your cat a bit of whatever you're eating, especially if they are sniffing at you or begging.
We've had our fair share of confusion when Walker comes up to us begging to eat bananas and Beau whenever we open a tub of ice cream.
Thing is, even though apples are a great treat or snack for humans, they can be fairly unsafe for cats to eat.
BENEFITS OF FEEDING YOUR CAT APPLES
Some pet owners may think I'm crazy for even writing a post about apples, but cats can actually benefit from these tasty fruits. Actually, apples are included in a number of cat foods as well as treats, but why?
Apples are filled with fibre, antioxidants as well as flavonoids. Apples are also known to help reduce the risk of cancer, heart disease, will lower cholesterol and can prevent diabetes (if fed in moderation.)
APPLES ARE TOXIC/POISONOUS
Ever heard of the poison cyanide? Well, apple seeds actually contain cyanide.
Although the amount of cyanide isn't enough to kill a human, it can cause problems for your cat, especially if they eat a number of them.
In general, you're going to want to make sure you also avoid feeding your cat the leaves or stem of the apple as they can also cause complications or even blockages.
If ever you suspect your cat has eaten the leaves, stem or seeds of an apple please make sure to contact your vet immediately. They will be able to help you determine whether your cat is in need of a visit, although I will cover some of the signs a bit later in this post.
IS THS SKIN SAFE FOR CATS?
Yes and no. Apple skin is safe if it has been thoroughly washed and cleaned.
Many apple farms use pesticides which can be detrimental to your cat's health. Not only that, many apple farms use polishes to make your apples look tastier, which tend to also be problematic for cats.
You can scrub down your apple with a sponge and hot water or with pet-safe soap.
If you are still nervous, I would recommend peeling the piece of apple you feed your cat. This may actually benefit your cat as the skin is actually harder for your cat to break down and chew compared to the actual inside of the apple.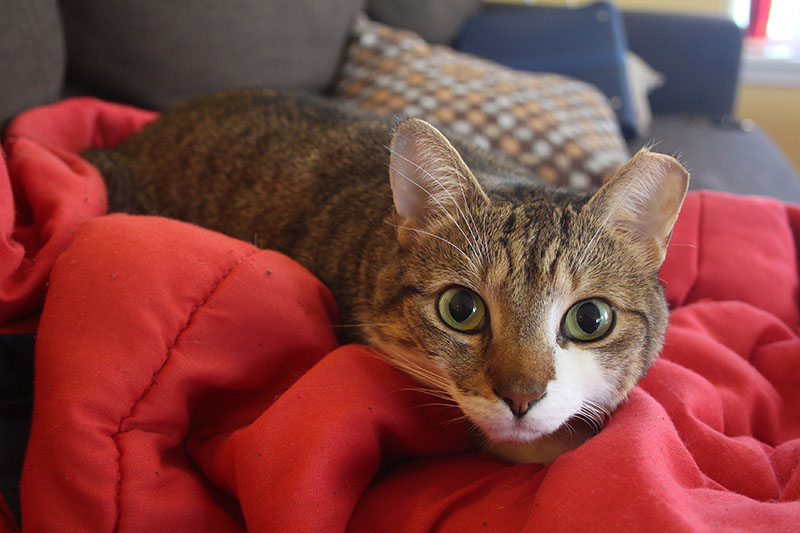 CAN CATS EAT GREEN APPLES?
Yes, cats can eat green apples, however, the same precautions must be taken.
I would still cut the apple's skin off and only feed very small portions of the apple.
CAN CAT BE ALLERGIC TO APPLES?
Although very rare, yes some cats can be allergic to apples.
Always make sure that you introduce your cat to new foods slowly and be aware of signs of vomiting or gastrointestinal issues (often exhibited through farting.)
HOW SHOULD I PREPARE APPLES FOR MY CAT?
Apples should be cut into very small pieces to help prevent choking. Cats aren't the best at chewing and tend to inhale hard foods, even when it's in kibble form.
I would recommend cutting the apple into pieces that are a maximum of half a cm long/wide and mixing it into either their dry or wet food.
You can also choose to puree or mash the apple if you want to be extra safe! Mashed and pureed apples can be mixed with a good amount of water making them more beneficial for your cat's wellbeing.
IS APPLESAUCE SAFE FOR MY CATS?
Absolutely not! I would never recommend feeding your cat applesauce, especially if it is store bought.
Applesauce tends to have too much sugar in it, which can lead to diabetes. Not only that, store-bought apple sauce usually contains artificial ingredients, preservatives and other harmful additives that can negatively affect your cat's overall health.
That being said, it is very important to understand that applesauce is not pureed apples, and one should take the extra precaution of checking ingredients when feeding processed food to cats.
WHAT ARE SOME OF THE NEGATIVE SIDE EFFECTS OF FEEDING APPLES TO CATS?
Side effects will vary based on the amount of apple you feed your cat. As mentioned, please always begin by feeding your cat very small amounts of apples before diving into feeding them it regularly.
Feeding too much apple or other side effects from a cat eating the stem, leaves or seeds from an apple can/will lead to:
Vomiting
Gastro-Intestinal Problems
Poisoning/Toxicity
Weight gain/Diabetes
Diahrrea
Skin problems
If ever your cat shows any signs of the following please make sure to contact your vet immediately and stop feeding your cat apples.
SO HOW MUCH APPLE SHOULD I FEED AND HOW OFTEN?
This will depend on your cat and the preference of the pet parent. I personally would only feed my cat apples as a treat every so often.
That being said, I would feed about 3-5 small pieces of apple maximum once a week.
A vet or animal dietician would be able to help you figure out what is best for your pet, especially if they know your cat's medical history.
HOW LONG CAN I LEAVE APPLES OUT FOR?
I would say a maximum of 30-minutes, but to air on the side of caution, I would say about 15-minutes.
Make sure to never give your cat any rotten apples or apples that have browned as they may cause stomach upset or even diarrhea.
DO ALL CATS EAT APPLES?
Absolutely not! The majority of cats won't be interested in apples, especially on their own.
If your cat isn't a fan of apples please don't take it upon yourself to force them to eat the fruit. As mentioned, while apples do have some great nutrients that are beneficial for them, there are other foods or supplements you can feed them which will do the exact same job.
MY VET SAID I SHOULD GIVE MY CAT APPLES BECAUSE THEY ARE OVERWEIGHT/ELDER/ARE AT RISK OF HIGH CHOLESTEROL… I CAN'T GET THEM TO EAT IT, WHAT DO I DO?
I would recommend trying to find a way to mix the apple into their food. Although there are many treats and foods that include apple, if your vet has recommended you feed apple they probably mean you need to feed them a concentrated portion which foods/treats would not be able to offer.
Mashing up the apple into wet food or mixed in with dry food tends to be the easiest way to get your cat to eat the apple, although you may want to look up cat safe recipes that include apple in them.
CONCLUSION
Although feeding apples to your cat comes with precautions (as does feeding your cats most things) apples tend to be one of the safer fruits you can feed your cat.
As mentioned, I would not make feeding apples a regular occurrence in the household, however, they are great for a "sometimes" treat or if fed in small amounts a way to counter many health concerns you may have with your cat.
Always consult your vet before changing up your cat's diet, especially if your cat has any previous medical problems.
So pet parents, I'm curious… do any of you feed your cats apples? How do they like to eat them?