Is it just me, or does your cat always come up to you and sniff you anytime you eat anything.
It doesn't seen to matter whether the food is cereal, ice cream, an apple, peanuts, rice, popcorn or watermelon, some cats just want everything that you have and won't give up until they get it!
Although cats come to sniff everything that you have to eat, they do not always have an interest in the food and oftentimes will stick their noses up and walk away.
On the flip side, some foods become your cat's favourite food or addiction and they will do anything that's in their power to get that food.
My mom's cat Walker has a particular obsession with bananas. I couldn't tell you how this obsession began or why Walker even became interested in bananas, but I will say it was adorable catching my mom sneak feeding Walker pieces of banana on the couch.
These days, Walker still but comes running into the kitchen anytime he hears a banana being peeled. He will meow incessantly until he gets fed a little piece, or expect a grumpy kitty for the rest of the day.
My cat, Beau was never a huge fan of bananas.
As many times as we've tried to feed him a banana, just out of curiosity's sake, he sticks his nose up and backs away.
The only time I have witnessed Beau eating a banana is when he sees Walker eating and get jealous. Silly cats, always wanting what they can't have.
It's interesting though because you would expect Beau to start eating bananas on his own or to spit out the banana if he doesn't like it. If Walker's not around, Beau's not a banana guy, even to this day.
Beau aside, it's clear that there is something about banans that some cats love, but does that make bananas safe for cats to eat?
If bananas are safe, how much of a banana should you feed your cat at a time? Are there ever any times you shouldn't feed your cat bananas?
Let's dive into it!
SHORT ANSWER
Bananas are a good treat for cats as long as they aren't overfed.
ARE BANANAS CONSIDERED TOXIC TO CATS
According to the ASPCA, bananas are not considered toxic to cats.
WHAT IS THE NUTRITIONAL VALUE IN A BANANA
Well, bananas are filled with potassium, which will help promote healthy kidneys and a healthy heart.
Although this is true, bananas are also filled with carbohydrates (or carbs), which are unnecessary for cats.
Dependant on how ripe a banana is it can also contain a good amount of fibre, and vitamins. The riper the banana the more sugar the banana contains and the less fibre.
This is a big issue with bananas. Due to the fact that bananas have high levels of natural sugar, they are not the greatest food to feed your cat as a treat regularly or long-term.
If bananas are fed long-term or too regularly a cat may develop a condition such as diabetes.
If you are thinking about using banana as a supplement, whether it be for fibre or anything else, it is highly recommended you consult your vet as there may be better substitutes like pumpkin.
CAN CATS ABSORB ALL OF THE NUTRIENTS IN BANANAS?
Unfortunately no, cats cannot absorb all of the nutrients that are found in bananas.
Due to the fact that cats cannot fully break down a good amount of the nutrients, bananas are not considered to be good supplements for cats.
Cats would only really benefit from the fibre found in bananas. So if your kitty is showing signs of constipation, a banana may be helpful for your cat.
WHAT HAPPENS IF CATS GET OVERFED CARBS?
Well, since cats can't fully digest certain carbs they become at risk of obesity.
CAN CATS TASTE THE SWEET IN BANANAS?
No, cats can't actually taste anything that is sweet, which makes many pet parents curious why some cats are drawn to certain sweet things like chocolate.
We're actually still confused about what makes Walker really like bananas and to this day we assume that it's because he likes the texture of the banana.
CAN CATS BECOME OBESE OR DEVELOP DIABETES FROM BANANAS?
Cats can definitely develop diabetes from bananas.
This is the main reason why you want to make sure you do not overfeed your cat bananas or feed them bananas too regularly.
I would also strongly recommend to not feed bananas to an overweight cat as they are at higher risk of developing conditions such as diabetes, kidney failure and other long-term conditions.
If you are concerned that your cat has diabetes or is overweight it is also strongly recommended that you speak to a vet.
Due to the fact that cats are known to hide their illnesses or that they are not feeling well, many diseases get left untreated, which can severely shorten your cat's lifespan.
In most cases, conditions such as diabetes or kidney failure can be monitored and conditioned with a change in diet and/or medication.
CAN CATS BE ALLERGIC TO BANANAS?
As is with most foods, yes.
Although rare, allergies may appear as rashes, diarrhea and vomiting.
To ensure that your cat does not have an allergy to bananas, only feed your cat a very, very minimal amount and begin feeding more over time.
As mentioned, you wouldn't want to feed your cat too much banana anyways, so allergies, in general, are commonly avoided.
CAN CATS EAT BANANA PEELS?
No, cats cannot eat a banana peel. Banana peels are too thick for cats to digest and can also be a choking hazard for cats.
I would avoid feeding banana peels to your cat at all costs.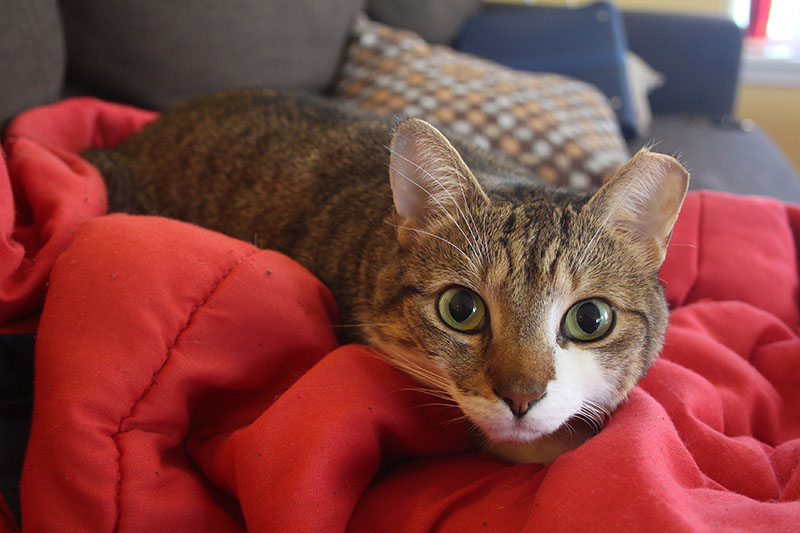 WHAT ARE THE BENEFITS OF FEEDING YOUR CAT A BANANA?
Honestly, I would only feed my cat a banana if I was using it as a special training treat.
The only other time I would feed my cat a banana is… well if I was out of treats and I wanted to give my cat a treat!
The thing is, we don't give many treats in our household and usually, they are dental treats. So, the chances of me feeding my cat a banana are actually slim to none.
WHEN SHOULD I FEED A BANANA AND HOW MUCH
If you were to feed your cat a banana, I would recommend only feeding about half of the top knuckle of your pinky. So literally a very small scraping off of the top of the banana, not more than half a centimetre.
Make sure you are not using banana as a supplement in your cat's diet without consulting your vet first.
Your vet should always be in a conversation about how severe your cat's constipation is, especially if it is longterm.
CONCLUSION
Though bananas are a tasty treat and my cats are definitely interested in them, they aren't necessarily the best treats for cats.
Bananas are great in small doses. You have little to worry about if your cat has eaten a small amount of banana, however, if your cat has eaten a big portion of banana make sure to monitor them for an upset stomach.
That being said bananas should never be fed longterm unless instructed by a qualified vet. Due to the fact that they do not provide enough fibre and far too much sugar bananas are not usually recommended as a fibre replacement.
So I'm curious pet parents, how many of your cats love bananas? How often do you give it to them? Let me know in the comments below!