It's undeniable that diet is one of the most important factors for humans to stay healthy. Well, the same thing can be said about cats.
Although it's easy to trust whatever a pet store merchant or pet food company says about their product, it's important to also understand what a cat's natural diet contains.
Cats are obligate carnivores, meaning that in the wild their diet consists primarily of meat. Though this is true, cats in the wild have also been known to eat grains and grasses every so often. That being said, a cat cannot take on a diet that primarily consists of grains, veggies or other forms of vegetation. This is due to their inability to break down and process the nutrients that are inside of greens, though a small amount is considered healthy for our feline friends.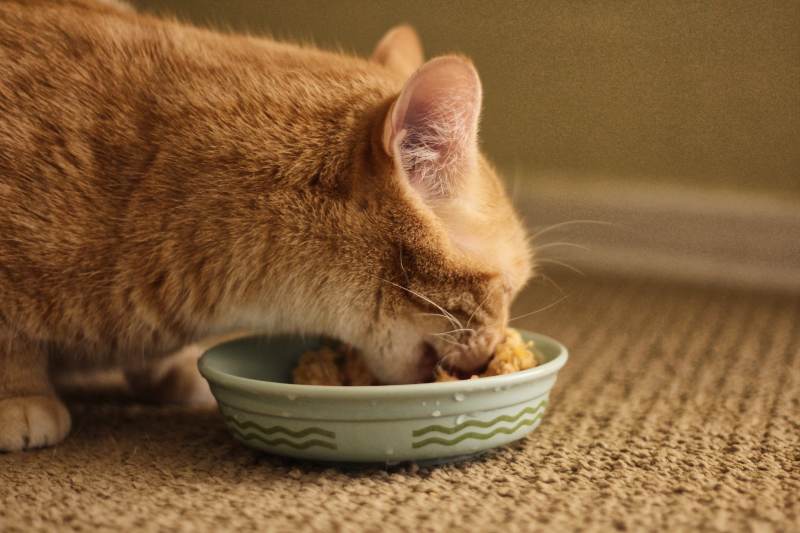 When you start exploring the world of pet foods you start realizing that some ingredients keep popping up. Some of the most common being maize/corn, brewer's rice, brown rice, sweet potato, and regular potato. Due to this, many pet parents have resorted to cooking their cats a cup of rice if they're running out of food or if their cat is refusing to eat their regular food.
So let's dive in and discuss if rice is suitable for cats to eat, when you should feed it to your cats and what type of rice is considered the best for cats.
IS ANY RICE CONSIDERED TOXIC TOWARDS CATS?
No, no form of rice is currently considered toxic towards cats. Though this is true, that doesn't mean that there aren't types of rice that are considered more beneficial or healthier for cats.
REFINED VERSUS UNREFINED GRAINS
When we talk about healthy rice versus unhealthy rice we must discuss whether or not the rice is whole grain. I'm sure by now everyone has heard the phrase "the whiter the bread the quicker your dead" which is an expression used to explain that grains that are not whole grain lack nutrition and are highly altered in the rendering/refining process.
Whole grains include important vitamins, iron and fibre which is considered beneficial for both cats and humans. Although refined rice has some nutrients, it does not contain enough nutrients for it to be considered useful for humans or cats.
It is important to read the packaging of any rice that you buy to ensure that it is not refined, though brown rice is considered the healthiest for cats.
WHAT CIRCUMSTANCES SHOULD I FEED MY CAT RICE
Rice can be used as a supplement to help with digestion. It is often recommended to cats who have problems with constipation or diarrhea. Although this is true, it is always a good idea to talk to a vet before changing your cat's diet. Another recommended supplement that is considered healthier than rice is pumpkin.
Rice can also be used to help hydrate a dehydrated cat. It's actually used by a number of rescues when trying to help stray cats, though I prefer using things like broths, freeze-dried cat food or even wet food. While this is my preference, it doesn't mean that rice isn't a great food to use when you are in a pinch.
MY CAT'S FOOD HAS LOTS OF FOOD IN IT, IS THAT OKAY?
Honestly, finding and choosing a high-quality cat food can be difficult, especially if your cat has dietary needs or restrictions.
We personally feed our one of our cat's Science Diet C/D which has a lot, a lot, a lot of filler. The first 5 ingredients are as follows: Chicken, Whole Grain Corn, Corn Gluten Meal, Whole Grain Wheat, and Brewers Rice. Though these ingredients are not the most ideal for cats, this food is the only food (other than Royal Canin S/O) that was able to ensure that Beau didn't have any urinary crystals.
So, why do I bring this up? Well, it's because sometimes ingredients that aren't considered ideal can still make decent quality food. In the case of cats like Beau, it's much more important to find a food that can maintain pH than food that is considered "premium" or "high quality." Again, just because a food doesn't have filler, doesn't mean that it is completely sound. Some premium/high-quality foods have been known to cause urinary problems merely because they are too acidic or too basic for cats. This is why it is extremely important that you speak to your vet about what foods to feed your cat, especially if your cat has health problems.
Foods with high fillers have also been known to cause weight gain and diabetes. This is why it's a good idea to look for foods that are primarily meat-based and use whole grains as the "fillers." This will lower the risk of weight gain, diabetes and other health problems. Again, though ingredients may be good, they might not be "acidically sound."
CAN I FEED MY CAT RICE ON IT'S OWN?
No, the rice should never be fed on its own, though I don't think your cat is going to be very interested in rice on its own. RIce should always be mixed in with some of the cat's regular food, whether it's wet or dry.
It is recommended that rice be a maximum of 25% of the meal provided for your cat. It is also recommended that you do not feed your cat more than 1/4 cup of rice in a day.
MY CAT HAD DIARRHEA AFTER EATING RICE, WHAT HAPPENED?
Well, even though rice isn't considered toxic towards cats it can upset their stomachs especially if they are fed too much.
Cats who eat rice on a regular basis will begin to be able to process and break down the rice better, though this should not be the goal of feeding your cat rice. Due to the fact that rice doesn't have any substantial nutrients in it, it would always be best to feed your cat small amounts.
Too much rice in a cat's diet can also cause gas build-ups, malnourishment or bloating. This is a big reason why rice should not be fed to your cat on a regular basis.
CAN YOU FEED UNCOOKED RICE TO A CAT?
Absolutely not. Uncooked rice is not considered safe to feed to a cat, nor does it have any benefits as the biggest benefit of rice is the hydration it provides.
Uncooked rice is also not considered beneficial because it will not help with things like diarrhea or constipation. Uncooked rice has actually been known to cause diarrhea for cats as it often contains pesticides
Rice should always be rinsed before it is prepared to ensure that it is clean before feeding to your cat.
SHOULD I EVER FEED A KITTEN RICE?
No, you should not feed kittens rice as grains may negatively impact their development. Now, there are some circumstances where feeding kittens rice may be beneficial such as when they are extremely dehydrated.
This is due to the fact that cooked rice has high moisture content, although you will want to feed the kitten the rice very, very sparingly. As soon as the symptoms are clear, the rice should stop being fed immediately.
CONCLUSION
Although rice is considered safe to feed your cat there are some problems with feeding it to your cats regularly. Feeding your cat rice regularly may cause weight gain or diabetes, though if your cat is fed rice for medical reasons such as constipation or diarrhea until the symptoms are cured it is acceptable.
In general, it would be best to avoid foods that contain brewer's rice and instead feed foods with whole grain brown rice as it provides more nutrients for your cat.
As is with all things food-related, it is best that you consult a vet before adding or changing your cat's diet. Unfortunately, a cat's stomach is fairly sensitive and your cat may need a specific diet to ensure that the pH in their stomach is safe. If ever you notice your cat acting lethargic, vomiting or having diarrhea for 24-hours contact the vet immediately. That being said, a cat may experience said symptoms upon feeding them rice the first time since their stomachs may need a bit of time to learn how to properly digest the grain.
Always know that there are alternatives to feeding your cat rice, especially for cases such as constipation or dehydration. One of these alternatives is pumpkin which is considered more effective for constipation and is considered healthier than rice.
So, I'm curious pet parents, have you ever fed your cat rice? Did you feed it to them to help cure an ailment and did it work? Let me know in the comments below!