As pet parents, we always want to do what's best for our animals, especially when it comes to keeping them safe and making sure we don't cause them any long-term health problems. It's for this reason that many pet parents have been changing out their regular cleaning products for more pet safe cleaning products.
Don't know why? Well, many regular cleaning products such as toilet cleaners or even general purpose cleaners are actually toxic to cats, dogs and other animals. Although not always immediate, some cleaners can cause your animals to get sick over time, symptoms including vomiting, diarrhea, and sometimes even organ failure.
Cleaning products are usually fairly safe when used a distance away from pets, however, some of the more sensitive amigos may experience toxicity from merely breathing in the products.
So, what have pet parents been choosing to use instead?
Well, commonly pet parents have chosen to turn to the most natural cleaner being baking soda and vinegar, but is this safe for our furry friends?
Vinegar is not only used as a cleaner but is oftentimes used as a "holistic remedy" for many ailments, in both animals and humans. So, I'm going to be covering both topics.
IS VINEGAR TOXIC TO CATS?
You're in luck to know that vinegar is not toxic to cats, however, if you're thinking about feeding it to your cats make sure that it is in small doses.
I will cover situations where you may want to think about feeding your cat vinegar, but I'm going to first cover the benefits of cleaning with baking soda and vinegar.
CLEANING WITH VINEGAR
BIGGEST BENEFITS OF CLEANING WITH BAKING SODA AND VINEGAR
Not only is vinegar considered cat safe, but baking soda is considered cat safe as well. Actually, many litter deodorizers use baking soda as a way to help keep the litterbox smelling fresh.
This is great news for pet parents worldwide, since it means that your cats will usually have an easy transition from regular cleaning products to baking soda and vinegar.
VINEGAR NEVER EXPIRES
There are few natural substances in the world which interestingly enough, never expire! Vinegar is one of those amazing substances meaning that if you're someone who doesn't use vinegar in their cooking you can still get plenty of use from a big bottle for years to come.
We're actually one of those households. We bought the largest bottle of vinegar that we could get to clean Blub's fish tank and we've been using the same one for the past 2 years making it one of the cheapest and long-lasting cleaning products we've ever bought.
VINEGAR REMOVES THE SMELL OF URINE
As you may already know, we used to be huge fans of Nature's Miracle before they ended up changing their formula.
Although we knew that vinegar and baking soda would do the trick cleaning litter, as vinegar actually extremely acidic and will neutralize the alkaline salt found in urine, we chose not to use it due to its intense smell.
I'm, unfortunately, someone who is fairly sensitive to strong smells. While my sensitivity is not triggered by all scents things like vinegar, very strong alcohol, hairspray, certain deodorants and perfumes cause me to feel queasy or induce vomiting.
That being said, vinegar is not a problem for me when it is used on hard surfaces, however, when used on soft surfaces like couches, pillows, etc it does usually make me feel nauseous (because the smell lingers) making me resort to other products.
Now, this is not a problem for many pet parents and honestly, the smell of vinegar should not linger more than a few hours, making it ideal for pet parents who do not have smell sensitivities.
(Side note: if any of you have experienced smell sensitivities, especially from vinegar, did you ever find a way to get around it? Have you found using baking soda neutralizes the smell for you? Please let me know because it would be ideal for me to use vinegar to clean couch stains.)
IT CLEANS HIDDEN MINERAL DEPOSITS
For those of you who have water fountains or fish tanks, you may know how tricky it can be to clean the pumps. Well, vinegar actually does a great job of cleaning them.
You can use a bit of vinegar while running the pump to dissolve hidden mineral deposits as well as help loosen up debris found inside of the filter or pump.
This is especially ideal for fish as vinegar is also fish safe!
ARE THERE ANY SURFACES YOU WOULDN'T USE VINEGAR ON?
Absolutely. The truth is vinegar shouldn't be used on surfaces such as soapstone, granite or marble. Vinegar may also ruin certain wood finishes and may even damage certain fabrics.
I would always make sure to look up whatever surface you're about to clean with vinegar to make sure that you don't damage your couch, carpet, countertop, table or floors.
SHOULD I DILUTE THE VINEGAR I USE TO CLEAN?
While I wouldn't say it's an absolute must, I will say it makes cleaning more tolerable.
You don't actually need a whole lot of vinegar to activate it's beneficial properties, especially if you mix it with baking soda. So, do yourself a favour and dilute that bad boy with some water and save yourself from using the bottle too quickly.
IS THERE A PARTICULAR TYPE OF VINEGAR YOU WOULD RECOMMEND OVER ANOTHER?
In general, white vinegar is going to be the vinegar you choose to clean with.
CATS EATING VINEGAR
WHAT KIND OF VINEGAR WOULD I WANT TO FEED MY CAT?
The only vinegar that is considered "useful" to cats is apple cider vinegar.
WHAT ARE THE BENEFITS?
There are no known long-term benefits of feeding your cat apple cider vinegar other than helping regulate their bowel movements and potentially increase the shine and smoothness of their coat.
That being said, I would personally not use apple cider vinegar on a regular basis and only include it into my cat's diet if they are constipated.
HOW MUCH APPLE CIDER VINEGAR WOULD YOU FEED YOUR CAT?
The absolute maximum I would use is 1 teaspoon mixed in with my cat's regular water bowl per day. This amount can be more or less as recommended by your vet based on your concern and body mass of your cat.
WHAT IS THE WORRY OF FEEDING TOO MUCH APPLE CIDER VINEGAR?
The worry of feeding too much apple cider vinegar is raising your cat's stomach acidity.
As you may already know from previous articles about urinary tract infections, stomach acidity is a very important part of making sure that your cat is good and healthy.
That being said, there are other health issues that are connected to a stomach that is too acidic, some being chronic, so always make sure you consult your vet before starting a new diet.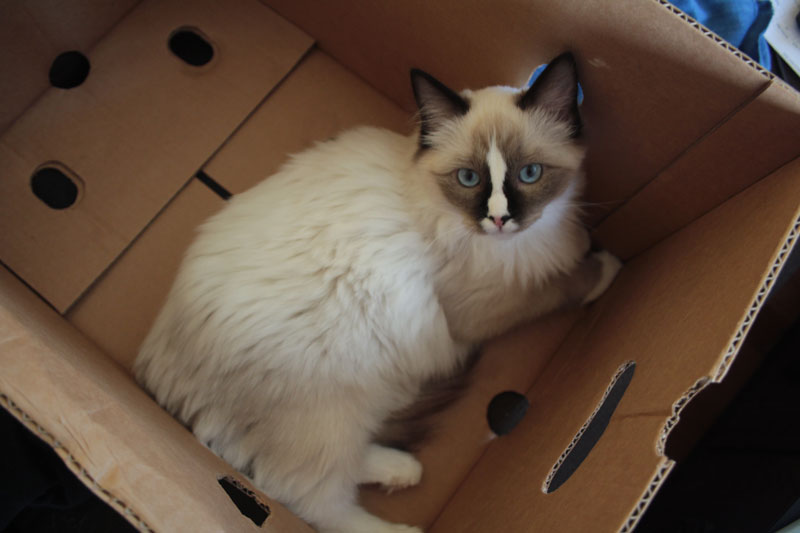 IS FEEDING APPLE CIDER VINEGAR EVER FATAL?
Yes, if your cat has kidney disease it's an absolute must that you stay away from apple cider vinegar.
Unfortunately, cats who have kidney disease are unable to process the acidity in apple cider vinegar and will often cause a cat to become iller or even die.
WHAT IS YOUR VIEW OF FEEDING YOUR CAT APPLE CIDER VINEGAR, JOHNNY?
As I said before, I wouldn't do. I'm aware of the benefit it can have as a laxative and if I absolutely need it I would consult my vet to make sure that it's okay for either of my cats.
It is always in your best interest to consult a vet before treating your cat with anything, even if it's considered "natural" or "holistic."
That being said, each cat is different and what works for one of my cats may not work for my other cat. We learned this the hard way with foods when it comes to urinary problems.
OTHER USES OF VINEGAR
I HEARD VINEGAR IS GREAT FOR FLEA AND MITE PREVENTION
FLEAS
Yes and no. Let's break it down for each though.
Vinegar is usually a good flea preventative, however, if fleas are already living on your little one vinegar is usually useless.
I'm aware that some blogs claim that a 1/4 teaspoon of white vinegar in each bowl of water will help prevent fleas and ticks, however, from deeper research this seems to be unproven/not fully effective.
The idea behind his is that cats who eat apple cider vinegar's skin and blood will have a taste that is nasty to fleas, and while it is true, it does not guarantee that they will avoid your cat and again if the fleas are already there they do not avoid the cat.
Vinegar can, however, be used as a spray to deter fleas from entering a home, but in general, if you are ever worried about fleas or ticks please contact your vet or set up precautionary traps in your house.
MITES
While vinegar has been proven to help cure cats of ear mites, I strongly suggest consulting a vet before treating your cat with it.
Since treatment will require you to clean your cat's ear internally and externally, you may actually cause damage to your cat if treated incorrectly.
The good news is, your vet will commonly tell you whether or not the mites can be treated with vinegar or if your cat needs a more intensive medication and will also teach you how to properly treat symptoms.
GETTING RID OF FAT & CONDITIONING
Certain holistic vets claim that feeding your cat apple cider vinegar will help them shed the pounds. While this can be true, I'm uncertain about it being a good method to help your cat trim weight.
It's important to make sure your cat is losing weight by being fed proper food and given regular exercise. This is what truly makes a healthy cat rather than a cat who is just the "ideal weight."
For me, someone who has experienced problems with our cats' stomach acidity, this is too high of a risk for such a minimal problem. There are plenty of ways to help encourage your cat to lose weight, and as always please consult a vet before trying out "holistic remedies" as they may not be suitable for your cat.
Similar to human diets, there are a number of "natural remedies" or "natural weight loss tricks" that make sense on paper, however, can have a number of negative side effects for your body. That isn't to knock holistic pet care, as there is a lot we can learn from it, it is, however, to protect your cat from some of the mumbo-jumbo you can find on the internet.
FOR URINARY TRACT INFECTIONS
Alright, this one I understand, but similar to all the points above… I'm uncomfortable with this and don't recommend it.
There are two crystals that can form in a cat's body, one if the urine is too acidic and one if it is too basic. If the urine is too basic it is recommended that you add vinegar into your cat's diet to rebalance out their stomach acidity.
That being said, you're running a huge risk by medicating your cat by yourself and chances are… you're feeding a bad quality food that is the culprit.
Playing with your cat's pH is a very risky thing to do and I promise you that it is no fun if your cat has to undergo surgery if they are blocked.
Unless you are properly educated in what a cat's pH is supposed to be, you know as a fact that the cat food you are feeding is top notch and you are ready to be testing your cat's urine with pH strips every time they urinate… don't do this.
Again, if you speak to a vet and they tell you the exact measurements you should feed your cat vinegar and they are helping you test out your cat's urine, that's a whole different story… but always remember… there are already foods developed to help keep your cat's urine in check like Science Diet and Royal Canin.
I understand how frustrating it is that they are only available through the vet and it's basically a "monopoly" but let me assure you once more that both have worked for our cats, Walker and Beau. Honestly, I wish we had Beau on Science Diet full-time because it potentially could have saved us such an expensive and traumatizing operation.
AS A CAT DETERRENT
Although not always effective, vinegar can actually be a cat deterrent which can be useful if they are scratching the same are of a couch or you don't want them in a certain room.
Most cats hate the smell of vinegar and will avoid it at all costs, so if you're having problems with a trouble kitty it's worth a try!
FINAL THOUGHTS
Personally, I think vinegar is a great cleaner and can be really useful around the house. I don't really buy into the whole "apple cider vinegar can help change your cat's life" mumbo-jumbo.
Again, this isn't to say that holistic vet work is crazy talk, it's just a matter of… it's very easy to spew out information as if it's fact while studies are saying quite the opposite.
I will say, yes, apple cider vinegar does have some great benefits, but again, there are so many problems it can cause to our cats' lives if we are not careful, especially with the dosages.
Since our cats are so small, the smallest change can really throw off their system and it is always best to talk to your vet about any changes you want to make in their lifestyle and diet.
As a pet parent who underwent the trauma of having to put his cat under the knife because of pH imbalances from "natural holistic food", I'm quite sensitive to anything that can alter my cat's pH. That being said, I am well aware of the benefits natural holistic food has in comparison to premium or grocery store cat food, but I'll always be the first to say it is not for every cat.
Every cat is different. We have 5 cats in our lives currently. Beau and Walker, who both have to be on urinary specific food because they develop crystals very easily; Avery and Bjorn (my sister's cats), who seem to be good with premium kibble and have never had urinary problems, and Kalista who is doing great on natural holistic food.
I will repeat, please be very careful when changing up your cat's diet and don't just go with the hype.
As is with all of my articles, I will continually update this one as more information and studies are released of the benefits of apple cider vinegar, however, the answer will still probably be "consult your vet to make sure it is right for your cat." Even a holistic vet would agree with that.
That all being said, do any of you feed your cats apple cider vinegar? How have they been doing on it? Also, do any of you clean your house with vinegar? How great is it?