Hey Pet Parents & Pet Lovers,
Disclaimer: We lost Beau on December 6, 2020 though not due to complications regarding Urinary Tract Infections, but instead his heart. I ask that at this time I do not receive e-mails or messages about Beau as we go through the process of grieving. Thank you for being understanding. We love you Beau and miss you so much.
So to catch those who are new up, Beau had a double surgery – a Cystotomy and a Perineal Urethrostomy done at once – in order to help him with his issues with his blockages and urinary tract infections.
Things did get incredibly serious and there were points we thought we might lose him, but luckily, since the surgery, it seems we're in the clear and he's now finally doing extremely well.
I wrote a little update about his recovery before, but I wanted to go into more detail about the aftercare and the specifics of what recovery looks like for him, in case you end up with a cat who's sick and needs these surgeries.
It's quite a jarring thing to go through if you're not prepared (especially seeing all that bruising). So hopefully this will help you in a way I wish I had a post to have helped me.
Beau's been back with us for about 7 days now and his care routine is starting to become, well, routine. Beau's moods have been up and down, but his healing process seems to be going well.
He sadly hasn't been wanting to move a lot these past few days, though that's both a blessing and a curse. It means there's a chance he'll get constipated, but it reduces the chances of him opening up his stitches as they can't be caught on anything and he's not trying to lick them at all.
I'm really proud of my little guy, but I'm still in a state of perma-worrying about him – as I'm guessing any attentive pet parent would.
Vet's Instructions for Post-Surgery Aftercare
Home Care Instructions
Keep an e-collar/cone on for the next 14-21 days
For the first meal at home please feed half of the normal amount (anaesthetic may cause intestinal upset)
Ensure that he is kept in QUIET for 7-10 days. All activity is to be strictly monitored and minimized.
Use Yesterday's News cat litter during the healing process
Precautions & Warnings
Please monitor the following and make sure to notify a hospital:
Vomiting/Diarrhea
Excessive Drinking
Coughing – Lasting more than 48 Hours
Specific Instructions
Do not allow Beau to lick or chew at incisions.
This will cause an infection and delay the healing process
No bathing/swimming until the incision is healed
We are however allowed to use dry shampoo/mousse on Beau to clean Beau.
You will expect dripping of urine/blood from the incision site (urethral area) for the next 3–5 days. No discharge should be coming from the abdomen incision site.
Please come in the next 14-21 days for the suture removal
Please come in 3 days for recheck and fentanyl patch removal
Medications
Clavaseptin: every 12 hours. Antiobiotic.
Tolfedine: 1 Tablet after a meal once a day. This is an anti-inflammatory
Cosequin: 1 Capsule once a day. This is a joint supplement, can be used as an anti-inflammatory.
Gabapentin: 1 tablet every 12 hours. This is a pain medication.
Prazosin: 1/2 a tablet every 12 hours. This is a urethral relaxant.
Buprenorphine: Start this once fentanyl patch is removed. Every 12 hours.

Post-Surgery Recovery Day 1
After Beau was discharged from the vet, we decided to wait a bit before feeding him his next meal. We wanted to make sure that there was enough food in his body when giving him medication.
Your vet will mark down which medications you can give your little one without food, but I still recommend giving your little one some food even if the medications don't say to (unless strictly advised not to.) Sometimes cats will get the shakes if they have medication and no food or water. I'd try to avoid having this happen as much as possible.
Once Beau was home he immediately walked to the "man cave" we made him. My sister recommended putting it together since we had construction going on above us at odd, unpredictable times of the day that would really stress beau out. The man cave consists of our dining room table, a bunch of blankets lining all sides, cardboard to insulate sound on the top, and towels in case of any accidents and for further comfort on the floor. We also put in pillows, Beau's favourite toys, and a bunch of other things that he loved.
On top of that, we put an air purifier into the man cave running constantly on low so that we could white-noise wash out any noise from construction above us that might happen. We put this man cave together a couple days before his operation and I'm assuming he still remembered it from two nights before since he ran straight into it as soon as he got home. Mission to give him a safe, anxiety-free place to hide and recover in was a success.
Beau didn't want to move much, and who could blame him. He was very bruised. I have pictures, but they are very graphic and I will be willing to share them with any pet owners who are in the same situation as us who would like to compare, but I would rather not publically have them on our blog in case anyone is squeamish or doesn't want to see little ones in pain.
Beau didn't have too much energy to walk around on day one, and spent the night soiling himself. We made sure to cover him with vaseline/petroleum jelly to try to protect him from a rash, covering all of the parts he would let us. (We weren't too successful on day 1 as he was too grumpy from the surgery and would hiss and growl, which is not common for Beau at all.)
Beau ate a total of 3/4 a can of wet food on this day and luckily also drank a lot of water.
At around midnight Beau joined us in bed as the medications had kicked in and he was feeling better. He actually jumped onto our bed, which we were surprised and ever so happy about.
Post-Surgery Recovery Day 2
In the morning we woke up to a pet parent present – Beau had peed inside of his litter box.
This was exciting for us, as we mistakenly thought Beau would have no post-op behavioural problems at all (the vet had warned us there likely would be) until we found that he had soiled himself throughout the night as well.
I realized Beau had also peed all over me while I was sleeping since he likes to sleep in the bed with us.
Behavioural issues like this (peeing in the wrong place) can definitely be common for kitties with urinary issues, especially after they get a Perineal Urethrostomy. But these behavioural issues can get a lot better, and immediately after the surgery is usually the worst time for these types of issues.
Always prepared to clean urine, we cleaned the house with Nature's Miracle Stain & Odor Removal, which is a product I'm learning to love more and more, especially given our current situation. It just works, and I'm reminded of its effectiveness every time I use it, even though I still hate the smell.
Beau ate about 1/4 a can in the morning with his medications. He didn't want to eat much more and happily ate his medication with Salmon Pill Pockets and some Feline Greenies to reward him for being such a good kitty.
Day 2 was a very hard day for Beau as his swelling began to get worse.
He wouldn't let us pick him up or try to clean him. He refused to eat more than 1/2 a can of wet food, and we had to entice him to eat by putting his treats into his food (he's picky and prefers the taste of kibble).
Although I would rarely recommend this method, we really had to make sure Beau had something in his system at all times as his pills were spread out through the day and Cosequin, for example, is in a powder form that must be sprinkled onto food, so if he didn't eat his food, he didn't get his medication… Boo.
Something I highly recommend in situations like this is to mix the medication into a very small amount of food. Make sure the powder soaks in so your little one doesn't see it, and have them eat it so you know they've had the full amount. (We started to do this on day 3, and it proved successful for the remainder of his recovery process.)
On Day 2, Beau didn't come to bed with us. He rarely left his man cave unless he was using the litter box.
Beau still hadn't pooped since being home, and as anxious pet parents, we worried about this, so called our vet in the morning to schedule an appointment to make sure everything was okay. I know this may sound pretty extreme for two days' worth of constipation, but I don't regret my decision since it allowed me some peace of mind.
When you have a little one who underwent two major surgeries, I firmly believe you have to be as cautious as possible! We also didn't feel so bad since we had to take his Fennalyn patch back for the vets to properly dispose of.
Beau had also soiled himself to the point of his hair clumping together. For this reason, we set out to buy more vet wrap to cover his tail and protect it from his constant soiling.
Beau didn't mind this at all, and it definitely helped his tail stay a bit cleaner. (If you are going to use vet wrap, please make sure not to tighten it too much as you need to make sure that the blood still circulates to your little one's tail. Remember, the goal with pet wrap is just to make sure the tail stays clean, not to really tighten in on the tail for any reason.)
Post-Surgery Recovery Day 3
Beau's bruising got really bad on surgery recovery day three. It was so bad it had spread to his tail and his underbelly. We were very concerned with this and were glad that we were going to take him to the vet.
Because he hadn't eaten much the day before, it was easier to get Beau to eat his Pill Pockets and wet food. He started the day off strong with almost 1/2 a can of food, which we mixed with water and microwaved for 15 seconds. This is something we carried on doing whenever Beau wouldn't eat his room-temperature/fridge kept food.
Now here's the catch. If you have put medication in the food, you SHOULD ABSOLUTELY NOT put it in the microwave. This is EXTREMELY important. If your little one hasn't finished their whole meal with the medication do not reheat and try to entice them to eat the food in other ways.
I'm also a little bit weird about the microwave. I'm actually one of those crazy alien humans who refuses to have or use one in the house. Ours has been tucked away since we've moved in, but I will use it only to warm up Beau's food once.
If he doesn't eat it the first time I will mix some warm water into the food instead to prevent it from getting too dry. This usually works for me, and oddly sometimes Beau will eat more of it when it has warm water rather than being in the microwave.
Please be careful if you are going to use warm water for your little one's food as you are going to want to make sure it's not too hot so you don't burn them.
Our vet visit happened in the afternoon and the vets were happy with Beau's recovery. Beau had pooped a little in his carrier on his way to the vet and everyone was happy to hear that he wasn't fully constipated. However, they were concerned that he wasn't eating much and gave us permission to mix some dry kibble into his wet food as long as it was either Urinary S/O or Urinary C/D. We chose to go with C/D as it is also meant to reduce stress. And while Beau's man cave was helping with that, any extra help with reducing anxiety was still greatly appreciated.
The vet also prescribed Beau some stool softener as she noted he hadn't pooped even when he was with them (so about 5-7 days), and the X-Ray showed a lot of build up. She said we didn't have to give it to him if he was pooping normally, but she would much rather have everything out of his system as soon as possible to reduce the chances of another emergency visit.
So, we got him started on Lactulose which was to be given every 12-24 hours based on results and needs. They also noticed Beau was more bruised than has ever been and recommended that we try icing him again. They then cleaned Beau up a bit and sent us on our way home.
On the car ride home, Beau pooed on himself again, but we didn't notice until we let him out of his carrier. Although it was probably uncomfortable for Beau, we were glad he was able to go without the need of Lactulose. Still, however, we decided to give him some as a precaution, choosing to give it to him once every 24-hours instead of every 12 hours, at least until we got all the rest of what was backed up in his system out of him (he hadn't let go of very much).
That night it was a lot easier to feed Beau. Given the fact that he has a kibble addiction, we were able to get him to eat a lot of his wet food by microwaving it first then mixing some kibble into his food. Beau also smiled for the first time since the surgery that night while we were petting him. We knew this was a great sign and we couldn't stop petting him because we didn't want that smile going away!
Before bed, we decided to ice Beau. It was actually a bit difficult to do as the bruising was pretty raw. After icing for some time, we put 100% petroleum jelly Vaseline onto Beau, which he didn't seem to mind.
I would honestly recommend icing before putting on Vaseline for anyone who is dealing with the same issues. The ice seems to numb your little one enough for them to tolerate putting the cream onto them without fuss. We also decided to look into alternative ways to calm Beau down, discovering that there is actually music that can help.
[Click here for a Spotify Playlist for Calming Music for Feline Anxiety & Stress]
Post-Surgery Recovery Day 4
In the morning when we found Beau, we noticed he had discharge on his staples. Worried, we immediately e-mailed the vet letting her know and sent her a picture of the discharge. (We wake up at around 5 AM, and our vet opens at 10 AM.)
Pacing the house hoping for the best, we started to prepare for Beau's day.
We built Beau three faux litter boxes out of cardboard, making sure that there was no lip so he didn't have to climb.
This is super important to do, especially because Beau was no longer refusing to leave his man cave. Beau was choosing to walk around the house at this point, but only for a few minutes at a time.
We knew that he would be ready to use his litter box instead of soiling himself and I kind of wish we had thought of the idea sooner.
How to make a Faux Litter Box
Cut one side off of a very long cardboard box. (You're going to want to make sure it's a long box, as your little one is probably going to have to stand up before they're done peeing and it will reduce the amount of dribble left on the floor.)
Line the bottom of the box with a large garbage bag (this will make it a lot easier to dispose of the litter.)
Pour a small amount of Yesterday's News litter on top of the plastic bag.
We actually noticed Beau doesn't need a lot of this litter for him to want to use the litter box. Unlike clumping litter, Beau will dig for a short amount of time clearing space and will use the box immediately. Often he pees directly onto the plastic rather than onto the litter, so the less litter we use the more economical it is for us. This will highly depend on your cat though, so try different things out.
I would highly recommend placing a number of these litter boxes around your house. Even though Beau was moving on day 4, if there wasn't a litter box near where he was he would pee directly on the floor (or himself.) No beuno.
At 10 AM we received an e-mail from our vet letting us know that the discharge looked normal and that as long as it wasn't turning yellow or constant throughout the day we were fine. This was such a huge relief for us and we continued Beau's medication routine.
Nothing new to report from Day 4 other than his bruises got a lot worse BUT he did start stretching, which was a good sign that he wasn't in too much pain.
Post-Surgery Recovery Day 5
The morning started off pretty smooth. I had the morning off so I could spend more time monitoring Beau and making sure his process was going smoothly. Beau was eating fine, he was taking his medications fine, and he was letting me clean him a bit.
We received a phone call around 11 letting us know that Beau's tests came in stating that he didn't have cancer. (This was a worry for us as his bladder was very inflamed when they took him into surgery and he had a slight heart murmur.)
They deemed the cause of the inflammation due to him having crystals for so long and his uncommonly small urethra (a genetic issue) not allowing enough crystals to pass through even with medicated food.
This was the best news we could get, especially because it made us feel like we made the right choice taking him into surgery.
It's possible he would've needed the PU surgery later in his life even if he would've recovered from his UTI issues without the surgery this time around. At least this way, he had the surgery when he was young and in great health.
We let the vet know that Beau's bruising was still getting worse and had moved onto his tail and stomach. She let us know that this was quite normal and that we should continue icing him as often and long as possible. We let her know that we were already doing that and asked if it was possible for us to put aloe on him. (Knowing that aloe works miracles on bruises.) She gave us the green light, but told us to be careful and use an ointment instead of spray to make sure we don't get any onto his cuts or in his mouth (as aloe is toxic to kitties if ingested.) We let her know that we would be using pure aloe or an aloe cream made for pets based on whichever gave us the best results.
In the evening we got worried though as Beau started peeing some blood.
This was the first day that Beau peed blood in his recovery. We had been previously warned that cats will sometimes pee blood within 5-7 days of recovery, but it was so odd that he just started on the 5th day.
Unfortunately, our vet was already closed at this point so we decided to wait instead of rushing him to the emergency. (Reason being: we didn't want to stress him out and the blood was a bright red with no signs of blood clots.)
Beau was also peeing more regularly, so we were certain it was just because we had more opportunities to see his urine on the 5th day, especially with him using the litter boxes versus the dark towels placed in his man cave.
That night Beau visited us in bed without us knowing. It looked like he had slept with us for most of the night, but he wasn't there with us in the morning. How did we know he'd been there? My partner and I woke up soaked in pee and blood.
Luckily, we don't mind having to clean after Beau and were just happy he was getting back into his normal rhythm.
We took this as a sign that at least he was recovering enough to want to sleep with us. We also looked on the bright side – it's so nice to have him pee consistently than watching him go through blockages. All in all – a messy but still very positive process.
Post-Surgery Recovery Day 6
We woke up to Beau vomiting. Needless to say – this terrified me.
I e-mailed the vet's office immediately telling them about the blood and the vomit, letting them know that his vomit had no blood and looked like the food was just undigested. We also let them know that we put aloe on him the night before, but we were certain he did not lick it off himself.
Almost immediately after sending the e-mail I took a look into Beau's litter box and discovered… the biggest poop I have ever seen a cat make! Honestly, it was around 7-inches long!
When the vet-tech called us at 9 AM I let her know about his big poop, and she said… "I'm pretty sure that's why he threw up." Our little one was probably pushing so hard he couldn't keep the new food in.
She also let us know that sometimes bleeding stops after 10-days, but it's not very common. She reminded us to keep watching out for blood clots, but as long as the blood is bright red, we should be fine! Thanking her, I hung up the phone to cuddle Beau and guess what… ALL OF HIS BRUISING WAS GONE!
I don't know what to thank! The aloe? The anti-inflammatories? The ice? Everything combined? It was the biggest achievement/success we had during the week and were stoked to see this much progress overnight!
Nothing else to report from Day 6 other than Beau let out another doozy that night and we were pretty certain he released everything that had been backed up for the past week or so.
Post-Surgery Recovery Day 7
We went in for another exam for Beau to see when we were going to take out his stitches & staples.
During the exam, the vet was so happy to see how well Beau had healed and was very surprised with his overnight recovery. She examined his new urethra and stated that we should have no worries regarding the blood. Everything looked like it was healing and there were no signs of blockages or clots. Success!
We asked the vet if we should take Beau off of his pain medications at this point, and she said that it should be fine too as long as he continued to stay active. If we noticed a decrease in activity, Beau might be in a lot of pain and wouldn't want to move. We promised to keep a close eye on him and took him off the pain meds.
Beau was fine the rest of the day. He walked around much more than usual. He cuddled with us again and overall had a great time exploring the apartment and playing with us and his toys. Good as new, nearly!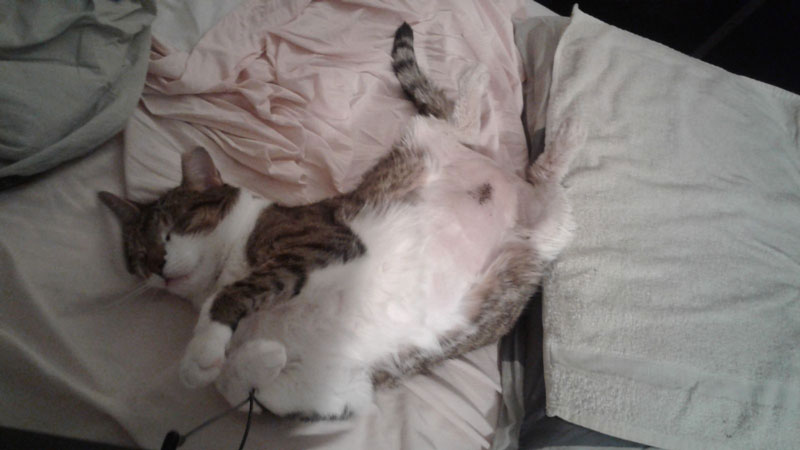 Final Thoughts on Beau's Cystotomy & PU Double Surgery Recovery
That concludes what our first week looked like. We're so happy to see Beau's recovery going smoothly and hope that our experience helps anyone who is going through the same situation.
I will post an update with what's been going on in week 2 and will let you know what removing the staples was like (happening on the 14th day.)
I want to assure you that going through all this was frightening, but probably more so than it should have been.
Bruising looks terrible on cats, and it's painful to watch your loved one suffer and for moods to be low when you're used to a bubbly little cat bouncing all over the house all day. It's not an easy thing to go through, but it's obviously completely worth it at the end of the day if that's what your pet needs.
Behavioural issues with peeing should get considerably better after the first few days, which are certainly the hardest of all. But get through those and you'll start to see a lot of improvement very quickly.
As you're going through this process I encourage you to constantly update your vet, asking questions whenever you might be worried. Don't be concerned about bothering them if something different has popped up (like more bruising and/or blood in stool like Beau had). I know we have an especially supportive vet's office, who was never annoyed at too many questions, and maybe you're unlucky and end up with a vet slightly annoyed – but it's more important to look out for your pet's well being than it is to not annoy your vet. Oh and, you just spent thousands on vet bills paying for a surgery – your questions should definitely be covered in that huge cost (for me, over $2997 CAD).
For now, I haven't got the graphic pictures up, but if you're a pet parent who is worried about their little one's recovery and want to see pictures of Beau's process, let me know through our contact page and I will email them to you. I know it can be really helpful to see other people's processes and we're more than happy to help folks out who are going through the same problem. <3
UPDATES SINCE THE SURGERY
The following are all the posts I have written since Beau's PU Surgery that relate to the surgery or complications he had because of the perineal urethrostomy.
March 4, 2018 – An Update About my Cat's PU Surgery & Double Cystotomy (No Complications)
June 6, 2018 – It seems Beau has another Urinary Tract Infection (First PU Surgery Complication)
June 12, 2018 – An Update to Beau's Most Recent UTI (First PU Surgery Complication Update)
August 22, 2018 – What the Vet said about Beau (our cat) Not Eating (Non-Complication, though regards vet treatment to cat with PU-Surgery)
January 13, 2020 – Taking Both Cats to the Vet & Update on Beau's PU Surgery 2 Years Later (Second PU Complication)
October 15, 2020 – Beau gets another UTI due to the stress of moving countries / accustoming to a new space
December 6, 2020 – We had to say goodbye to Beau today due to complications with his heart. Luckily nothing to do with Urinary Tract Infections or the P.U. Surgery, however, Beau will forever be missed by us.