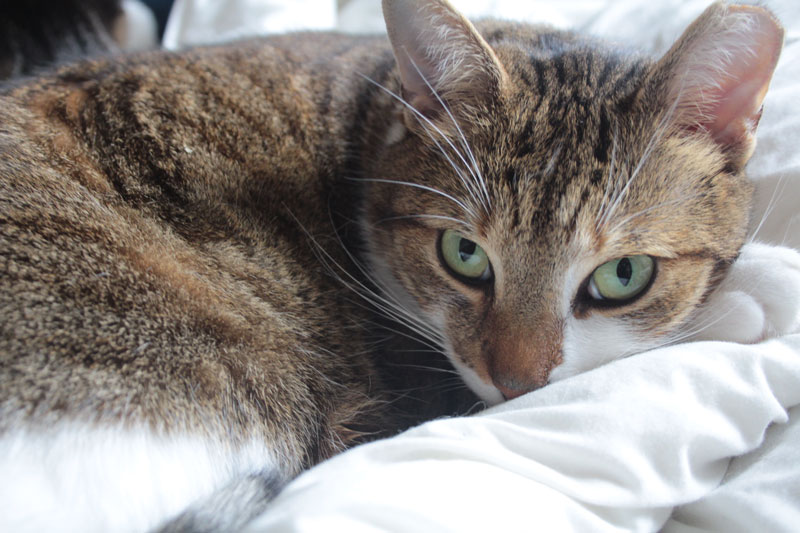 Hey Pet Parents & Pet Lovers,
Yesterday we took Beau to the vet in hopes of figuring out why he hasn't been eating the past few days. All-in-all it was a fairly uncomfortable vet visit, but I'll explain why shortly. I'll also tell you a bit about why I liked the visit as well.
The vet visit started with being greeted by some of the sweetest vet assistants I've ever met. Beau was doing fairly well, breathing a bit quicker than normal and hiding his face in my chest as I held him.
Wait Time
We had booked an appointment for 5:30 PM, but it seemed like a fairly busy day so we weren't seen until around 6/6:15 PM. Now wait times aren't usually a big deal to me (considering we've waited for hours at the emergency in the past), but I do wish I knew that this facility had only one vet with no vet techs. I guess that's my fault and I should have done more research, but it's still a fairly long wait for an appointment, no?
I ended up spending a lot of my wait time chatting with other pet parents and getting to know their dogs, which I really enjoyed because who wouldn't! I was also trying to feel out what the other folks thought of the vet and if they had been patients there long. Everything seemed good until we were in the checkup room.
The Doctor's Attitude
My first impression of the doctor was great. I liked the fact that he explained a lot of things and asked questions, however, I wasn't the happiest with the way he handled Beau. Beau is an extremely docile cat. He's calm and will sit in absolutely anyone's lap. After weighing Beau and doing an eye, ear and mouth examination the doctor proceeded to look at Beau's genitals. Now you already know that Beau underwent a PU Surgery late last year, so his genitals don't necessarily look the way they're meant to look, but it seems like the doctor has never seen a PU Surgery before. The doctor immediately opened Beau's incision site quite aggressively and stated: "I think something is wrong with his penis it looks like he's chewed it or something." Which is something I've already mentioned to this specific institution a few times over the phone and even during the question period the doctor had with me. I then re-stated that Beau had a PU Surgery which he ultimately needed because it was a life-or-death situation. The doctor proceeded to open his incision point turning it inside out a bit which made Beau growl and hiss (something Beau hasn't been known to do even when he's in pain.) The only other times we've seen Beau growl and hiss was when Walker would beat him up or when he was blocked 3 times within 48 hours. This was when I really started missing my old vet.
The doctor looked confused saying that Beau looked like he had an infection in his incision site, which didn't look like the case to me. Now, I'm not going to say that I know better than a vet, because I don't, but since the doctor had previously flubbed a bit by stating "I think something may be wrong with his penis it looks like he's chewed it or something" rather than immediately realizing that the cat underwent surgery, I didn't know how I felt about him diagnosing my cat specifically regarding his incision site. To me, the incision site looks fairly pink which is normal, when it should be blazing red when it's infected (which I have also seen before.)
The vet then stated, "why did you decide to have this operation, you cat probably didn't need it," to which I immediately responded, "if it wasn't necessary we wouldn't have done it, but we were given a 'he will probably die if he doesn't get the operation' ultimatum which made us do it." I found this a bit… hard hitting to hear from him. We obviously didn't want Beau to go through the surgery if he didn't have to and we knew there would be complications, but since Beau is only 3 and 3/4, it would not have been fair to him to die so young from something we could have prevented.
The vet then ran a long list of procedures he wanted to do including blood tests, urinary cultures, urinary pH tests, etc, etc, which is good and great, but they were tests we had just done a few months ago. Now, I also know that things can drastically change from month to month, but they all had nothing to do with him not eating, other than potentially the blood test. I then proceeded to ask the vet if we could have some time to discuss what we wanted to go through with because our bill racked up to over $300 with only the basic tests. (Which is fine, if they are necessary tests.) The vet didn't give my partner and I any space to discuss and kept going over the list of things we could do adding a few more to the list to which he ended with "because we're trying to get your money." Which I know is a joke, but buddy… this isn't about money. This is about us not repeating the same exams that keep coming up blank and making sure Beau doesn't have to be traumatized by a million procedures.
I told the vet that and he responded with, "well nothing looks wrong, his teeth are fine… need some cleaning but fine, he has no temperature, nothing seems stuck in his stomach, so we're not going to know until we do all of these tests." Which I responded with, "Yup, which is why we're fine with a blood test, but the urinary and culture test (which mind you are very expensive ranging between $85-200 based on what they test for) are unnecessary and have come out blank the 4 other times we did them."
This is when the doctor responded with a bit more sympathy stating that he didn't know Beau had gone through that many tests and that maybe we should just try different antibiotics and see if they work, then listing a few antibiotics we could try from. Now, I'm not usually a fan of blindly giving antibiotics, but part of me just wanted to get out of there and they were all antibiotics I recognized from either class or from speaking to our past vet, so I said sure we can try an antibiotic.
The doctor proceeded to check Beau and saw that he was very dehydrated, which came as a bit of a shock to me. If you've been keeping up with this adventure you know that I've been syringe feeding Beau water. It turns out, even syringing Beau wasn't good enough. Beau needed at least 60mL a day, which is about 120 syringes. So we decided to give Beau a fluid injection.
I then proceeded to ask the doctor about other food alternatives since CD has made Beau pack the pounds and we really wanted to get him back down to a healthy weight. He let us know that he didn't like CD or SO either, but that it was the only option we really had. I rebutted with, "what about raw or freeze-dried raw" which was immediately shut down by him. I get it, lots of people aren't fans of raw and there's a lot of information out there that supports raw and information that states that raw is really terrible for your pet, but it's nice to still have the conversation. The main point the vet made was, "raw has too much protein and often leads to kidney failure." Fair point, but so do other forms of pet food. Loads of cats experience kidney failure whether they are on dry or wet. So, wouldn't the solution be making sure that you track how much protein the cat gets rather than excluding a whole type of feeding because the "protein is too high"? There are plenty of alternatives in the pet food industry that raise the fat and drop the protein, so I'm sure it's similar in the raw food category. Aw well, that conversation was quickly changed to CD is filled with fat and I'm not surprised Beau is getting fat, because most cats who eat RC or SD gain lots of weight. Cool, thanks for letting me know, that's information I really do appreciate.
We concluded the examination and chose to do the following: drawing blood but not sending in the results until we saw if the antibiotics would help, fluid injection, Zeniquin (the antibiotic), and four cans of Science Diet (Urgent Care) AD which I've actually never heard of before. Apparently, Urgent Care is a special mix for dogs and cats who are recovering from sicknesses, surgeries or illnesses and need extra nutrients or encouragement to eat/recover. It's apparently a great food to raise the appetite of your pet, so I was also grateful that they had this option.
We were then told to wait again until they were ready to do the procedure.
Waiting…
This part didn't feel like it took very long, and again I'm understanding that the place is busy, but there were about 4 clients there and it seemed like even when we walked in a number of them were waiting on pills that needed to be dispensed or food, etc. So it seemed like a common practice to have to wait a while until everything was ready. I can't tell you how long we waited for Beau to get out, but I can tell you we left the practice around 7:20 PM. Meaning that the whole visit took about 2 hours. I will admit, some of that was spent talking to the vet's assistants about foods and other pet stuff, but it's a bit crazy how long that visit was.
When Beau came back to us he was extremely shaken. Shivering and definitely not having a good time. This happens to Beau sometimes, but it hasn't happened in a long time. I don't blame him though since he was being taken care of by folks he didn't know and had both blood drawn from him and liquids put into him. The vet's assistants said Beau did really well during the procedures and that they wanted to steal him! (I'm actually terribly happy that every vet has had a good experience with Beau because he really is such a great cat.)
It's not all that bad
When it got to the bill, I noticed the price was a lot lower than what we had been previously quoted (which was in the high $200s.) Our bill came out to around $180, which isn't bad at all considering the check-in fee is around $60. That being said, I'm glad we weren't pushed to do all the tests, which vets have tried with us in the past, and that the doctor understood that we regularly made sure Beau is okay and weren't neglectful pet parents.
I wouldn't say this was a horrible vets experience because it wasn't, but I will say it was still uncomfortable. It's mostly because of the way that Beau was handled and the potential lack of knowledge about PU Surgeries. I did really, really enjoy the support staff and they made the visit so worthwhile, but I know my partner and I had a discussion immediately after about whether or not we'd return to this vet.
I think the thing is: not every vet is going to have seen every circumstance a cat can be in and since our old vet knows Beau so well it's so easy to shrug off other vets because they're not as knowledgeable about these specific things… so our decision is: we will take Beau there again for things that aren't related to his urinary issues and will make sure to ask if the vets have had experience with PU patients (which I was pretty sure I did before.)
An Update of Beau
As soon as Beau got home he started eating like a little piggie. He ate about 1/5th of a cup of dry food which we had left out to see if he'd touch it at all and slept next to me in the office. It had been the most Beau has eaten in a few days. (Honestly, Beau didn't eat enough to the point where he started throwing up bile.) So, I'm glad we went to the vet. I'm not sure if he wasn't eating because he wasn't hydrated enough, or because of other reasons… I mean, that's still a mystery to the vet and me, but hopefully we'll have answers soon… if not… hopefully Beau continues to eat this much!
So thank you to the team of vet's assistants and the vet. I'm sad that it wasn't the greatest experience and I'm hoping our next one with you is better, but for now, I'm just grateful that we have a vet that's close enough to go to when we need it. You will be seeing us for Beau's teeth cleaning!