Hello everyone! I'm hoping you all had a brilliant start to your new year and that you're either settled in or almost settled into your routines and schedules.
I know things have been a bit of a hurricane in the Pets Overload family, which explains the lack of posts, but since I have today off I thought I would give you a proper fill-in on our lives.
As some of you may know (from our Twitter account), the Pets Overload family is planning on moving countries in 2021 so in preparation for that, we've been getting all of our paperwork started and have been scheduling vet visits to ensure that our immigration will be smooth next year.
Oddly enough, as we started planning to get our cat's their shots, Beau started showing signs of a PU Surgery complication, so our stars were aligning.
As you may already know, since Beau's PU Surgery we moved pretty far from our preferred vet, causing us to go to vets who have treated Beau… well, subpar. So, we made it a day trip to go to our preferred vet this weekend as we want all of our paperwork we're going to use to travel to be done by the same vet.
HOW WE KNEW SOMETHING WAS UP WITH BEAU
As I'm sure you've heard time and time again, Beau is a creature of habit. While Beau's routines change based on the season or whether or not someone is sick, Beau's routines stay fairly consistent for at least a month.
Beau started this new routine this past month where he would come out of the litter box, clean himself for a little bit, jump on his hutch and meow loudly. Now, the meow that Beau would use didn't sound like he was in pain, but oddly it sounded similar to the yowl he makes when he wants Kalista to play with him.
At first, I thought Beau was meowing to let me know that the shelves he needed to jump on to get to his hutch weren't very secure. So, I gave Beau more options to jump on such as a chair, but still, he would let out a couple of meows when he reached the top of the hutch. Clearly something was wrong, or at least up.
As is with all things Beau, as soon as anything seems to be going wrong we check to see if he has a urinary tract infection. Luckily the past few months we have been using Pretty Litter, so we know that Beau's bladder is pH balanced, but still, his incision site looked a bit weird. So, off to the vet, we were!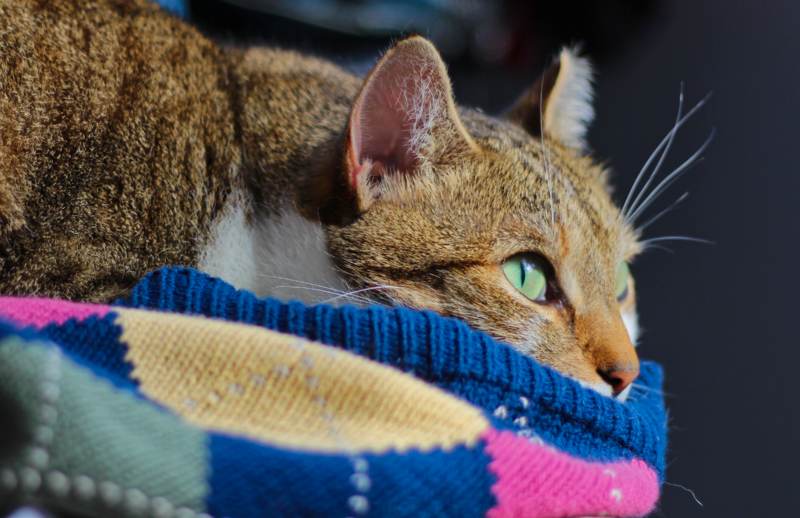 TRAVELLING WITH TWO CATS
Beau has never really liked his carrier, especially because of all of the negative events that took place in 2017 and since the cats don't leave the house often, we don't have the opportunity to build more positive experiences with them. My partner and I have been talking about the ways we would like to engage our cats in more enjoyable carrier experiences, but haven't had the opportunity yet.
Kalista, on the other hand, loves her carrier. There's nothing that makes her happier than plopping herself down into her carrier. My partner was shocked that as soon as I placed the carrier down, Kalista jumped into it and started sleeping. What a dream cat, eh?
Driving with the cats was pretty good, although I never had an issue with Beau. It was Walker who was chatty for car rides, but both Kalista and Beau were quiet.
THE VET VISIT
Upon arriving at the vet we found out that our preferred vet no longer works at the clinic and neither do the majority of the team members who worked on Beau's surgery. I was actually a bit shocked to hear that since their website still says they work there, but sometimes I forget websites don't always get updated.
Either way, the new vet team seems fabulous, though a bit less punctual. We were let into the examination room late and waited in there for a while. So, while we waited we thought we'd let the cats out to see how they would do.
Kalista was happy to jump out of her carrier and start exploring. She wanted to see what was on the computer and smell everything in sight. There was nothing Kalista wanted more than to jump off the medical table, but as soon as we saw her get too excitable, we lead her back to her carrier. The adorable thing was, she was just as excited to jump into her carrier as she was to jump out. Adorable, eh?
Beau, on the other hand, wasn't the happiest at the vet. He was fine with sitting alone in the corner by the window, which he would do almost every vet visit. Beau would often shiver by the window and while he felt safe there, every so often you could see his cute self shiver.
The thing is, after a while, Beau got used to our old vet techs and vets, so he would happily come out of his carrier and cuddle with them. We really started missing our old team, though we were incredibly lucky to have them.
Beau shivered a couple of times by the window, so I told my partner to take Kalista out of her carrier and I put Beau next to her. What do you know? Beau was immediately fine, cuddling close to his sister. Kalista started licking him as soon as he settled down further making Beau feel safe. Awesome, eh?
The new vet who works at the clinic is pretty awesome. He's knowledgable about PU Surgeries and was able to make our cats comfortable enough to get fully examined. Neither of our cats were scared or hissed at the new vet, which is A+ in my books, which leads me to the results of the visit.
RESULTS OF THE EXAMINATION
After conducting an ultrasound it seems like Beau has a lot of debris in his bladder. Now, having some debris in the bladder is not uncommon for a cat who has undergone a perineal urethrostomy, especially because cats have rough tongues that collect dirt and debris while they clean themselves.
EDIT 1/22/20 – Just to clarify, the assumption by the vet isn't that Beau ate the debris, it's that his tongue pushed the debris into his incision site. Since a cat's urethra is shortened during the process of a perineal urethrostomy, it becomes more likely for dirt and debris to get inside that way.
While a lot of the dirt and debris will come out through the process of urination, it is uncertain how long it will take to clear out the debris. The other worry is that Beau will, or currently has a urinary tract infection, so the vet recommended some tests be done.
Beau also had some dermatitis on his incision site, likely due to excessive licking or scalding from urination. So, the vet recommended we give Beau some antibiotics for dermatitis at a minimum.
The vet isn't overly concerned about the amount of debris in Beau's bladder, though he wants us to make sure that he is peeing regularly and dependant on the results of the tests he may want to check Beau's urethra.
A big concern for cats who have undergone a PU Surgery is the sealing of the artificial urethra, and while Beau is peeing a lot, it doesn't mean that everything is okay. At this point, the vet has no suspicion that this is true for Beau, however, he said after monitoring the debris in Beau's bladder he will make the call.
I asked him what the cause of the debris could be and if there's anything I could to further help the situation and he responded that there's not much we can do. Keep a tidy home, make sure Beau isn't licking his incision site too much and that's about it. Cats will be cats and dirt will be dirt, it happens and at this point, Beau has outlived the "danger-zone" years.
Beau was sent home with a round of antibiotics and we still haven't received the result of the urinalysis. I will let you know when they come out.
CONCLUSION
A few things, I'm really grateful that my cats are so bonded. It's not only one of the cutest things ever, but it makes me confident that moving isn't going to throw a wrench in my cat's lives. I understand that moving is going to be a big change for everyone, but there's nothing stronger than my cat's bond.
As for Beau's complications, I'm still a bit concerned about debris being in Beau's bladder. I'm not concerned in the sense that I think we need a second opinion, but I think it's my responsibility to make sure that I try to reduce the chance of him getting debris in his urethra.
As many of you know, we use World's Best Cat Litter and while I absolutely love it, I can't help but think of how high the chance of a grain getting stuck in Beau's urethra is. Beau will squat closely to the litter while peeing sometimes, so it is completely plausible. To reduce that risk, I think I'm going to switch over to a non-clumping litter. I just want to see if that reduces the chances, especially because my cats don't seem to mind changes in their litter.
I'll let you know if that helps, but of course, I won't know for a while.
Oh, a very cute thing started happening! Like many cats, Beau is not fond of taking pills, so the first two pills were very difficult to get him to take. Since we feed Beau immediately after giving him a pill it seems like he realized he was getting rewarded for taking his pills and now swallows the pills immediately instead of spitting them out. We've tried this before with Beau and never did it happen, but lo and behold you can teach a new dog new tricks… err… cat.
Otherwise, Beau has been fabulous and I hope yours have been too! Sending you all my love and again Happy New Year!