If you have any form of social media, you've probably seen the advertisements for PrettyLitter. Well, we were contacted by their team to try out this product!
As you may already know, we're a household that uses a number of brands of litter at a time, just because we're on the search for the best litter that makes us and our cats happy.
At the moment, other than having PrettyLitter in our home we've been using World's Best Cat Litter (Multi-Cat), which is the staple litter we've been using for over 2 years, as well as Purina Tidy Cats Litter which was the litter we were trying out this month.
So to be completely candid about our experience, the following is our setup. We have one hooded litterbox and one top-entry litter box with World's Best Cat Litter, one unhooded litter box with Purina Tidy Cats Litter and the final hooded litterbox with PrettyLitter. There are two litterboxes in the livingroom (PrettyLitter & World's Best) and two in our bedroom (Purina & World's Best).
ABOUT PRETTYLITTER
PrettyLitter is a special kind of litter that helps you track the pH in your cat's urine. If a cat's urine is more alkaline (basic) the litter will appear as blue or green, or if the cat's urine is more acidic it will appear as orange or yellow.
The litter is also white so you will be able to tell immediately whether or not there is blood in your cat's urine, which is more difficult to tell with brown litters like Blue Buffalo or clay litters.
Why is this important or beneficial? Well, coming from a pet parent who has had 2 cats suffer from urinary tract infections it would have been awesome to be able to catch the changes in my cats' urine before they got blocked. Unfortunately, the last time our cat Beau got blocked we had to put him under the knife and get him a Perineal Urethrostomy and Double Cystotomy in order to save his life. This is why litters like PrettyLitter are considered revolutionary.
In short, when a cat's urine is too basic it can lead to the development of bladder crystals or stones (struvite), while if it is too acidic it commonly means that your cat has kidney problems or calcium oxalate.
PrettyLitter proudly states that one bag, which weighs in at 6 pounds will last a month for one cat. They also state that it has less dust and is 80% lighter than most leading brands of litter.
There are no fragrances included in this product and it is created from naturally occurring minerals, though I couldn't find what exactly those were. Why is this important? Well, some litters have been known to cause problems for a cat's digestive tract, especially litters that expand when wet. This is due to the sodium bentonite, which is commonly used to contract moisture.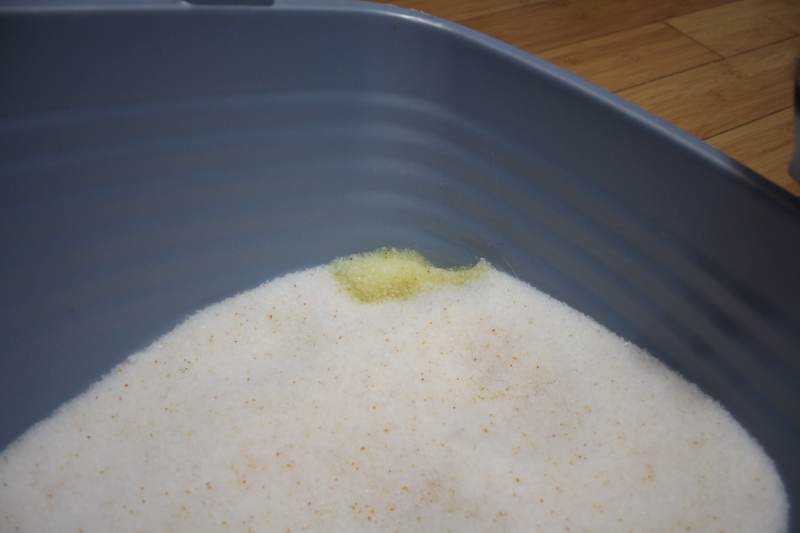 INSTRUCTIONS FOR USE (IMPORTANT!)
I didn't think I would ever include a section like this, but PrettyLitter isn't the most straight forward litter to use. It comes with a lot of information on the back of the bag and to be honest, I didn't read it all at first because I thought I understood the litter before using it.
To start off PrettyLitter is not a clumping litter. This was the first thing that threw me off because the first day when we scooped out the litter it seemed to have clumped. I'm clearly a typical man who thinks that he doesn't need to read instructions… It was only about halfway into the month when I realized I was doing everything wrong, so hopefully, this will help reduce the chances of you doing the same.
PrettyLitter, being made out of silica, is meant to absorb all of the urine for a month with no changes to the litter. You must scoop out your cat's poops daily, but instead of scooping out the silica that has been stained with urine, you are meant to mix it with the unused portions. Doing this is meant to help ensure that the readings are accurate and that results are not skewed because of saturation.
DOES IT HIDE THE SMELL OF URINE AND FECES?
By far, I think that this is one of the best parts of PrettyLitter. I, personally, never noticed any of the smells coming from PrettyLitter and cleaning up after my cats didn't suck, as it does with some other litters.
I will say, the one thing I don't like about World's Best Cat Litter is that if you don't regularly wash out the litter box the leftover dust/fragmented litter reeking of ammonia. Now, that's not always the worst thing as it is a helpful reminder to pet parents that you should wash out your litter box at least once a month, but it was nice to know that PrettyLitter didn't have that issue.
Another great thing was that when I'd come home from work I wouldn't immediately smell my cat's poops. This has been true for a number of clay litters we tried such as Odour Destroyer and Odour Buster. For some reason, those two litters have always had issues masking the scent of poops.
At this point, I have been using Pretty Litter for about a month and a half and I haven't noticed a difference in scent. So if you're looking for a litter that doesn't smell this is the one for you.
DOES IT TRACK?
PrettyLitter absolutely tracks. Although we are currently using a litter mat in front of this particular litter box it doesn't seem to be doing a great job.
Quite frankly, the litter mat has worked best on World's Best Cat Litter, but not much else.
Due to the amount of tracking, we've found PrettyLitter in our bed on multiple occasions. This is a bit shocking, especially because that litter box is literally on the opposite side of our apartment. I haven't experienced that before and I don't know how it's tracking that far since the cats don't clean themselves on the bed right after they've used the litter box.
Now, that's not to say that PrettyLitter is any worse when tracking compared to clay. It just seems like the litter is getting stuck somewhere in my cats' paws where the mat can't reach.
Sweeping up PrettyLitter seems to be an every other day kind of sweep. Without the litter mat, it was definitely a daily sweep.
Tracking isn't something that's 100% avoidable with any litter. Mats often get pushed away and sometimes cats will jump over them completely. I personally highly recommend getting yourself a top entry litterbox if you're experiencing issues with tracking. These have proven to be much more effective at reducing tracking than any litter mat has. (The litterbox we use.)
All-in-all, I would say that PrettyLitter is alright when it comes to tracking.
IS THE pH ACCURATE?
It seems to me that the pH readings on PrettyLitter are accurate. Though, that being said there were some times where the pH seemed to be off.
As mentioned, when we first started using the litter we thought it was a clumping litter. As the weeks went on we noticed that the litter was consistently turning olive green as seen in the pictures above and below. At first, we started to panic as Beau has a history of urinary tract infections and I had recently accepted a job that kept me out of the house.
I thought that due to this lifestyle change, Beau got stressed out and started developing a UTI. So, I kept a close eye on the litter and noticed that both of our cats were peeing olive green. That's when we thought to ourselves, "what are the chances, this litter must be reading the pH wrong."
Well, that's when we clued into the fact that we were using the litter wrong and that scooping the litter out daily was causing the readings to be wrong. As soon as we started leaving the litter in and mixing it daily the readings stayed consistently yellow.
Although this is true, there were some days where the cat's urine started appearing a bit olive green, though this was only when they peed directly in the corner of the litter box. I'm assuming that this could have affected the reading, though this is just a guess and should not be taken as the actual cause.
IS IT DUSTY?
Truthfully, not really. The only time you really notice dust is when you stir the litter around and even at that it's not very much.
I would say that by far PrettyLitter is the least dusty litter I have ever used, including wheat and maize litter. The only litter that is less dusty than PrettyLitter is paper litter!
IT'S HARD TO FIND POOP!
One of the biggest complaints for me, which I'm surprised I'm making that I found it difficult to find/scoop my cats' poop.
I don't know if it's just because the amount of litter is too much or if it's because my cats are hiding their poops more thoroughly in this litter.
With many other litters our eldest, Beau, will leave his poop on top, but he seems to be thoroughly burying the poop in PrettyLitter. Now, this isn't necessarily a bad thing, but because there's no clumping action happening at all I'm often stirring around trying to find the poop in the litter box.
This is truthfully a small nuisance, however, a nuisance nonetheless.
THE LITTER DIDN'T SEEM TO SMELL MORE OVER THE MONTH
I think the most shocking thing about this litter was the fact that it didn't seem to smell more over the month. The silica kept absorbing my cat's urine and none of the urine pooled at the bottom of the litterbox.
The litter did seem to retain some of the yellow colour as the month went on, as the company already warned, but even my cat's poop didn't smell.
This is by far the most appealing part of the product. Litterboxes that don't stink… yes, please!
MY CATS ACTUALLY PREFER PRETTYLITTER
Although a lot of litterbox use has to do with the location of the litterbox it seems like my cats prefer using PrettyLitter to World's Best Cat Litter.
Now, there may be a few reasons for this, the main reason I can think of is that PrettyLitter may keep in foul odours in much better than World's Best. As mentioned, after a few weeks I need to wash out the litterboxes that have World's Best just because they sometimes smell like ammonia.
PrettyLitter also has a much different texture than the other litters I have used with my cats. I'm wondering if my cats prefer this texture, especially because they seem to be hiding their poops a lot more.
Otherwise, we've moved the PrettyLitter box about 3 times over the past month and a half and the cats seem to always follow it.
IS SILICA SAFE FOR CATS?
The silica which is used for litter is considered safe for cats, unlike the silica that is usually found in packets. Though this form of silica is safe for cats to be around, it is important that the silica is not ingested as silica in large amounts can cause a cat to become extremely ill.
The main concern when it comes to silica is respiratory infections or flare-ups for cats who have asthma.
At this time it is fairly difficult to find a whole lot of information regarding the longterm effects of using silica, however, it doesn't seem like many vets are concerned.
Silica seems to be a strong contender for where the future of litter is going, especially when it comes to keeping the litterbox clean and bacteria-free.
Though this seems to be the case, it would still be a good idea to speak to your vet regarding what they think about the product. I can already see silica litter being problematic for cats such as Persians due to the fact that they are known for having a number of respiratory issues.
If you ever notice your cat coughing around a litter, sneezing frequently around their litterbox or acting out of the question around their litterbox, it is a good idea to stop using it. Instead, switch over to a paper litter to see whether or not the litter was to blame and contact your vet to give them an idea of what is happening.
WHEN IS SILICA BETTER?
Silica litter is often recommended to cats who are susceptible to kidney problems or urinary tract infections. This is due to the fact that silica prevents bacteria from growing and will dehydrate all traces of feces.
Due to this, there are actually fewer chances that your cat will get an infection due to bacteria since the bacteria would have nowhere to grow. This is why it is not necessary to scoop out used litter from PrettyLitter unless it has fecal matter in it.
CONCLUSION & FINAL RATING
All-in-all I have to say that I'm thoroughly impressed with PrettyLitter. I still have to admit that we had a rocky start, but I definitely learned to love it.
I have to say my favourite thing about this litter is its ability to keep in smells. It is by far one of the best litters I have ever tried for that case.
As mentioned, my main issues with this litter are the fact that the litter has tracked all the way to my bed (even though the litter box is on the other side of the apartment) and the fact that it has been difficult to clean out poops. Due to the fact that these are very small inconveniences I would only take off .25 for each.
It's very clear that my cats prefer PrettyLitter to a number of other brands we've used, although it is uncertain what the main reason is. They use the PrettyLitter for about 75% of their waste at this point, but will still use their other litterboxes if the one with PrettyLitter hasn't been cleaned.
I would give PrettyLitter a 4.5/5. It's honestly a pretty great litter and I wish it was around (or that I knew about it) when we were struggling with Beau and his frequent urinary tract infections. I truly believe that PrettyLitter can definitely help a number of cats out there and help them avoid having to be put under the knife.
I am still uncertain about silica at the end of the day. It's just a new form of litter that I am not used to, though I haven't come across any shocking information or studies on it to warrant concern.
I would recommend PrettyLitter to anyone who is concerned about their cat's liver and kidney functions and/or worried about whether or not their cat has a urinary tract infection.
So pet parents I'm curious, would you ever try a litter like PrettyLitter? Have you ever tried it before? What were your experiences like. Let me know in the comments below!