E]Hey Pet Parents & Pet Lovers,
We were approached to try out some new food from Caru (Chicken & Crab Stew), a brand we've actually tried treats from which we gave a 4.75/5! Usually, we're not fans of trying out new foods because Beau has urinary issues and has to be on a strict Science Diet… diet, but with the new picky addition to our family Kalista, we thought… "hey! Might as well try something new and see if she'll take to it!"
Since we were so impressed with Caru's treats (which are usually something we don't give our kitties), we felt fairly confident that we would also like their food! So let's break down this product and see if it's a good fit for our family!

Presentation & Container
I will say that I'm not a huge fan of the container for the food. The only reason being: I don't trust "closing it up" and putting it in the fridge. This is easily worked around by putting the food in a separate container for storage, so it doesn't lose any points, but it's probably also more eco-friendly and does save space in the garbage compartment (or recycling if it's recyclable in your area.)
It's easy to open, similar to the tetra packs you buy for school kids, although you rip open the top. The food pours out fairly easily, but it does require a bit of assistance from a spoon to get it all out.
The Smell
Honestly, the smell is super important to me… and the cats! Kalista will take two sniffs of food and walk away if she doesn't like the way it smells. She won't even try to lick the food, so I'm happy to report that both Kalista & I loved the smell of this food. Honestly, Caru smelled so good I would probably eat it… I mean not in this form, but in a form that was more appetizing to humans. It is good to know that it's made with human grade products, which a lot of brands seem to be gearing towards like Weruva.
The Consistancy
This stew is fairly wet, which is great for our little one! She's not much of a drinker (I actually don't think she's even drank a single time since she's lived with us), so we mix extra water into her food. This brand already has quite a bit of water in it, so you don't need to worry too much about adding extra water if your pet is already a moderate/big drinker!
Guaranteed Analysis
Crude Protein (min) 10.0%
Crude Fat (min) 2.0%
Crude Fiber (max) 1.0%
Moisture (max) 82.0%
Taurine 0.08%
Omega 6 Fatty Acids* (min) 0.50%
Omega 3 Fatty Acids* (min) 0.05%
Ingredients
Chicken, Chicken Broth, Crab, Tapioca Starch, Egg Whites, Apples, Carrots, Sweet Potato, Natural Flavor, Tricalcium Phosphate, Choline Bitartrate, Taurine, Calcium Carbonate, Dandelion Greens, Potassium Chloride, Vitamins (Vitamin A Palmitate, Vitamin D3 Supplement, Vitamin E Supplement, Thiamine Mononitrate, Niacin, d-Calcium Pantothenate, Riboflavin, Folic Acid, Biotin, Vitamin B12 Supplement), Minerals (Zinc Amino Acid Chelate, Iron Amino Acid Chelate, Copper Amino Acid Chelate, Manganese Amino Acid Chelate, Magnesium Amino Acid Chelate, Iodine Amino Acid Chelate, Sodium Selenite).
My thoughts on the ingredients:
It's great to see the proteins high up on the list, especially as full ingredients and not just "meal" (not that "meal" is bad) or bi-product. Tapioca is very commonly used in both kibble and wet food to keep products together, but it does concern me that it is used in a wet food, especially as cats cannot digest it. I am also pretty shocked that apples are in this mix! I've never seen apples in a cat food before, let alone tried to feed my little one apples! Neither have I seen Dandelion Greens, but I can tell you… those things are tasty! Otherwise, the food list doesn't seem shocking at all. I did have to look up Niacin (which is an organic form of vitamin B3). Everything seems pretty balanced to this pet parents eye, however, I cannot claim to be a food expert, I can only tell you that from my education in pet care/pet foods that this brand looks great solely from first glances.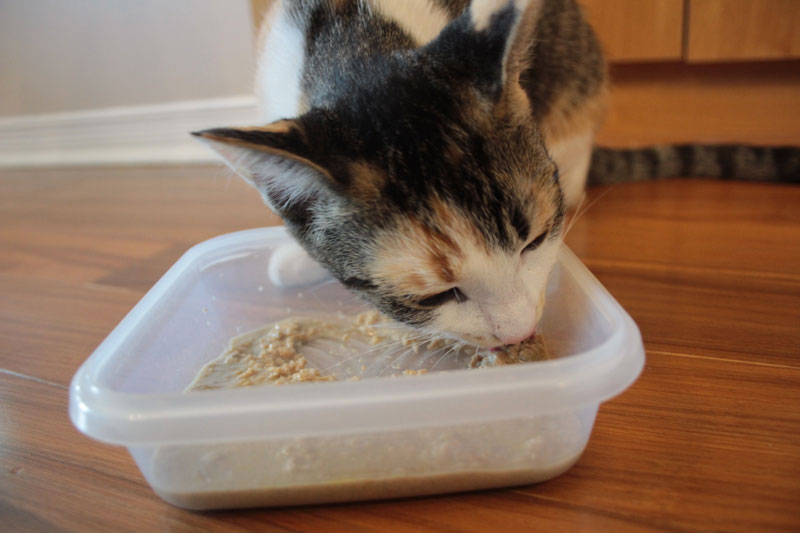 Extra Perks about this Product
Grain Free, Gluten Free, GMO-Free
Ingredients sourced from the USA (No ingredients from China)
Carefully selected, 100% human grade ingredients
Family Owned Company
No artificial preservatives, colours or flavours
Slow-cooked and made in smaller batches
Has extra taurine for eyes
Has lots of Omega 3 & 6 for skin & fur
USDA-inspected chicken is used

Kalista's Final Say
She loved it. We were surprised! Not because we didn't trust the fact that it was a good food, but because she will put up the biggest stink about anything we try to feed her that isn't Whiskas. We give this flavour a 4.5/5. It seems like a really great food, and to be honest… if Kalista eats a food that we refrigerated (because she didn't finish it in one sitting), it's a really big winner to us.
So pet parents, have you ever tried Caru? What did you think about it? Are there any other foods you want us to try?