Hey Pet Parents & Pet Lovers,
Travelling with your little ones can be quite difficult, trust me I know! It can be especially difficult if you've got a small animal such as a hamster especially if you have a larger enclosure for them. Now, you may be saying… Johnny, you're crazy! Hamster cages are tiny, you could take them practically anywhere! Well, this isn't so true if you've got your little one a properly sized enclosure, especially if it's made out of glass. So? What are some of the top-rated travel cages for our small mammal friends?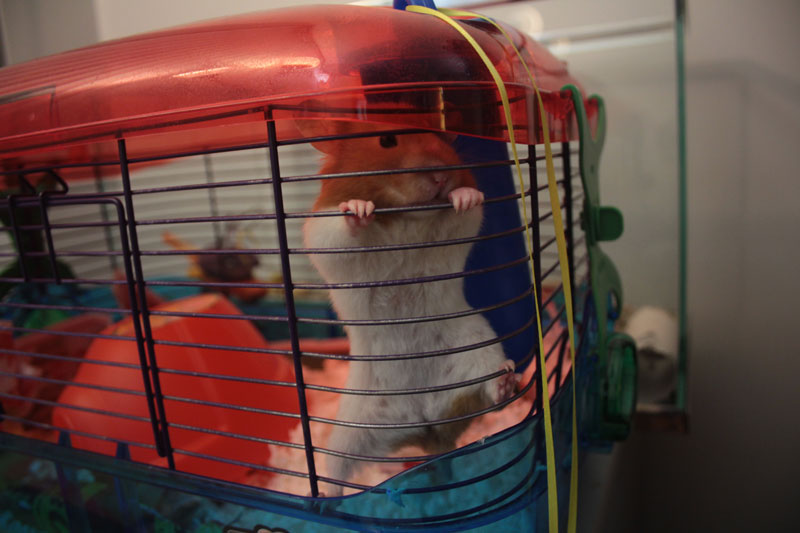 This is an absolutely adorable hamster carrying case. It's compact (about 5.5x8x5.1 inches) and includes a water bottle. Even though your hammy may be scared on the way to the vet (or wherever you may be taking them), you should always make sure that they have access to fresh water. It's secure and has plenty of openings for your little ones to breathe. It wouldn't be a suitable full-time cage, but it's not meant to be! It also comes in a few colours in case you want to pick a special one out for your little buddy!
I would say the main benefit of this product is that it is larger than the previous enclosure. This carrier sizes at around 9×6.8×6.1 inches but doesn't include a water bottle. Even though this is the case, some hammies actually drink from water bowls, but I would be very scared out it spilling everywhere during travel, getting your little one sick. I'm sure you can add a bottle using wire and hang it from the air holes, but it's a bit disappointing that it's not included. Something I will say I love is the clear top so you can check on your little one, while still giving them enough shade to sleep.
Off the bat, I want to say… this is such an adorable carrier! It's kind of like a hamster Pokeball that I am all for! It is small and compact and is definitely meant for short trips, sizing in at 7×7.8×5.4 inches. The top is not clear, so it does lower the amount of sunlight your little one gets (making it better for napping), but similar to the last carrier, does not include a water bottle. However, they do sell attachments that make extra pathways for your little one, as well as water bottle extensions. I would recommend taking a look at the different pieces first or taking a look at the limited edition version which includes all of the accessories.
This is one of my favourite travel cages because it has everything you will need when taking your little one to your new home or to the vet. It is expandable, in case you want to use it to make a large system of cages for your hammie, has a handle for easy carrying, has a small water bottle, and a food dish. Having multiple cages is one of the best ways you can get your little one enough space, and trust me they are going to love the tubing systems you rig for them!
The next time we get a hamster I want this cage but larger for their stagnant cage. It's SO adorable! Made by the same folks that make the OVO, this is a sleek travel cage that includes a wheel, water bottle, feeder, and a cute perch! Just like the Kaytee CritterTrail, this little guy connects to a bunch of other Habitrail pieces that you can find here.
I also let out a quick AWE when I saw this carrier. Perfect to give your little one for show-and-tell! It includes a water bottle, and can be attached to other Crittertrail cages! I'm sensing a pattern here, and I'm loving it!
This one is on the larger side for travel carriers. It does come with a handy handle right at the top, includes a water bottle, multiple levels, a slide, and a wheel! Indeed a top pick for me, but again it is on the larger size if you're trying to hold your little one in your lap!
And for the last one, this is a super compact travel cage that has a wheel and food dish. It doesn't hold a water bottle, which worries me, but it would do for bringing your hammie home from the pet store, or to the vet for a quick checkup!
So pet parents, do you have any of these cages? Are there any that I missed? Always remember, these are only for travelling and you're going to want to get your hamster a larger enclosure for when they are at home!