Whenever you draw a cat what's one part of the cat you never forget to draw? Probably their adorable little noses and their even cuter whiskers.
Something you may not know is that cats actually have whiskers on more places than just their noses. Cats have whiskers above their eyes, on their chins, and on their front legs.
Whiskers are essential to every cat. Simply put, whiskers help give information about your cat's surroundings. They help let the cat know if spaces are wide enough or if they are too small for your cat to fit. This is why you may notice your cat moving back and forth before entering a tight space. You may also notice that your cat doesn't like certain bowls because their whiskers get caught in them, which is why "whisker friendly bowls" are a must.
Not only do whiskers help cats figure out if they can fit into small places, but whiskers also act as a balancing mechanism for cats. Ever notice your cat walk on an extremely thin surface and wonder how they did it? Well, you can thank your cat's whiskers for that ability!
On the flip side, trimming or plucking your cat's whiskers will leave them disoriented or even frightened. So, if whiskers are so important, does that mean that something is wrong with your cat if you start finding the odd whisker around the house? Not usually no.
ALL CATS REGULARLY LOSE WHISKERS
Ever brush your hair and realize that there's a clump of your hair left on the brush? Well, usually there's nothing to worry about, right? Well, similar to humans, cats regularly shed their hair to make room for other hair! This hair does not extend only to their coats, but also to their whiskers.
Also similar to humans, there are some conditions that make cats lose more of their fur or whiskers, however, these conditions are usually easy to spot. So, if you're finding a couple of whiskers around the house here and there you shouldn't worry. But just in case you're experiencing your cat shedding more than a couple of whiskers here and there let's cover what the reasons or causes may be.
STRESS
Stress is a real killer. It affects humans, pets and pretty much all living things!
Cats, being much smaller than we are, tend to get stressed much faster or easier than we do. It's just like that old choir song goes, "thunder and lightning are very exciting, but animals don't agree…" While thunder and lighting are occurrences we understand and don't need to fear as humans, they can cause distress, fear or worry in a cat.
It is important to understand what is causing your cat stress so you can either remove the stimulant or mask it if it cannot be removed.
What do I mean by that? Well, if your cat is exhibiting signs of stress because there is another animal around (such as your neighbour's pet), you may want to try masking their scent with something like Feliway. Feliway is a product that releases a synthetic pheromone meant to remind cats of their mothers. As is with most cat products, Feliway is not a be-all-end-all and may not work for all cats. For example, we've never had any strong reactions to Feliway in our household, however, we've had friends who have had the opposite reaction. That being said, I would strongly suggest seeing if your vet has a sampler for you or any extra advice on how to hide the scent of other animals.
Stress can also be caused by sounds that your cat is not used to, such as construction or even voices in the hallway. Our youngest cat, Kalista, is actually a stressed out by hearing the voices of strangers. We recently discovered that even if you knock on the front door from the inside of our apartment Kalista gets terrified and runs to her safe spot. For cats like this, you can try using white noise machines, calming music made for cats, and most importantly introduce them to safe spaces in your home. We have cat caves for both of our cats, which Kalista will run to if she's feeling uncomfortable. Our older cat, Beau, actually prefers to run onto our bed, which seems to calm him.
We also play music for our cats whenever they seem stressed or if we are going out for extended periods of time. That way we can ensure that the cats stay calm while we're away and aren't too focused on the noises that are coming from outside. You can tell that Kalista, in particular, digs the music because she immediately starts slowing down her breathing, mellows out and starts rolling on the floor.
It is always a good idea to talk to a vet when it comes to stress, especially if you can't seem to figure out what is actually stressing out your cat. Some causes of stress are illnesses or other forms of "unseen traumas." In cases like this, the vet may perform a series of tests to confirm that the stress isn't caused by an underlying illness and may ask you questions regarding your cat's daily activities/other symptoms which may be prominent. That being said, it's always a good idea to keep a notebook log of your cat's activities when you think they are exhibiting signs of stress as it can help pinpoint and greatly reduce the time spent trying to figure out what's happening with your cat.
[Click here for a Spotify Playlist for Calming Music for Feline Anxiety & Stress]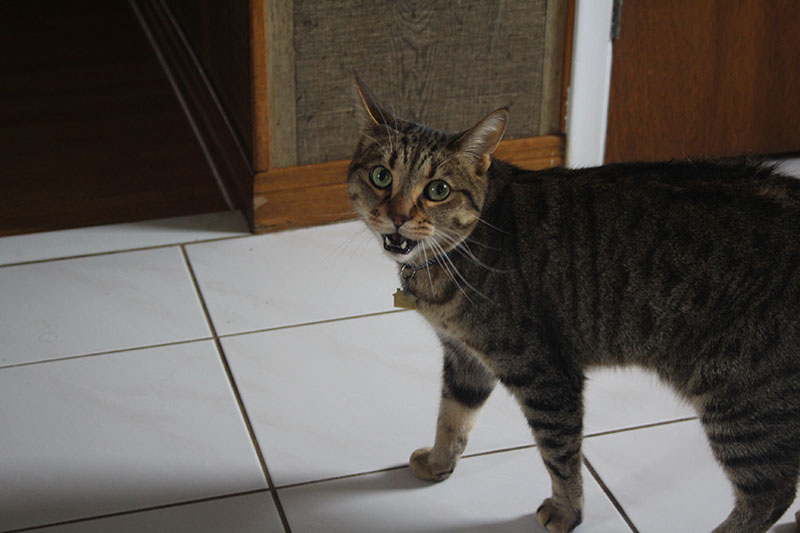 ALLERGIES
Cat allergies can sometimes creep up out of nowhere and can often lead a cat to lose clumps of fur, whiskers and will often manifest with rashes or redness where fur is missing. (Other symptoms may include throwing up or diarrhea.)
Although feline allergies can be a bit complicated to diagnose since there are no quick methods to easily cross out allergies, vets have concluded that the most common feline allergy relates to food. Some of these foods include poultry proteins (most commonly chicken), grain and gluten. Cats who are diagnosed with food allergies must be given limited ingredient diets that cut out the majority of "useless ingredients." A vet may also recommend a raw diet, especially if your cat is allergic to the fillers found in kibble or even wet food.
That all being said, if you ever suspect your cat has an allergy it is 100% recommended that you speak to your vet about it. There are many foods out there that are geared towards cats with allergies, however, not all foods are effective or good quality and sometimes allergies aren't even caused by food intolerance.
Some other allergies include bug bites, plants, or even certain fabrics or materials. In these cases changing food would do nothing for the cat other than stress them out (from changes in their routine/diet.) That being said, if you're worried that your vet is just going to "recommend the expensive vet food which does nothing" this is not usually the case (in my experience.) While a vet will commonly recommend a sensitive stomach/skin and fur food as it is closeby, most vets I've talked to will also recommend some off the shelf limited ingredient foods such as: Merrick (Dry & Wet), Blue Buffalo (Dry or Wet), Whole Hearted, Natural Balance (which is by far one of my favourites merely due to selection).
I would recommend taking a look at the selection of limited ingredient diets before heading to the vet so you have a general idea of the ingredients these recipes exclude to ensure you can have a successful and informative conversation with your vet about your cat's diet.
Also, please note that it may take a few weeks to as long as a few months to conclude what the allergy may be, merely due to the fact that an allergy can still be present up to a month after feeding your cat the allergen. A good vet will understand how long the process may take and will be able to give you pointers on what to check for so you don't have to keep coming in regularly.
Skin irritations can also occur when using harsh soaps or human shampoos on cats for prolonged periods of times. So, if you are someone who regularly washes their cats, especially with products that aren't labelled as cat (or pet) specific, I recommend talking to your vet about whether or not your cat needs baths as regularly and switching over to something cat-friendly or cat-specific.
ALOPECIA, ACNE AND/OR BACTERIAL INFECTIONS
You may actually have a friend who experiences forms of this disease, but did you know that cats can also experience alopecia? Alopecia is classified as a disease that causes hair (or fur) to fall from a cat's or a human's body. Although many cases of alopecia are contained to certain areas of a feline, your cat may experience a number of bald spots or areas where they lose fur.
I will admit that I personally do not have any experience with Alopecia, though in what I've researched and read it seems like there isn't much you can do about it. A cat's hair may grow back periodically, however, a cat will go through phases where the hair is lost.
It would still be strongly recommended that you get your cat checked by a vet as cases of alopecia and allergies can look similar. Acne or other forms of bacterial fungus are also commonly misdiagnosed as alopecia and will require a vet visit to confirm what steps need to be taken in regards to cleanliness or even medications (such as topical creams).
CONCLUSION
In most cases, your cat losing whiskers is completely normal and should be nothing to worry about, however, if it is tied to other symptoms it may be much more serious and will require a vet visit.
In general, just like humans who lose hundreds of hairs a day, cats also need to shed off some of the extra fur to stay healthy and cool (including their adorable whiskers.)
If ever you notice your cat acting lethargic, becoming more vocal than usual, losing more hair than usual, or especially with redness on their skin make sure to call a vet immediately. It is important that you are proactive with your cat's health and are in good communication with your vet as they will be able to help you quicker and more effectively if you are keeping a close eye on your little one.
So I'm curious pet parents, how many of you have had a cat lose whiskers? Was it something serious or was it just your cat's way of giving you an extra wish for the day! Let me know in the comments below.