Hey Pet Parents & Pet Lovers,
Although it can be an awkward topic to talk about, it's very important to understand the reproductive cycle of your cat/kitten. Now, for many of my regular readers, this is a topic that you may not need to learn about since your cats are most likely spayed. However for the new foster parents or folks who recently adopted a kitten who is too young to spay, here are some of the most common questions I have been asked about cats in heat!
WHAT IS HEAT?
Cat heat is the period of which your cat is ready to mate and breed. Cat heat is also called estrus, however, in this article, I will only refer to it as "heat" as it is the term that is more commonly used.

HOW OLD DO CATS HAVE TO FIRST EXPERIENCE HEAT?
Cats can experience heat as young as 4 months old, although some can be late bloomers, experiencing their first dose of heat at 6 months old. Some cats are very late bloomers only reaching sexual maturity at a year old.
HOW OFTEN ARE CATS IN HEAT?
Unlike humans, cats are considered "seasonally polyestrous." This means that they will go into heat a number of times during their breeding season. Now, breeding seasons depend on the geographical location of the cat as breeding is correlated to temperature and amount of daylight hours, but it is believed that female cats cycle between January until late fall. This is not true of indoor cats though as the conditions indoor stay fairly moderate. Indoor cats are believed to cycle all year long.
HOW DO I TELL MY CAT IS IN HEAT?
There are a number of ways you can tell a cat is in heat. Not all cats will exhibit the following behaviours, and while a cat may exhibit a behaviour one time they may not exhibit the same behaviours the next. You should, however, be on the lookout for:
— Vaginal Bleeding (Also a sign of a miscarriage)
— More Affectionate
— More Demanding
— More Verbal/Vocal
— More Playful/May Roll Around
— May "Scent" or Rub themselves on objects more frequently
— More Inclined to like Back/Butt Scratches (will raise their rears)
— Frequent Urination, Spraying or "Marking"
— Excessive Cleaning
— Scooting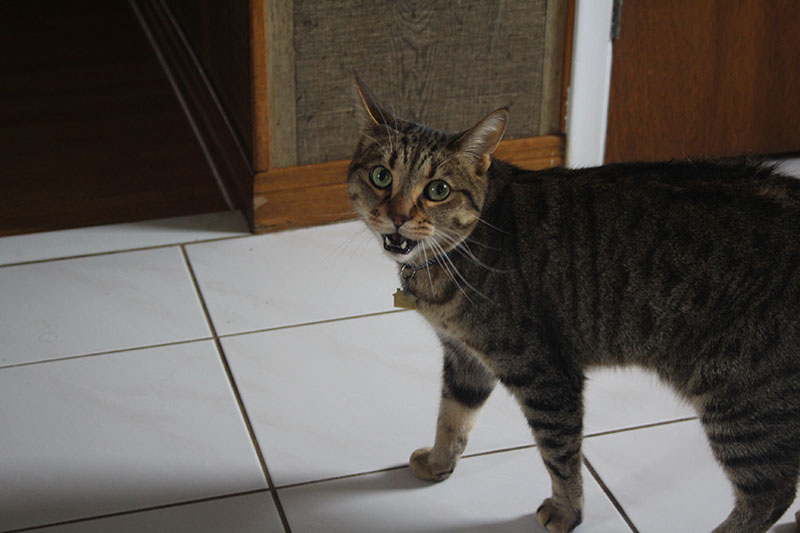 MY CAT KEEPS HOWLING, IS SHE IN PAIN BECAUSE SHE IS IN HEAT?
Nope! She's just being a cat. Cats yowl when in heat as a way to signal that they are ready to mate. Weird, right?
HOW LONG ARE CATS IN HEAT?
Cats can be in heat from as little as a day to as long as a week.
HOW LONG ARE CATS OFF HEAT?
Cats are usually off heat for only 1-2 weeks, meaning that they can be in heat for as long as they are out of heat.
IS IT EASY FOR MY CAT TO BECOME PREGNANT?
Yes and no. After your cat is in heat they may enter the interestrus phase. Due to the fact that cats are "induced ovulators," it means that a cat must be mated with a number of times before ovulation actually occurs. The average cat must mate 3-4 times within 24 hours before they ovulate.
WOW! THAT'S A LOT OF MATING… HOW LONG DOES THAT TAKE?
Mating can actually take from one to two minutes, and a male may choose to mate multiple times in a short period of time.
ARE CATS MONOGOMOUS OR DO THEY MATE WITH MULTIPLE CATS?
Absolutely not. Cats will mate with as many partners as they can while they are in heat.
WAIT, SO HOW DO YOU KNOW WHO'S THE FATHER?
Well, you don't. Cats are very interesting as many cats can actually be the father of a single litter.
IF MATING IS SUCCESSFUL, WILL MY CAT GO OUT OF HEAT IMMEDIATELY?
When cats ovulate they will go out of heat in the next couple of days. This doesn't necessarily mean that they are pregnant though.
HOW LONG IS MY CAT GOING TO BE PREGNANT FOR?
The average cat is pregnant for about 63 days, although vets have not found a way to detect the pregnancy until your cat is 3-weeks in. Many vets will actually be able to feel your cat's fetus after a month, although inexperienced vets may use ultrasounds. Some vets who do not have an ultrasound readily available will use an x-ray, although this is only possible 6-weeks into pregnancy.
DO CATS EXPERIENCE MENOPAUSE JUST LIKE HUMANS DO?
They do not. Cats can breed for their whole lives, although they may not be as fertile in their elder years. It is not recommended that your older cat mates as it can risk the quality of your cat's life. I truly recommend getting your cat spayed while they are young, although I will cover why in another article in the future.
MY CAT IS IN HEAT, CAN I STOP IT?
There is no way to stop your cat from being in heat, however, there are multiple ways you can help calm her down. The following are not "cures" however pieces of advice to help make your cat more comfortable:
1. Isolate your cat from other cats (especially male)
Your cat is going to be looking for a mate, so if she smells a male cat she will 100% get more excitable.
2. Use Catnip
Now, I've covered the effects of catnip in a previous article, so you may already know that it reacts very differently between cats.
If your cat is one who relaxes while eating/smelling catnip, feel free to facilitate it to your cat while they are in heat. If they are usually more playful, you will regret this!
3. Give Your Cat A Warm Surface To Sit On
Often cats relax when they are warmed up. A number of folks recommend heat packs or hot water bottles, however, you may also want to grab an electric mat as you can use it in the winter whether or not your cat is in heat.
I have gone on record a number of times saying that I'm not a huge fan of Feliway. I still am not. The reason is, it's expensive and it didn't seem to do anything for Beau.
I will say that a number of my friends use Feliway and it has done wonders for them. One friend, in particular, had a troubled cat who would pee all over the house and as soon as she installed the Feliway diffuser, the cat immediately stopped urinating everywhere. While I admit that these results are amazing, it does not make me wish that there was a way to acquire samples of Feliway or to tell if your cat will do well with Feliway.
For us we found music to be much more calming for our cats, however, this is also very specific to your cat.
[Click here for a Spotify Playlist for Calming Music for Feline Anxiety & Stress]
5. Spend Time with Your Cat
It's important to keep your cat engaged. The more time you spend with them, the less time they are going to be howling.
Remember your cat is going to be extremely excitable so you may want to focus on rubbing her behind/lower back to give her some of the loving she needs!
6. Clean your cat's litter box frequently
Since your cat is going to try to mark your house to lure in male cats, it's very important to keep her litter box clean. If she doesn't smell her urine in the litter box, she may be encouraged to use it more than ever!
I'm still trying to find a better product than Nature's Miracle to recommend for cleaning, however, since both of my cats haven't marked up the house in a while it's hard to run a proper test. If you have any suggestions please feel free to leave them in the comments below.
SHOULD YOU EVER GET YOUR CAT FIXED WHILE THEY ARE IN HEAT?
I strongly recommend against it, even though it's completely doable. The reason I feel this way is because cats who are in heat usually have a higher risk of blood loss. An experienced vet will be able to manage blood loss, however, it's always nice to make your vet's job a little easier.
I HEARD ABOUT HORMONAL THERAPY, WHAT ARE YOUR THOUGHTS?
I'm absolutely not a fan. There are so many risks that come with hormone therapy and I would only recommend there if there is absolutely nothing else you can do.
I've personally never experienced a cat who hasn't been able to be spayed due to medical reasons, I consider myself extremely lucky for this, so I have no judgment to those who have to resort to hormone therapy.
For those of you who are confused why hormone therapy can be bad, it's because it has been linked to tumours as well as uterine infections. I would do a lot of research into therapy and consult a few vets to make sure you're properly educated before making this decision.
MY CAT STOPPED EATING/ISN'T EATING AS MUCH WHILE SHE WAS IN HEAT! IS SHE SICK? IS SHE DYING?
This is absolutely normal so please stay calm, also take comfort in knowing that your cat will be fine for a while without eating. Please ensure that your cat is drinking as much as possible and if you are overly concerned please take your cat to the vet.
INTERESTED IN CAT BIOLOGY? WHY NOT CHECK OUT SIMILAR POSTS!