Hey Pet Parents & Pet Lovers,
When you first think about adopting a cat, what're the first things you worry about? For a lot of first-time cat owners, it's will my new cat destroy all of my furniture? Questions that proceed include can I train my cat to stop scratching, or is scratching important for cats? Is there a way I can deter my cat away from specific objects and make sure that they only scratch their toys? Should I get my cat declawed or is it inhumane?
It's understandable why you'd want your cat to stop scratching, especially if you've recently got a new couch, but you're going to have to understand that cats scratch for a whole lot of reasons.
Accepting that your cat will ALWAYS scratch and SHOULD ALWAYS scratch!
I can't tell you how many times customers would come into the pet store telling me that they need to find ways of training their cats to stop scratching altogether. This is not a good response to your cats scratching as scratching is instinctual to cats and helps promote a healthy life.
If you're more worried about your furniture being ruined, a cat may not be the best pet for you and you may want to rethink which furry animal you invite into your home.
Although making your cat stop scratching is out of the question, there are plenty of ways to help encourage them to scratch other surfaces than your furniture. First, let's figure out what's causing your cat to scratch and then we'll figure out what textures they like the best!
Cleaning Their Nails
Similar to you, cats need to clean their nails. If you pick up your cat right now, chances are they have a fair amount of dead nail attached to their nails. This is fairly easy to scrape off by hand, but cats have to scratch to get this off. You may also notice your cat "bite their nails" to help clean off their nails, however, cats who bite their nails may also be experiencing some other issues like a mineral/vitamin deficiency, an underlying health condition or may be experiencing stress and anxiety. To put it short, it's better to avoid forcing your cat to bite at their nails as it can become fairly confusing whether or not it is merely to clean their nails or if there's something bigger going on.
Marking Their Territory
Cats are a fairly territorial animal who like to marks areas they consider safe. Due to the fact that their scent glands are in their paws, they usually pair these scent markings with visual markings. So, is your cat scratching your couch to pieces? Chances are… they just really love that couch! You may also notice your cat scenting/scratching areas that you are in fairly frequently. If your cat is scratching this area they may either be marking it to let you know they love sitting with you on this area, or that you aren't giving them enough attention when you're in this area. If your cat begins scratching your couch, for example, try picking your cat up and putting them on the couch next to you to see if they are letting you know that they want attention. It's always best to catch your cat before they do the action rather them to scold them after.
Trying to get the Best Stretch
We don't really think about this, but cats need large surfaces to stretch out on. Our couch isn't a very nice one, so we've let our cats scratch it up. We've noticed they prefer the couch though because they can stand up to their full length to scratch, unlike with a standard scratching post. Not every scratching post is going to be ideal for your cat and it's going to depend on how they like to scratch/if they are trying to stretch at the same time. The bigger, the better when it comes to scratching posts, which is why things like cat trees are fairly ideal. Cat trees should give your cat the extra height they need if they are a taller kitty, and will make sure they get the stretch they deserve rather than being crunched up/huddled over a small post.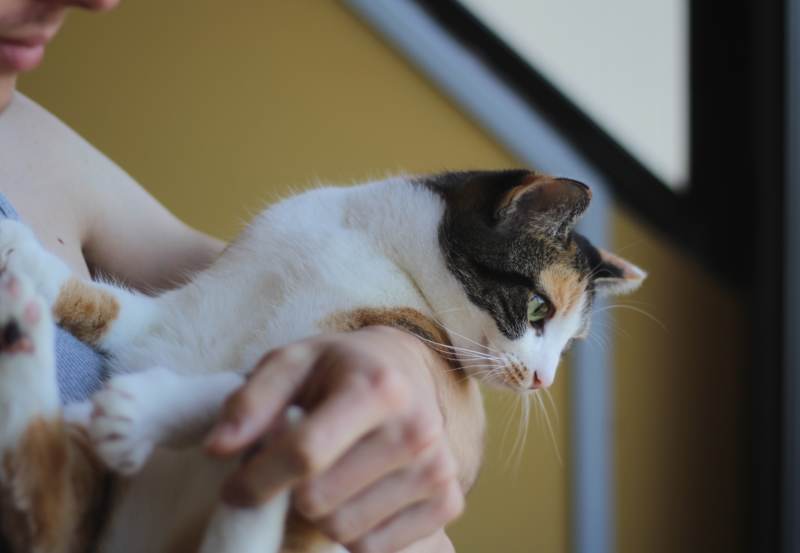 Ways to Discourage Your Cat From Scratching A Surface
Cover the Area With Something Else
Have you ever seen a home where couches are covered in plastic? Chances are the owners wanted to make sure that those couches last a long time. Well, although covered couches don't always look the best, it's a good idea to have them covered with plastic until you can teach your kitty to scratch something else! Remember your cat scratches surfaces because they like the texture. Check out these cool couch protectors.
This is such a good idea for keeping your cats both off of surfaces you don't want them on any surfaces you don't want them to scratch. The tape will either create an uncomfortable sensation on their paws or will become attached to your cat, causing them to associate the area with a piece of tape attached to them. This will hopefully encourage them to stay away!
Use Aluminium Foil
If you've ever had a garden, you understand how important it is to create devices to help keep birds and small animals away from your seeds. Growing up, we used to make these contraptions out of pie tins so whenever the wind would blow the tins would create a banging sound to help scare the animals away. Aluminum Foil is a great device to use indoor. Not only will your cat hate the texture of the covered area, but they will probably also hate the sound it makes when it is pressed against your cat's adorable paws.
Try Different Scents or Deterring Sprays
Cats aren't huge fans of very many scents other than catnip and meat, so use this to your advantage. Now, not every cat is going to like and dislike the same types of scents. For example, Beau will be around any and every scent other than rotten meat (from what we've discovered so far), while Kalista hates the smell of menthol, the smell of citrus and the smell of cherries. So she's a great candidate for deterring sprays. If you're trying to deter your cat from certain areas like closets, try spraying your clothes with some of the scents you love (like fruit scented fabreeze), but your cat hates. You can also try doused cotton balls, however, I'm not a huge fan of this method since both of my cats would be very tempted to either eat or play with the cotton balls.
Nail Caps aren't a product I personally use and for a while, I didn't know how I felt about them. I've recently talked to my friend (who is considered a pet expert at the company she works for) about her experience with them and she said they were great. She said that the one thing is you need to be careful of how much glue you put on the product to make sure that your cat can still retract their nails, but otherwise, the caps come off naturally as your cat's nails shed their outer layer. They are fairly inexpensive on Amazon, so they are worth a shot!
Best Scratching Toys
As mentioned which scratching toy you choose is going to depend on what kinds of materials your cat enjoys scratching. The following are some of our top picks and a bit of info on what kind of cats may like them.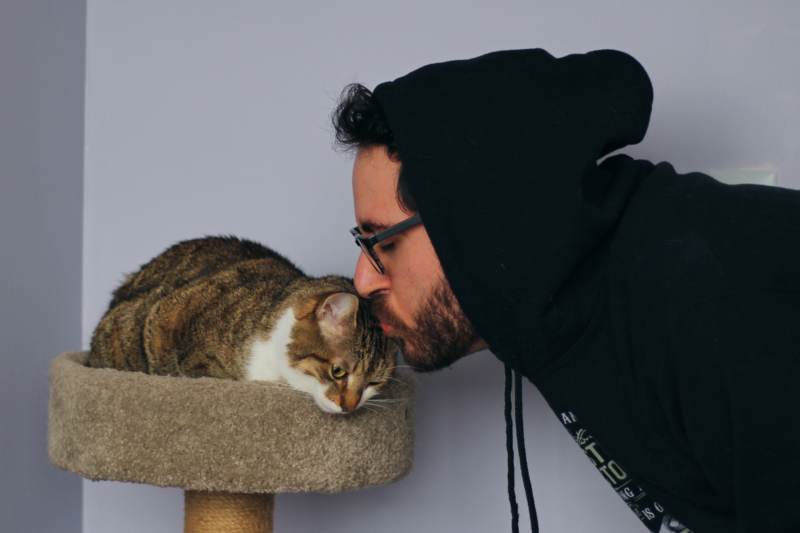 This is my absolute favourite cat scratcher. Meant to cover the side of your couch, this sisal scratching mat should give your cat enough height and space to get all of their scratching needs filled. It's definitely going to be an addition in our household as soon as we pick a new couch. Cool perks of this product include the fact that it's washable (by hand of course) and has a year warranty! So, you really have nothing to worry about!
---
So many of my friends have this behemoth of a scratching post and let me tell you… I'm overly jealous. We've been meaning to buy one and didn't in the past just because we knew we'd be moving. Well, the time has come to buy this for our household! What I love the most for this scratching post is the height and durability. All of the friends who have had this post have had it for a few years and it still is in great condition. If you've got a tall kitty, this cat scratcher is an absolute must.
---
This is a scratcher that would be perfect for a cat like Beau. Beau isn't a huge fan of vertical scratchers or scratching posts and tends to want to hunch over the scratcher. He likes scratchers that are slanted, and oddly enough so does my sister's cat, Avery. I wish I could link to my scratcher, because we love it so much, but the make is discontinued and I haven't been able to find another one since we bought it. Well, onto trying a new product!
---
I'll admit, for years I was a believer that sisal was the be-all-end-all of scratching toys for cats. I always sluffed off cardboard toys and thought they were pieces of garbage. Little did I know I would end up with an adorable kitten who absolutely loves clawing at cardboard. My cat Kalista is a much bigger fan of cardboard and isn't the biggest of sisal. I think it's because she likes softer materials (such as the couch and our chairs) and isn't such a huge fan of the rough feel of sisal. She spends most of her time kneading the carpets on her cat tree or the carpets around the house. So, my advice for you is… if you have a cat who likes really soft materials, think about getting them a cardboard toy!
---
Sticking to the theme of cardboard toys, you may want to check out the Catit Scratcher. It is by far one of the most reasonably priced toys, but know that it's not the most durable. These scratchers will have to be replaced every so often (as is with most cardboard scratchers), but they do come in a number of different shapes and sizes. Catit Scratchers are also similar to scratchers from PetStages and iPrimio
---
Cat. Trees. Are. Worth. It. Not only are they worth it, but there are also a number of them for reasonable prices. As a pet parent who has been searching for a cat tree for over 4-years, the AmazonBasics hit all of my needs. At first, I was fairly hesitant as most pet parents would be, but both of my cats use the cat tree daily now. Beau loves scratching on it and Kalista loves sleeping on it. Win-Win for me!
---
I'm a huge fan of saving space, especially with things like cat toys and scratchers. This is a brilliant idea for a scratching post for those of you with shorter kitties or kitties who like to reach up high. They come in two different styles although I will say, the one above is my preference.
---
I Put Down Scratching Toys But My Cat Won't Use Them
Chances are your cat is ignoring the scratching toy for some fairly simple reasons including the location of the scratching toy. It is always best to place your scratching post in your cat's favourite spots or even places where the cat already scratches. Too many scratching toys isn't a thing! The more the better! Keep scratching posts far from the litter box. Similar to water fountains, the more your cat sees the toys, the more often they will pop by to use it. Especially if the toy is in an accessible area of the house.
Another great trick is to use catnip to help entice your cat to use their new scratching post. Not only will the catnip make playing with the post more fun, but it will also let the cat know immediately that this object was meant for them! If your cat isn't a fan of the nip try things like valerian and oddly enough some cats love menthol (even though it's commonly used as a deterrent.)
Johnny, what's your stance on declawing?
I believe it's 100% inhumane and can't think of any beneficial reason why you would want to declaw your cat. Declawing is an extremely traumatic experience for cats and can leave the cat in pain for the rest of their life. While your furniture may be safe, your cat will be unable to fend for themselves (if they ever get lost), will never be able to feel fully comfortable kneading or using litter, and can actually cause your cat to become more aggressive towards you. A happy kitty is a clawed kitty, just make sure you cut their nails!
Conclusion
It may take some time, but every cat is capable of avoiding using your furniture for their scratching needs. If you have any scratching stories or products you think are better let me know in the comments below!
OTHER CAT HABITS YOU MAY BE INTERESTED IN READING ABOUT