If you're anything like me, you dread cleaning your home regularly and will find any excuse to put it off. Chores can be extremely daunting, but if we don't do them and leave things dirty it can become a health risk for our pets and ourselves.
Adopting a schedule or a routine is a great practice, especially if you're someone who tends to slack. I know for us, we've actually put events into our phone's calendar to remind us that it's house cleaning day and/or chinchilla cage cleaning day!
While it may seem like cleaning a chinchilla's cage thoroughly may take quite some time, if you break up the tasks over the week they can become short 5-10 minute sessions. That being said, some tasks can be done quickly while you are refilling food or water bowls, making it easy to kill two birds with one stone.
So let's get cracking and cover everything you need to know about cleaning your chinchilla's cage and how often you're going to need to do it!
SO HOW OFTEN DO I REALLY NEED TO CLEAN MY CHINCHILLA'S CAGE?
We, personally, clean our chinchilla's cage thoroughly every 3-days. We've decided to do this to match our chinchilla's bath schedule.
While this can be seen as overkill for some pet parents, I would strongly recommend thoroughly cleaning your chinchilla's cage at least once a week. If you choose to do this, I would also recommend doing daily sweeps removing any uneaten hay and stray poops.
CLEANING CHECKLIST
The following is a thorough checklist of all the things that need to be cleaned in a chinchilla cage and how we choose to clean them.
CLEAN THE SHELVES, BARS & FLOORS
Because your chinchilla is going to be doing a lot of pooping there is the chance of bacterium growing on the shelves. If not properly disinfected, your chinchilla may develop respiratory problems later on. Just because there's no problem now, doesn't mean that it will always be that way.
We clean our chinchilla's cage with vinegar and water. Vinegar is considered a safe cleaning agent for chinchillas, however, dish soap and other forms human soap is not considered safe. There are, however, some cleaning agents that you can buy for small mammals such as the "Amazing Small Animal Cage Cleaner".
If you choose to clean your cage with vinegar as we do, I would recommend mixing 1 cup of vinegar with 1-10 cups of water (dependant on the strength you want it.)
I personally do a 50/50 mix to ensure that the vinegar is not too strong. I would also put the concoction into a spray bottle for an easy cleaning experience.
I would perform this task a minimum of once a week and would make sure to even clean wooden shelves.
Whether you use bedding, shavings or a towel in your cage, you must regularly dispose of the bedding/shavings or wash the towel.
To my knowledge, there aren't many differences between using any of the above and will depend on the preference of the owner and chinchilla. We use a towel because of the type of cage we have and because it was the only thing that stopped Gary from sneezing.
That being said, it's a good idea to change bedding, shavings or your towel every few days to ensure that no bacterium has the chance to grow. This will also depend on whether or not your chinchilla is litter trained as litter trained chinchillas will have less risk of coming into contact with their acidic urine.
Feeding bowls are especially important to clean on a regular basis, whether they are used for pellets or for treats. Reason being? Grime build-up.
Grime build-up is shockingly a big problem for a number of mammals, including cats and dogs. Grime has been linked to heart and liver failure. Though this is true, it takes quite a bit of uncleanliness before this sets in.
Gary, our chinchilla, takes it a step further though by constantly pooping in his food and water bowls. Ensure that you are cleaning food bowls and water bowls on a daily basis.
Water bottles you can get away with cleaning less frequently, though I would still recommend giving them a thorough clean at least once a week. This will help ensure that there is no calcium build-up, algae growth or other residues that are harmful to your chinchilla.
As is with most things when it comes to cleaning for chinchillas, I recommend using vinegar and water. This is especially important when it comes to apparatus that your chinchilla will be eating or drinking from as soap suds have the potential of causing an upset stomach or even diarrhea.
If there is build-up on the object you are cleaning I would recommend using a bit of baking soda along with the vinegar to give it a deep scrub. Just make sure to give it a proper rinse through to ensure that there's no taste of vinegar or baking soda.
There are two steps to cleaning a litter box: emptying the litter and actually scrubbing the litter box clean.
As a cat owner, I know I was originally surprised to hear that you have to clean your litter box at least once a month. The same thing can be said about chinchilla litter boxes.
I recommend dumping your chinchilla's litter box daily if not every other day and refilling it with litter. This will make sure that your chinchilla's litter box does not become too full of urine and/or feces.
That being said, I would recommend scrubbing your chinchilla's litter box clean at least once a week. You can do this with some baking soda and vinegar, or just vinegar. This includes both the metal bars and basin as both are susceptible to the growth of bacteria.
If your chinchilla is anything like ours, he likes to poop in his dust bath. It is important that you do not leave your chinchilla's dust bath in their cage and replace the dust after each use. It is also a good idea to clean the dust bath regularly with vinegar and water.
We usually do this weekly though again this will depend on whether or not your chinchilla regularly poops in their dust bath. Again, the most important part is to ensure that you do not allow your chinchilla to reuse dust.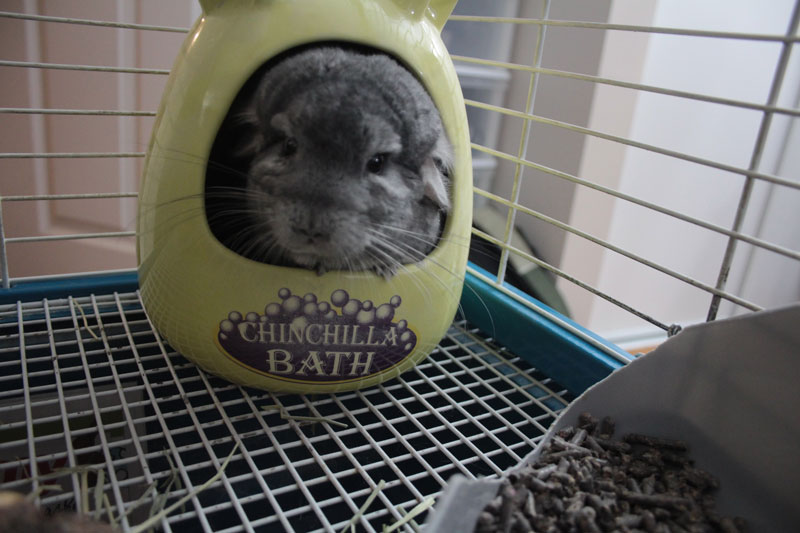 IS IT A GOOD IDEA TO KEEP YOUR CHINCHILLA IN THE CAGE WHILE YOU CLEAN?
While you can keep your chinchilla in the cage while you clean, I honestly prefer to allow Gary to have some playtime or take a bath. We actually have a second cage with a separate set of toys so Gary gets a different experience and doesn't get too bored or the same old things!
While having a separate cage is not necessary, it is handy to have around especially if your chinchilla finds the cleaning process to be overwhelming or stressful.
Another reason I prefer to remove Gary from his cage while cleaning is to ensure that I don't mistakenly spray him with the water and vinegar. That being said, it also ensures that your chinchilla doesn't step on wet areas as water can be problematic for chinchillas.
CAN I USE BLEACH TO CLEAN MY CHINCHILLA'S CAGE?
You definitely can use bleach on your chinchilla's cage, however, I would recommend avoiding it. If not thoroughly rinsed, bleach may cause a chinchilla to get sick.
As you probably know, bleach is much stronger than vinegar and truthfully I even avoid using bleach to clean our house if I can.
If you are going to use bleach make sure that you use it sparingly and dilute it at a 1-10 ratio. (1 Cup of bleach to 10 cups of water).
WARNING: NEVER MIX BLEACH AND VINEGAR. THIS IS EXTREMELY TOXIC TOWARDS CHINCHILLAS.
EXTRA PRECAUTIONS TO TAKE WHEN CLEANING YOUR CHINCHILLA'S CAGE
It's really easy to miss areas to clean when it comes to chinchilla cages, especially if you have a cage that clips into a basin, like ours.
We, truthfully, didn't notice that Gary's poop was getting stuck in the side of his cage at first. While this may not seem like it's a big deal, if the fecal matter is left there for too long it will develop bacteria or even spores which will have a negative impact on your chinchilla's longterm health.
CONCLUSION
Though at first, it may seem like cleaning your chinchilla's cage is difficult and time-consuming, I promise that it becomes pretty second nature. At first cleaning Gary's cage took between 30-45 minutes, but now we've got it down to a short 15-minute span even when we're doing a full clean through.
Remember that while you may not see bacterium or spores, they may still be there and unfortunately, these two factors can cause your chinchilla to get extremely ill. Unlike many other animals, chinchillas tend to get sick very quickly and if not helped immediately they may have difficulty healing.
So, pet parents, I'm curious, how often do you clean your chinchilla's cage? What do you use to clean it? Let me know in the comments below.