Hey Pet Parents & Pet Lovers,
Today is a perfect day for me to write a post like this since I'm an anxious mess as I get ready for touring. If you know me in real life you can confirm that fact that I am usually strung up or stressed, especially when I'm leaving town for an extended period of time.
I'm one of those people who worries about everything, especially when it comes to preparedness and having things ready. Before we left for England I had our bags packed two weeks in advance. I had to make sure I brought everything with me and even over packed just in case there was something I needed extra of. (I even packed 10 pairs of underwear even though we were there for 6 days! Who knows what could happen!!)
Traveling by plane always makes me anxious, especially because of past experiences of selective racism I've had. (But let's not talk about that, since this is a cat blog!)
Photo from I Like to Take Unflattering Photos of my Pets 
Beau seems to always know when I'm anxious…
It's weird that Beau always seems to know when I'm having a hard day, even if I'm not in the same room as him. For instance: today I noticed that my posters and pamphlets for my tour were being sent to the wrong address. Luckily the address was about an hour bike ride away from where I live, but this was something I thought I had already cleared with the shipping company a week prior and my blood started to boil. As soon as I shut my laptop screen (about to scream) Beau popped his head into our office and let out a soft mew. He made his way over to my chair and plopped right on my foot, purring. He obviously knew something was up, it's just weird that he knew even when he was in two rooms over and I was trying to be as quiet as I could as to not wake him.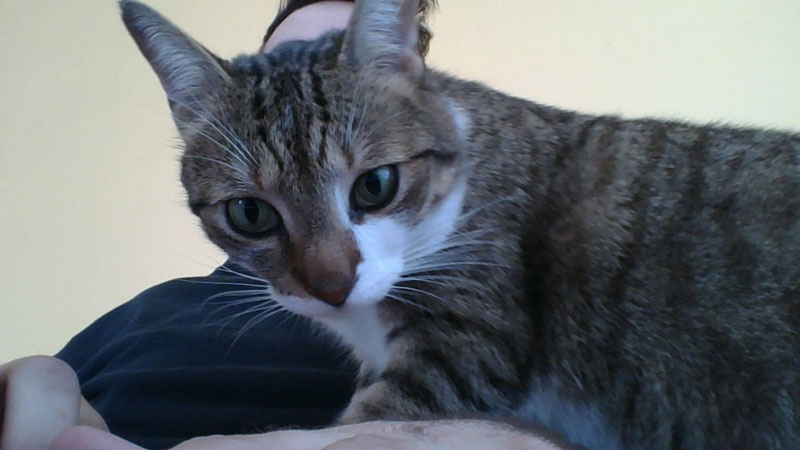 *Photo from Being Re-United With my Fur Baby
Beau also knows when I'm sad…
Most recently I had to leave a job that wasn't suited for me. It was causing way too much stress and was paying way too little. This obviously put a lot of strain on my human relationship, leaving me… how should I put this… a lot more useless than I should have been. I spent hours cruising the internet, trying to find jobs that were in my field… or at least jobs that paid a fair wage for the work that you had to do for them. (It's a lot harder than it seems, eh?)
Guess who was by my side the whole time? Beau. He sat in my arms as I stressed out and even when I placed him in other rooms he would walk right back to me and sit in my arms. The little guy wouldn't leave me alone. It feels like he knew I needed someone to remind me that it was going to be okay.
*photo from Beau has Been Enjoying his Delicious Cat Grass
Beau is the cuddle buddy I always wanted…
When I was growing up I always wanted a dog because they were extremely affectionate. Beau is better than a little pup! Every night around the same time Beau comes to my office to tell me it's bedtime. If he knows I'm awake he lets me know he wants to go to bed. Beau always curls up in between my arm and my chest, letting out one big exhalation before he sleeps. Every morning I find him right next to me in bed (often in a place that is different than where he fell asleep.
It's rare that Beau sleeps on his own at night and if there is a reason it's usually because he's not feeling well or because he woke up in the middle of the night to play. As I write this, Beau is sitting in my lap purring. What a perfect kitty!
Anyone else share some of these sentiments about their cats? I don't know what I'd do without mine. He has been the biggest blessing in my life. I'm so glad we found him that cold autumn night.