Cats do odd things sometimes and one of the weirdest things Kalista does is bite us and lick us. It's a fairly common trait in cats, however, it's something none of our other cats have ever done. So why is it that she's doing it? What does it mean?
As is with most things and cats, there's no straightforward answer. Cats can use one tactic to try to say many different things, so let's cover all of the reasons why cats may bite and then lick you.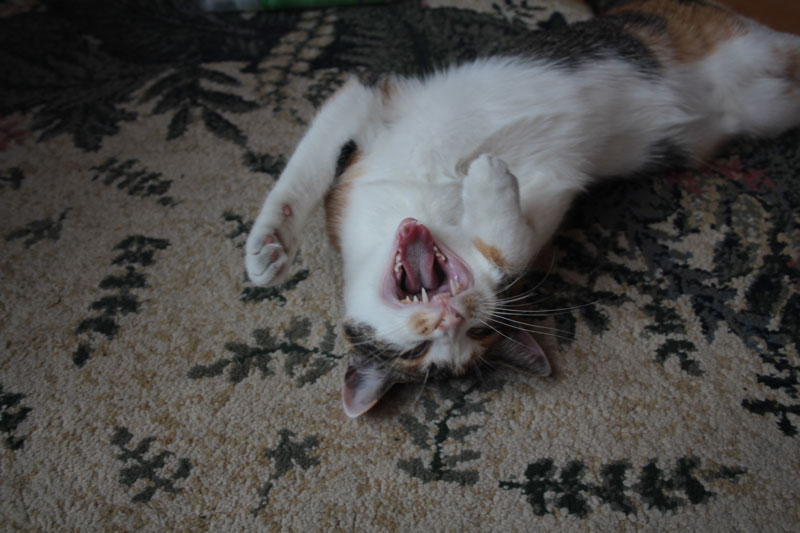 I Love You, Human!
Similar to humans, sometimes we like to tell the ones we love that we love them by giving them a gentle bite. I refer to these as "love bites" and they commonly hurt less than other forms of biting (ie. some of the ones listed below). This is a learned behaviour from your cat's mother. Mother kitties will bite their kittens softly while grooming, so this your cat's way of telling you that they love you in the best way they know how.
This is usually the reason why Kalista bites us, as she usually sits next to us, bites us softly and then begins licking. She usually does this as she's grooming herself or after she's done grooming herself.
If you find this trait annoying, gently push your cats head away from you or walk away from them. After some time they should no longer exhibit this behaviour. Never hit your cat, especially if they are using biting to show their affection as they may co-relate them giving affection to being scolded or beaten.
Note: I never condone scolding a cat by hitting or spanking them, try to train them to understand what specific words mean.
Also, try not to use words like "no" or "stop" as they are words that are commonly used in conversation. Using words that are common in conversation may cause your cat to get scared or feel like they are being scolded when you're merely speaking to a friend or family member.
One of my favourite calming words is "uh-uh" which is a fairly rare sound/word in daily conversation, but still feels natural to humans.
I Want To Play!
Sometimes it can be hard to get a human's attention, so one of the most common reasons a cat may bite then lick you is to get you to play with them.
This type of attention seeking commonly develops in cats who have been taken away from their littermates too early and may not understand what boundaries truly are. These cats commonly play roughly as adults, since they haven't faced the consequences that their family would have potentially incurred (such as yelping, biting or fighting back.)
Although common, this behaviour can be unlearned and probably should, especially if playfulness is the reason for biting. I can say when we first adopted Beau he used to bite us while he played and he actually used to tear through our skin. The only difference is, Beau used to run away immediately after he bit us because he knew he was going to get scolded. Since then he hasn't bitten us unless we've terrified him in some way.
Why Aren't You Feeding Me, Human!?
This used to be the most common reason why Kalista used to bite and lick us, especially in the first two months we had her. The reason we knew she was biting us for food was because she would most commonly bite us in the morning or the evening. We also were aware that she always open fed with her foster parents, which was something we could not do with Beau living in the same house (as he's a little piggy who won't stop eating until he throws up.)
These bites are similar to love bites and are fairly light, however dependant on how long you leave them without food (ex. because you're trying to get them on a new feeding schedule) they can get a lot harder.
I'm Just Going Through Something Stressful
Cats can experience quite a bit of stress and may not know how to express it. Beau's stress is primarily expressed with Pica.
Although Pica is one way cats express their stress your cat may express it by licking, biting or suckling on your skin or even clothing (clothing suckling being an extension of Pica). Again, this is usually a sign that your cat was taken away from their mother/littermates too early.
Suckling specifically is a device your cat uses to comfort themselves when they are feeling insecure or stressed out.
Note: Suckling is an acceptable behaviour as long as the cat is suckling your skin and not clothes. When a cat suckles on clothes they tend to also chew and swallow the material which may lead to other problems like blockages in their intestines.
If your cat is exhibiting this behaviour I highly suggest buying your cat a feeder toy to occupy their attention or check out my article about how I got Beau to stop suckling on our clothes.
If you've already tried those ideas, I would recommend trying out some cat-specific music to help calm their stress. This works really well for both of our cats and I'm so happy I learned about it.
[Click here for a Spotify Playlist for Calming Music for Feline Anxiety & Stress]
I've Had It… Officially!
Sometimes we give too much attention to our cats. This causes your cat to become overstimulated, especially when you over pet them or play with them for too long.
If this is the reason why your cat is biting you they may also put their ears back or their tail may begin to twitch. Unfortunately, this is not a learned behaviour and just a reaction that your cat has to tell you they are not happy with you.
I would advise you to learn when your cat is becoming overstimulated as they will continue to bite you, and dependant on how overstimulated they are they may actually draw blood. This was also something we experienced with Beau, especially because he loves his behind scratched (which tends to stimulate cats very quickly.)
Cats are odd creatures who can switch their moods quickly, however they are also some of the easiest pets to read.
Conclusion
At the end of the day, your cat isn't biting you because they hate you. It's just the easiest way for them to express what they are feeling.
If a cat is licking you after they bite you, it truly means that they love you. I like to think of it as my cats saying sorry for potentially hurting you, BUT THIS IS WHAT I WANT!
In most cases biting can be unlearned or avoided, so if it's been an issue that's bothering you, know that there's hope!
OTHER CAT HABITS YOU MAY BE INTERESTED IN READING ABOUT