Shortly after taking in Gary, our chinchilla, we unsurprisingly started hearing sounds and noises we've never heard before. Being that adopting a chinchilla wasn't originally thought out or planned, we didn't actually know a whole lot about the species or even what the most common questions or concerns regarding chinchillas were. So, when we heard Gary make noises like barking for the first time I'm sure you can imagine how scared we were that something fatal was or serious was happening.
Over the year of having Gary, we've heard a wide variety of sounds, some extremely adorable like cooing and some as scary as a blood-curdling scream. That being said, in what I've learned some of the scarier noises are actually normal and don't call for a freak-out or an emergency vet visit. So, let's cover some of the most common chinchilla sounds, what they potentially mean and how to ensure that you're responding your chinchilla in the way that they need you to.
BARKING
It can be hard to describe what chinchilla barking sounds like, especially because the term "barking" is so heavily associated with dogs. While sometimes a chinchilla does sound similar to a dog, I commonly describe chinchilla barking as being similar sounding to the chinchilla gasping for air while making noise (that's not to say that gasping for air is what's happening though).
Barking can vary in volume and pitch, however, it will always be short and aggressive.
Chinchillas use barking as a form of communication to other chinchillas, somewhat like a signal that there is or may be danger lurking right around the corner. Chinchillas often bark when they are scared, stressed or nervous and sometimes the barking may seem unprompted.
Well-known triggers for a chinchilla barking in a household tend to be loud sounds, whether they be inside or outside. If the sounds are sharp, abrupt, or loud, a chinchilla may become shocked, similar to how we would if we hear a fire alarm or a car crash. That being said, your chinchilla may be shocked or scared of something you can't hear since their ears are sharper than ours.
Now, some chinchillas have been known to bark purely based on their temperament. These chinchillas are commonly referred to as sassy or feisty and often don't want to be picked up. That being said, hope should not be lost if you are hoping to become cuddle-bugs with a feisty chinchilla. Chinchillas with this temperament may take a bit longer to warm up to you, but being that chinchillas are extremely social creatures, chances are very high they will want to hop into your hands sooner than later!
Note: just like cats, dogs or even us humans, chinchillas may not want to interact at all times. There are times of the day where your chinchilla will want to be left alone and it is best that you leave them alone during these periods so they don't begin associating you with being aggressive and begin hiding every time you come around.
SCREAMING OR CRYING
This is by far the most concerning noise your chinchilla will ever make. Again, sounds may vary from chinchilla to chinchilla, however, I would best describe this sound as sounding similar to a baby crying.
Chinchillas may let out loud shrieks or cries when they are excruciating pain. Oftentimes the screaming is paired up with a visual physical manifestation of where the pain is coming from. That being said, not all causes for your chinchilla to scream are external and I highly recommend you take your chinchilla to the vet.
COOING
It took us just over a year to get Gary to start cooing for us.
Cooing is one of the most adorable sounds I've ever heard in my life, and trust me I have two cats who purr constantly when getting belly rubs.
Cooing takes forms in many ways, similar to barking, but often involves a chinchilla "whistling" or even a gentle squeak here and there. As you would assume, this sound is always a positive thing!
Chinchillas use cooing as a form of communication to let their cagemates know that they are comfortable and happy with them. Chinchillas may also coo to themselves as a way of letting everyone around them know that everything is okay, however, a chinchilla who is not cooing doesn't necessarily make an unhappy chinchilla. That being said, it may take years to coo for their owners and may not coo every time they are held and around.
A WARNING CALL OR ALARM
Similar to the bark, a chinchilla may let out a short or rapid outburst when they are scared or want to scare a predator. While I describe a bark as sounding like a chinchilla is sucking in air, a warning call sounds like the chinchilla is shouting or pushing out air.
Chinchillas most commonly let out warning calls when they get scared or if they sense another animal in the vicinity that they do not trust or consider a predator.
Chinchillas instinctually let out up to 15 of these warning calls to let their fellow chinchillas know that danger is near.
A warning call or alarm is often followed with a chinchilla sporadically running around away to either scare the predator or get away from them.
TEETH CHATTERING OR GRINDING
Ever been told that you grind your teeth at night? Or ever been so stressed out you begin gritting your teeth together? Well, your chinchilla can experience the same habit/instinct.
Teeth chattering or grinding tends to be a concerning sound that means that your chinchilla is in pain, feeling threatened, feeling stressed or scared. That being said, if your chinchilla is exhibiting this behaviour it would be best for you to contact your vet and get your chinchilla examined to ensure that they are not suffering from any ailments, a broken limb, overgrown teeth, etc.
Now, although this is true some chinchillas will grind their teeth or chatter their teeth as a sign of contentment. While this is less common, it is a possibility especially if your chinchilla has been doing it from the moment you got them. Always make sure to be keeping a close eye on your chinchilla and see if there are any changes in their behaviour as a behavioural change tends to accompany a hurt or sick chinchilla.
Note: when I refer to "teeth grinding" I'm not referring to a chinchilla using a chew toy to grate down their teeth. Teeth grinding refers to a chinchilla using their own teeth to grate either by moving them back & forth, side to side or even by quickly opening and closing their mouths.
THE GRUNT/GRUMBLE OF ANGER OR DISPUTE
Often used by nursing chinchillas, the grunt or angry grumble tends to be let out by a mother who has babies who are fighting over her milk.
If a mother feels like her babies are causing too many problems, she may become frustrated with them and as a means to separate them will let out a raspy grunt or grumble. Oftentimes this is also paired with her spraying her babies with urine while standing on her hind legs.
Similar, a female or male chinchilla may get annoyed or bothered with the other and will grumble or grunt as a way to tell them to back off or leave them alone. This is also usually paired with the female screaming and spraying urine onto the male. Is it just me, or does it seem like mama chinchillas like to spray those who she's upset with!
HICCUPING
A softer version of a bark or alarm that is often heard after mating. It is uncertain what really causes hiccuping, but it is normal and nothing can be done about it. Hiccuping may last for a few minutes at a time and should be nothing to be concerned about.
SQUEAKS & SOFT CHIRPS
I decided to put these two together since they are often seen at the same time. A baby chinchilla may chirp quietly to their mother when they are hungry. It is often paired with the baby putting their nose up to their mother's nose. As a response, the mother may squeak back at her baby and even begin licking the baby.
During the time of feeding the mother may choose to continue cleaning her baby as it's a perfect opportunity to access a calm child.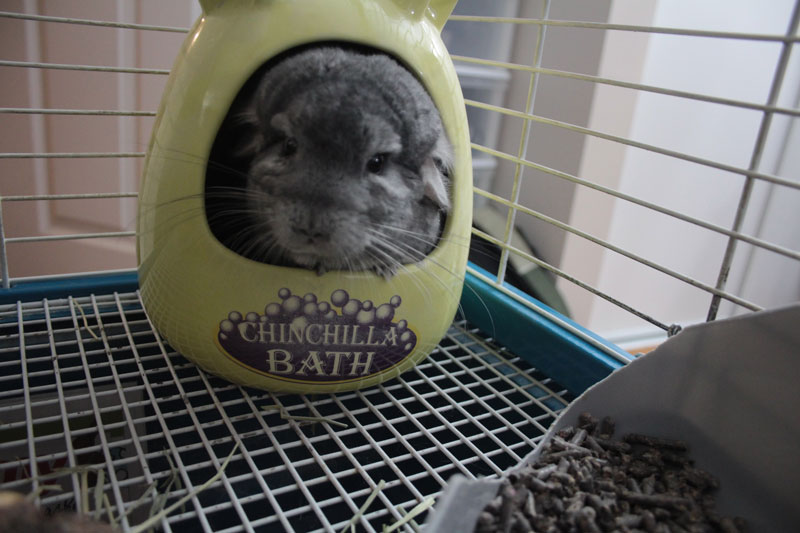 DONKEY SOUNDS OR PROTEST
Honestly, the best way to describe this is the chinchilla version of an "ee-ahh" or however, you would like to phonetically write out a donkey's call.
This is the sound a chinchilla makes when they are upset, do not want to be surrounded by their playmates or are getting annoyed. Chinchillas may also do this if they are not given access to their food or have to fight for their food.
Although this call is often fairly soft-spoken it is a sure sign to leave your chinchilla alone or to separate them and give them access to their own food bowl.
THE DECOY SOUND
This is an adorable sound that sounds similar to when you wipe a wet piece of glass.
They are short, soft and quick-paced; often meaning that a chinchilla is looking for something in the cage (often their playmate).
If your chinchilla is making this noise and you do not have a playmate for them, they may actually be calling out for you to come to play with them!
CONCLUSION
It can be hard to differentiate between all the sounds chinchillas make, especially because they are all quite similar in nature.
Over time you will begin recognizing the nuances in the way your chinchilla speaks to you, or your chinchilla may begin altering the way that they speak to you if they get what they want in other ways.
If ever your chinchilla lets out a shriek or repeats the same noise progressively (getting louder each time) make sure to take your chinchilla to the vet immediately. That being said, even if you are slightly concerned it's a good idea to take a recording of your chinchilla's noise and ask if you can send it to the vet for them to quickly let you know if the scream is typical or atypical.