Chinchillas are by far one of the softest and most furry animals I've touched to this day. If you're the proud owner of a chinchilla, I'm sure you know by now that there is nothing in comparison to petting your chinchilla… and I have two cats who love to be pet!
A chinchilla's fur is their prize possession not only because of how soft it is, but because it acts as a layer of protection from harmful ailments, and helps keep their skin healthy and protected from parasites. So, it would make sense why you would worry when your chinchilla begins losing it.
That being said, there are a few reasons a chinchilla may begin losing their fur and while some reasons should not worry you at all, some will warrant a vet visit.

THE "FUR SLIP"
Not every pet likes to be held, trust me I know! My youngest cat, Kalista, loves attention, but as soon as you pick her up she becomes the squirmiest little worm and tries to escape from your hands immediately.
Chinchillas, being the small creatures they are, have a built-in mechanism to help them escape situations like these! In the wild, chinchillas are considered prey to a number of larger animals and when held tightly, stressed our or when they have their fur caught into something they will release tufts of their hair to get away. These tufts may include pieces of their body hair or even pieces of their tail.
Dependant on your chinchilla's temperament they may attempt a fur slip simply because of the way you're holding them, even if you are not squeezing them too hard. Make sure you are taking the proper amount of time to introduce yourself to your chinchilla to make sure that you are not stressing them out when you are picking them up. Some ways you can handle a chinchilla include, cupping your hands so your chinchilla can stand, holding your chinchilla by the base of their tail (so one hand is under their bum and they can stand on their haunches or the least popular among chinchillas by holding your chinchilla with your palm under their stomach and your thumb above their back.
Chinchillas who are held by placing your hand under their stomach and thumb above their back most commonly "fur slip" as this position makes some chinchillas feel vulnerable or trapped.
It is always a good idea to have some chinchilla treats lying around the house to make sure that you have a way to help positively re-enforce any interactions you have with your chinchilla.
Fur slips should be avoided at all costs as it not only is a sign of a traumatized/stressed out chinchilla but may also lead to a balding chinchilla. If a chinchilla has to "perform" fur slips frequently enough, the chinchilla will become susceptible to a number of ailments. That being said, it will take a few weeks for a chinchilla's fur to begin growing back and will take several months to fully grow back.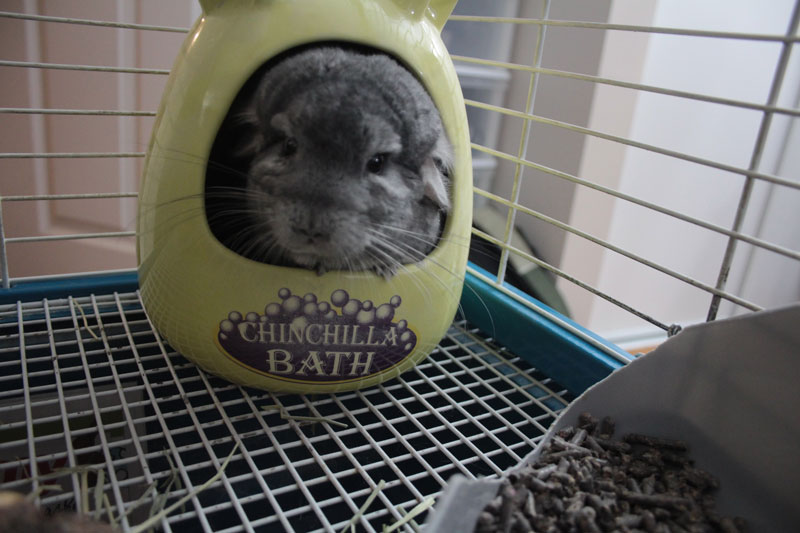 FUNGAL GROWTH / DERMATITIS
As mentioned, a chinchilla's fur is the main defence from fungal infections and other physical ailments/illnesses. That being said, it's extremely important that you keep an eye out on your chinchilla and make sure that you are giving them dust baths every few days to ensure that the fur stays soft, dry and healthy.
Similar to humans, chinchillas can experience a range of skin problems such as ringworm. Fungal growths can cause a chinchilla to lose patches of their hair around their nose, ears, eyes, back, chest, hands, and feet. While fungal growths can be prevented with dust baths, it is recommended that you see a vet after an infection has been suspected. Fungal growths may require antibiotics, creams or other forms of medications to ensure that your chinchilla makes a full recovery.
At this time your vet may also recommend different forms of care for your chinchilla, including either reducing or increasing the number of dust baths you provide. Your vet may also recommend changes in the way you clean your chinchilla's cage or dietary changes you may need to make in your chinchilla's life.
FUR BITING
Similar to cats who bite or chew on their fur, fur biting or chewing is usually a sign of a chinchilla who is stressed out. Chinchillas may even chew on their cagemates' fur to help keep themselves calm. This behaviour must be dealt with quickly and oftentimes with the help of a vet as it can also signify an underlying health issue.
Some other causes of fur biting are dietary deficiencies, dental issues (which can be prevented or helped with chew toys), hormone imbalances, irritated skin/fur (often from parasites or fungal growths and infections), and boredom. That being said, although the most common reason for fur biting is stress, that doesn't mean that a vet visit is not warranted.
If the cause of the fur biting is definitely stress it would be a good idea to keep a log or journal of your chinchilla's behaviour throughout the day. If the cause of the stress is pinpointed (such as another animal in the household, a specific noise, scent or even too much heat) it should be removed immediately from the room. That being said, if the cause is another animal (especially a dog or a cat) it would be smart to isolate what we will call the "predatory" animal. While predatory animals may be docile around chinchillas, the chinchilla may still exhibit signs of stress. In times like this, it will be important to keep a mindful eye on your chinchilla to see if there are any other signs of stress (such as hiding, screaming, yelling or attempted biting).
While fur biting may occur anywhere on a chinchilla's body, it does most commonly occur on a chinchilla's back, especially closer to the tail. Similar to fur slips, hair that is lost during fur biting may take a while to regrow and will often appear darker than fur that was previously there. That being said, hair that is chewed off may not regrow to the same length as the hair that is already there, though it should be equally as healthy.
NATURAL SHEDDING
Just like every other animal with fur, chinchillas will naturally shed, although less frequently than other animals. Chinchillas are known to shed about every 3 months and fur may appear uneven or even patchy. Shedding is harmless, though if ingested it may cause your chinchilla to choke. It is important to remove all of the excess hair while cleaning the cage regularly to lower the chances of your chinchilla ingesting their fur.
Shedding usually lasts about 2-weeks and will not require a vet visit. If the chinchilla's body becomes overly exposed or you are ever nervous about the amount of hair loss your chinchilla has undergone it is always advised that you take your chinchilla to the vet as they are the only ones who will ultimately be able to rule out an underlying health condition.
CONCLUSION
At the end of the day, it's not a regular occurrence for chinchillas to lose their fur unless they are currently in a shedding season. If ever you notice patches of fur missing or notice that your chinchilla is self-harming take them to the vet immediately for an inspection.
At the end of the day, chinchillas, being the small mammals that they are, are susceptible to a number of ailments, especially through the skin.
The great news is that most conditions that have to do with skin and fur are easily curable, although some may require the help of ointments or oral medications. That being said a lot of these conditions can be avoided by giving your chinchilla regular dust baths, feeding your chinchilla a proper diet and making sure your chinchilla lives in a clean and large enough cage.
If you're ever worried make sure you give a call to your vet and they may be able to answer some of your questions over the phone or will have you in for a check-up. It's always a good idea to keep a log or a journal if you're noticing changes in your chinchilla's health, temperament, etc.