It can be scary when your cat ends up self-harming, especially if there is seemingly nothing wrong healthwise with them. One of the most common forms of self-harm cats express is pulling out their hair.
It's easy to assume that the cause of self-harm stems from psychological or behavioural problems, however, cats have been known to pull out their hair for a number of reasons.
In all cases of self-harm, you should consult a vet to make your cat receives a proper diagnosis and the medications they need, if necessary. That being said, it's always good to do a quick scan of your cat to see if you can find the root of the problem before you visit the vet to make sure that they receive all the information they need to make the proper diagnosis.
The following are the most common reasons why cats will pull out clumps of their own hair.
ALLERGIES & ICKY BUGS
Just like humans, cats are sometimes born with allergies or develop allergies over time. Although, unlike humans, it can be fairly difficult to pinpoint what your cat is actually allergic to and may become a process of elimination between you and your vet.
That being said, the most common allergen that affects cats' skin tends to be flea saliva. Cats who are bitten by fleas should be seen by vets for appropriate medications and/or ointments.
A cat who feels an itching sensation will commonly begin to clean themselves, however, if the itching continues cats will resort to pulling out their hair to try to figure out what the cause of the itch is. This hair usually grows back when treated quickly.
Other allergens which are considered common are certain foods (most commonly chicken), pollen, plants (like marigolds), trees or even dust-mites.
If ever you suspect one of the later as an allergen make sure you document everything your cat has eaten or gotten into contact with and document any changes in their lives. Oftentimes when cats are separated from the allergen all symptoms subside, however, it can take a few weeks or even a few months before results of an allergen are considered "conclusive." This depends on how severe the allergy is and what the actual allergen is (whether it's food, pollen, dust, etc.)
Cats can also contract lice. Now, you're not going to be exchanging any of those creepy crawlies with your cat, because they are affected by their own type of lice. That being said, if your cat has been out wandering, it is fairly easy to catch. Cats can also get a number of mites such as ear mites, scabies and Demodex. All of these mites aren't visible to the naked eye and will need skin scrapings of even an ear cytology to diagnose them.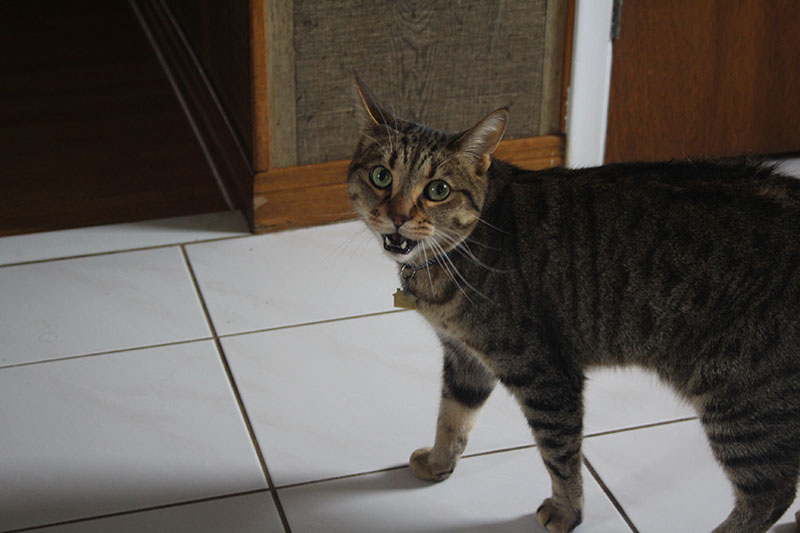 RINGWORM OR OTHER BACTERIAL INFECTIONS
Ringworm is a fairly common ailment that affects both cats and humans. While it can sound scary, it's actually much simpler to understand and cure when you take a closer look.
Although the name of this bacterial infection would suggest that it is caused by a parasite or worm, ringworm is actually caused by a fungus that feeds on skin and nails. This makes it very spreadable and if not treated quickly may become an uncomfortable "family bonding" kind of ailment (like bed-bugs, although a lot less serious.)
Ringworm for humans is usually treatable with over the counter medicine, so if your cat has passed it off to you it will be easy to fix you right up. As for your feline friend, I would highly recommend taking them to the vet just to confirm that they have ringworm. I would also recommend staying away from human topical creams as they may be too strong or even toxic to your cats. Your vet will be able to prescribe a shampoo or spray that will be a better choice.
Some cats may not actually be bothered by their rash and may not even pull at their hair. Our cat Beau had a lesion form and although we're not sure how long he had it before we found it, he didn't seem to mind that it was there. That being said, it is always a good idea to examine your cat regularly as you brush them. Make sure you don't see any discolouration on their skin or hair missing.
AGITATION OR STRESS
Some cats are higher strung than others. You can really see the difference between our two cats. Beau, being the cool, calm and collected kitty and Kalista being the bratty "attention-seeky" princess who only wants attention when she demands it by biting you.
That being said, cats express agitation and stress in very different ways. Beau, for example, will begin chewing on plastics or other foreign objects when he is stressed out. Kalista tends to be a cat who hides whenever she's stressed out.
Some cats will suckle on their tails, over-groom themselves or will even rip chunks of their fur out as a coping mechanism. These different forms of "releasing stress" are all considered serious and none outweigh each other in regards to importance in the grand scheme of things.
If your cat shows any symptoms or signs of stress begin recording when they begin to exhibit these behaviours to predict what it is that's causing the stress. Sometimes the cause is not as obvious and will require you to speak to your vet, while other times the issue is completely surface and has to do with excess noise or a change in routine/habit.
If the stress seems to be due to the cat's personality or seems to be something that cannot be controlled your vet may suggest using Feliway, calming music, changing up their diet to a "stress relief diet" or in more serious cases may prescribe some kitty meds.
Again, I highly recommend taking your cat to the vet if you see signs of stress as they will help you confirm whether or not there is an underlying issue. At the end of the day, it is our responsibility as pet parents to ensure the best for our feline friends.
Fun Fact: Vets sometimes call stress induced overgrooming Psychogenic Alopecia.
[Click here for a Spotify Playlist for Calming Music for Feline Anxiety & Stress]
A SIDE EFFECT TO MEDICATIONS
If your kitty is currently on a medication cocktail, they may be itchy because of the medications. While I would not recommend taking your cat off the medications they have been prescribed, I do recommend letting your vet know about the discomfort your cat is having and hope that they can prescribe something different.
Make sure you take note of the medications that affect your cat negatively as you're going to want to avoid it and all similarly composed medications for the long-term future.
YOUR CAT HAS JOINT PAIN
As cats get older they begin developing osteoarthritis, just as we humans commonly do.
If you haven't experienced any forms of arthritis, consider yourself lucky, because it's not pleasant at all. Cats have been known to experience so much pain that they rip out their hair to fix the problem, unfortunately, this does not soothe an arthritic cat.
I will write a longer article about cats and arthritis, however, it may be a good idea to supplement your cat's diet with some Salmon Oil as it is high in Omega-3 & 6. Older cats need different nutrients than young cats do, so it is always important to consult your vet about what to change about their diet. Always consult a vet if you are thinking about supplementing any nutrients, even if it's a quick e-mail or phone call.
YOUR CAT IS HAVING BLADDER ISSUES/IS BLOCKED
A few months ago we took Beau to a terrible vet who thought that Beau had bitten off his penis, and while the exchange was traumatizing and completely unprofessional, he had a point to his assumption.
Some cats who experience blockages from crystals or other forms of urinary tract infections may become so pained that they mutilate their genitals. That being said, the majority of cats who experience pains from bladder issues tend to overgroom and/or rub their skin raw.
It is best to be aware of the signs of urinary tract infections, especially if you have a male cat. Unfortunately, if left untreated or if they happen too frequently your cat may be a candidate for a perineal urethrostomy.
Note: not all bladder problems are from food, many of them actually occur because of stress. If your cat is one of the cats who experience bladder problems due to stress (or Cystitis) your vet will probably recommend "Hill's Prescription Diet Metabolic + Urinary Stress Weight + Urinary Care" (*phew* long-winded name there, eh?) In Canada it is only possible to get said food through the vet and no grocery store or pet store level food is considered adequate in certain cases.
CANCER
The big "c." Itchy skin has been attributed to skin cancers and while your cat may be looking for some relief, this may actually cause the pain to intensify and the cancer to ultimately get worse.
Skin cancer affects cats the same way it affects humans and must be treated quickly and thoroughly. Although similar to human cancer, there is no "antidote" or remedy for feline cancer, there are a number of medications and ointments that can help relieve your cat from some of the discomforts they are feeling.
WHAT QUESTIONS SHOULD I ASK & WHAT SHOULD I KEEP TRACK OF?
— has my cat's environment changed?
— is the setting in which my cat is in loud or quiet?
— when does my cat over groom or ripping out their hair?
— in what area of their body is my cat over grooming or ripping out their hair?
— has my routine changed and negatively impacted my cat?
— is the licking seasonal?
— is my cat not playing enough?
— has my cat been outdoors recently, and could they have contracted fleas?
— have I changed my cat's diet in the past little while?
— have I changed up any of my furniture?
— has there been a death in the family? (animal or human)
— is there a new member of the family (animal or human)
— does my cat seem to be experiencing difficulty urinating?
CONCLUSION
In all cases where a cat is seen overly grooming an area of their body or ripping out their hair, it is highly recommended that you take them to the vet immediately. All cases of hair pulling are considered serious and must be dealt with quickly as they can be tied to other diseases you may not be aware your cat has.
Upon being diagnosed a vet will always prescribe the associated medications or give advice of what the next steps should be, although many times the prescription will just be a change of diet or a change in your cat's lifestyle/routine.
Almost all causes or underlying problems cats experience which are linked to pulling out hair are curable, with some exceptions such as chronic illnesses such as cancer which are a bit harder to cure or properly treat.
That being said, your vet is going to be your best friend and it's going to be very helpful for you to keep a journal or a running record of your cat's life for the next month or so.