Have you ever been in a situation where it feels like you're having a staring contest with your cat? I know I have and I consistently do, especially with my cat Beau.
For years Beau has followed me into rooms and has stared at me and sometimes I even wake up to him standing on my chest trying to stare deep into my eyes.
So why is it that our cats are staring at us? Is it because they are sizing us up? Are they hungry? Are they trying to learn from each and every one of our moves? Are they just planning to eat us?
The following is a compiled list of all of the reasons why your cat may be staring at you or staring at something in general.
THEY'RE SCOUTING OUT THE AREA
Although the majority of housecats have never lived in the wild, they still have the instincts to scout out their surroundings to make sure that they are safe.
Cats will use both their sense of hearing and sense of sight first to make sure that are no threats nearby. You may also notice your cat's tail perk up or get stiff as they start to pounce for prey.
Cats may stalk their toys or even their owner if they want to play. Cats will commonly stalk their owner's feet, especially if they are under covers at bedtime or at night.
When in "stalking mode" cats' pupils will get very thin and they will lock their gaze on whatever they consider prey. Cats may also move their ears around at this point making sure that nothing is behind them or near them, but their eyes will always stay focused on what's in front of them.
With our cats, Beau is especially interested in playing with our feet when under the covers. Some nights while I'm trying to settle into bed, Beau will jump and attack my feet giving me a 'heart attack." Kalista, on the other hand, gets "extra Pouncey" when we pull out "Da Bird!" As soon as you take out the toy her eyes get so focused on the toy, and she's in love with it even if we're not holding it and actively playing with her.
I'M HUNGRY, WHY AREN'T YOU FEEDING ME?
Similar to the way that cats tend to meow when they need something, cats who are quieter, like Beau, will choose to stare at you when they are hungry.
Usually, hungry cats have wide pupils and will wag their tails patiently staring at you. It is also fairly common for a quiet cat to place their paw on you or rub themselves against you when they are hungry, especially if you don't respond to them or are ignoring them.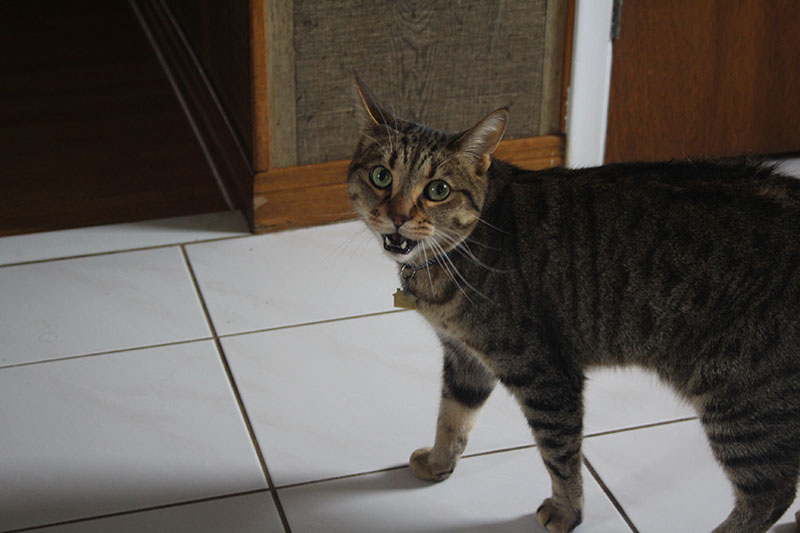 I TRUST YOU, BUT DO I TRUST THEM?
Some cats are "scardey cats" and don't know how to react in certain situations, so they will look at other cats around them or at their owners for clarification.
Cats in these situations will seem much more alert, with their ears sticking up. They may also shift their gaze to the visitor or the location of where the sound in question is. If they notice that you are calm, they will usually begin to calm down themselves, but if you seem to be worried they will also become worried.
This is one of the highest forms of praise a cat can have for a human as it shows that they trust you enough to help them make decisions. Wild cats would often turn to their mothers when in situations like this, so get ready to call yourself "mama!"
The times when I see this stare the most is when Kalista hears someone in the hallway or when Beau hears the fire alarm.
If you are experiencing the later, it is important to make sure that you stay calm to try to keep your cat from running away from you. Fires are terrifying, and you want to make sure that your cat stays as calm as possible so they don't accidentally run out of the house.
Similar to children, cats rely on you to give them the information they need to stay safe. If you notice that your cat is more stressed than other cats you may want to try out some products such as Feliway or even some calming cat music to help keep their minds off whatever is stressing them out.
[Click here for a Spotify Playlist for Calming Music for Feline Anxiety & Stress]
GET OUT OF MY HOUSE!!!
Not every cat is going to get along with each other… trust me, we've had a lot of problems between Beau and Walker.
Cats do a lot of talking with their eyes, and if two cats are caught staring at each other there is a huge chance that a fight is going to start between the two of them.
When two cats are staring at each other without blinking it's usually a sign that they are trying to size each other up. Cats may also stop moving their tails during this time or may even choose to growl or hiss. This is also a sign of aggression and a want for dominance.
It is best to separate cats who are sizing each other up by clapping really loud or by throwing a light blanket onto one of them to make sure they don't see each other.
This usually happens between cats who are newly introduced to one another, but I promise there is hope!
Although Beau and Walker didn't get along well, Beau and Kalista have been doing amazing together!
I'M TRYING TO LEARN EVERYTHING ABOUT YOU HUMAN!
Cats are fairly quick studies and will build behaviours based on things that you do.
For example, any morning where the cats aren't sleeping with me, if they ever hear me shuffle around in the bed or hear me pick up my phone they run immediately into my room and begin to chatter until I get up to feed them. It doesn't matter if it's 9 AM, 10 AM or noon. The cats know that as soon as I wake up, it's time to eat!
That being said, Beau knows the sound of the cupboard I open when I'm getting his food and will bolt across the apartment as soon as he hears it, however, if I'm opening any other cupboard he will usually stay sleeping.
Kalista also knows whenever I'm getting close to the toy closet, or whenever I'm taking a bath and will bounce her way to whichever room I'm in to make sure that I allow her to take part in the activities I'm doing.
You may notice that your cat stares at you while you're sitting in your office chair, or while you're watching TV especially if there's usually a task that comes after whatever it is you're doing. (ie. if you always brush your cat after you finish watching YouTube or you always give them a treat whenever you're done answering e-mails for the day.)
This is one of the biggest reasons you want to make sure you schedule activities for your cat and try not to break the routine.
Your cat relies on you and they have been studying your habits and routines since they moved in. The creepiest roommates you've ever had!
JUST PET ME ALREADY!
I've said it time and time again… I don't understand people who believe that cats are not affectionate or loving creatures.
Although my mom's cat Walker doesn't really like you holding him, he still loves being pet and will make sure you know by looking you dead in the eye and meowing.
Beau is very similar and will march himself into whatever room you're in and wag his tail until you either pet him or if you ignore him he will jump into your lap and make sure he gets the attention he wants.
Cats may also wink at you to let you know that they look up to you and trust you.
YO I'M BORED AND I NEED SOMETHING TO DO…
Cats need to be entertained and even though passive toys like springs or automatic laser pointers are awesome, sometimes a cat just wants to be entertained by their owner.
Cats who are bored will often turn to their owners for entertainment at first, however, if they are not given the entertainment that they so desperately need they will most commonly turn to a destructive nature instead.
These are the cats that you hear of who tear up couches or carpets or may even chew on soft fabrics.
Make sure to take at least 15-minutes out of each day to spend time playing with your cat. You'd be surprised what a simple feather toy or even a regular laser pointer can do.
Although not the best way to keep your cat active, you can also play videos of birds for your cat to keep them entertained.
IS STARING EVER CONNECTED TO A HEALTH PROBLEM?
In most cases staring is not a health problem, however, it has been reported that some diseases such as kidney disease are related to staring. Other conditions include heart failure and hyperthyroidism.
The reason staring is connected to all of these diseases is due to the fact that they all lead to hypertension when left untreated. So, if your cat's pupils are dilated and they don't seem as responsive when they look at you, you may want to take your cat to the vet just in case.
CONCLUSION
Although cat stares can mean a variety of different things, they do become a lot easier to differentiate especially as you start to gt to know your cats more and more.
In most cases there should be no worry involved with a staring cat, however, if for whatever reason you are worried about your cat's staring behaviours make sure to watch out for any other symptoms or signs of illness and call a vet.
So pet parents, I'm curious… how much do your cats stare? Is there ever a time, in particular, they stare more than others? Let me know in the comments below!