Cats are one of the most interesting species to watch and interact with, for me, especially when it comes to learning how to interact with them.
While I have to admit, both of my cats are fairly socialized, cuddly and love to be around us, that wasn't always the case.
I can confidently say that in my experience with cats, every cat has started off by either disliking me or running away from me. I can also confidently say that I have much more success initially interacting with dogs than I have with cats, although that's not to say that dogs are "friendlier" or "easier to introduce to humans."
All that being said… there must be a reason why the majority of cats aren't as keen on meeting new people and are prone to run away… so why is that?

IT'S DERIVED FROM INSTINCT
Cats are a fairly fearful species and that's not to say that cats will always choose flight over fight, however, cats will ensure that they pick and choose the right battles.
Instinctually, cats want to make sure that they are out of sight or asleep for the majority of the day, simply because their predators are awake when the sun is out.
Cats do the majority of their hunting at night, but if for whatever reason they are awake and see a predator they will drop everything and run at impressive speeds.
So, does this mean that your cat thinks you're a predator? Not necessarily, however, early on this might be the case.
Our cat, Kalista, for instance, is a cat who runs based on instinct. If she hears a voice she is unfamiliar with, she will jolt and run under the bed. Sometimes Kalista will even find her brother, Beau, and try to hide behind him.
It's important to allow these types of cats to hide to ensure that they feel comfortable and safe in your home. If a cat is removed from their hiding spot they may begin to distrust you and start to feel unsafe in the location they've chosen, choosing to bury themselves deeper.
For cats who run and hide because of instinct, I recommend encouraging your cat to find other spaces to use when they are scared. You can do this by providing positive stimuli in certain locations.
For example: when we first moved to an apartment my cat, Beau, was terrified of the sound of the fire alarm. Every time he would hear the fire alarm you'd see Beau scurry his tubby little body across the apartment under the bed. Obviously, for us, this was a huge "no-no" as it would be extremely difficult to get Beau if there happened to be a fire, so we started encouraging him to sit on top of the bed when he heard the alarm.
Every day, I would provide Beau with an ample amount of cuddles and treats on a specific blanket. I'd also swaddle Beau in the blanket every so often and let him sleep in my lap, letting him know that this blanket was his safe space. Within a few weeks, Beau started going to the blanket to sleep even when he wasn't scared. Luckily… or unluckily… for us the fire alarm would go off at least 5 or 6 times a month, so we got a lot of time to train Beau to jump onto the bed/blanket and to this day the bed/blanket is still his "safe space."
Safe spaces can be virtually anywhere, whether it be a cat tree, cat bed, or even just the couch, as long as the area has the scent of your cat, they should feel much more comfortable. Great stimuli to use are treats, toys, catnip, and of course the love and affection of a pet parent.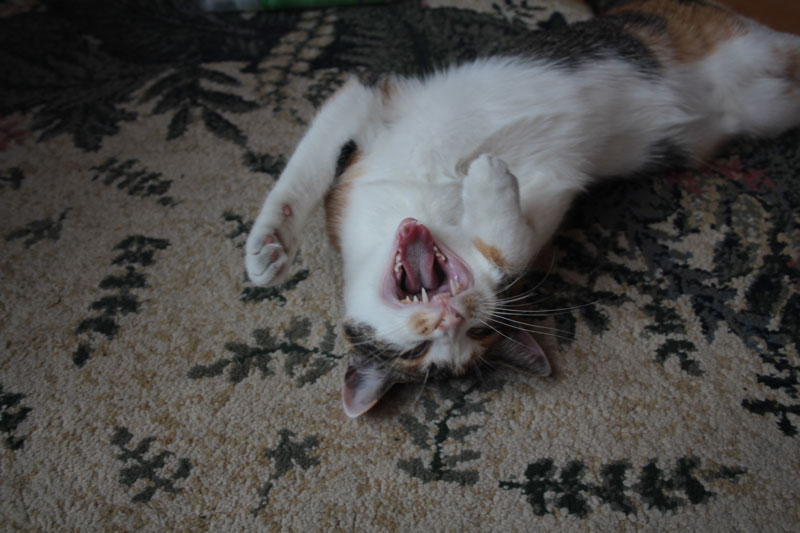 YOU'RE GOING TO ATTACK ME!!! I DON'T TRUST YOU!!!
It's easy to forget that sometimes your cat doesn't understand your intentions. Just because you know that you're going to be giving them food, doesn't mean that they don't think you're going to hurt them. This was especially true for us and Beau.
When I first adopted Beau he was extremely skittish and didn't trust humans. That's not surprising since he was a stray, but it was surprising how many times he bit me and broke the skin.
Beau wasn't a huge fan of how tall I am, and how fast I move as it made him extremely uncomfortable and if he couldn't get away fast enough he would physically attack me. The shocking part of it is, he would run away or bite me even though 30-minutes before he'd be purring and cuddling me… so what changed?
Well, again, sometimes cats become defensive because they aren't certain what your intentions are, causing them to go back into fight or flight mode. If a cat is ever cornered or knows that they can't escape, they will turn around, growl or hiss and potentially scratch or bite.
For cats like this, you're going to want to start building trust by slowly moving towards your cat and letting them know you're not going to hurt them. It helps crouch to make yourself appear smaller if you're tall like I am. If your cat runs away from you even while you're doing this, don't worry, it may take a bit of time for your cat to start getting used to the attention you're giving them.
Always make sure to give your cat a break. If today's "practice session" didn't go so well, there's always tomorrow. The more time you give your cat to recuperate, the higher you're going to find your success rate. If you end up chasing your cat around the house most of the day, there's no time for them to build trust and they will begin associating seeing you to being chased.
While doing this, you can also encourage your little one with treats, toys, and catnip.
YOU'RE REALLY LOUD…
It's true, I am. I have a deep and booming voice that is terrifying to the majority of cats. If you're in the same boat, try lowering the volume of your voice and raising the pitch. This will help your cat feel less intimidated by you.
Will you have to use that voice forever? No. After a while, your cat will become a lot more used to your regular speaking voice, although I would still recommend approaching your cat with a softer voice at all times.
That being said, Kalista still hasn't gotten used to when I sing opera and will always dart out of the room as soon as I "round out those dark vowel sounds." I guess she will understand the beauty of opera music…. or maybe I'm just so bad that she has to leave…
I DON'T WANT TO BE PICKED UP!
Similar to the topic above, some cats don't actually want to be picked up. If you're anything like me, you probably find this unacceptable. Actually, this is the main problem with my mom's cat Walker and my sister's cat Avery. Both cats seem to dislike being picked up, but it doesn't mean that we don't still try.
For cats like this, you're going to want to make sure you reward them before and after you pick them up. If ever your cat squirms while you are holding them, release them immediately. This helps reinforce the fact that you are not holding them against their will.
If a cat is released when they ask to be released they will begin associating being held as "now I'm being picked up, but I know I will be let go as soon as I want to."
As you continue to practice holding and releasing your cat, you will notice that the interactions last longer or your cat will start squirming much later than usual. Your work is not done though! Begin releasing your cat before they ask you to let go and reward them with a treat or catnip. This again will help reinforce that this is a positive interaction.
This is actually how we helped Beau become the cuddly teddy bear that he is these days. But does this mean every cat can become cuddly? Yes and no. You can especially see this with our cat, Kalista, who originally hated to be held or too close to us. Now Kalista is consistently sitting in my lap and sleeping in bed with me.
ANY OTHER GENERAL TIPS OR TRICKS TO HELP GUARANTEE YOUR CAT DOESN'T RUN AWAY FROM YOU?
IGNORE THEM. IGNORE THEM. IGNORE THEM.
Oh my gosh, I can't tell you how much that helped with Kalista and I. Kalista was a huge fan of my partner and me being the jealous type started jokingly taking Kalista away from my partner. Kalista was not having any of it!
Early on, Kalista would even jump off my partner's lap to run from me, just because she knew I was probably going to pick her up. So… I started ignoring her. Anytime I'd see Kalista with my partner, I'd just talk to him and refuse to pet her or even interact with her. And what do you know… Kalista started jumping off of him to come to bunt me.
If ever a cat comes and bunts you or even kneads you make sure to positively re-enforce it. Give them a small pet on the head or on the back and I guarantee they will start doing it more and potentially may even come on their own will to do it.
It's actually gotten to the point where if I call Kalista's name she'll come into the room and scent me immediately. How adorable!
CONCLUSION
Although it's fairly common for cats to run away when you approach them, there are definite tips and tricks you can follow to ensure that both you and your cat have a great experience together.
Always make sure you are watching your cat's body language to see whether or not they are comfortable with the interaction that is currently taking place. If they are uncomfortable do not try to console them, just let them go. Consoling a cat will just cause them to become more agitated as cats are more independent and will want to take care of themselves.
That all being said, I truly believe that every cat has the capability of becoming "cuddlier" or becoming better socialized. I would also note that not absolutely every cat wants to show affection by being snuggled or cuddled and you may have to settle for your cat just being happy that they are in the same room as you.
So I'm curious pet parents, how many of your cats run or ran away from you? What have you tried or did you try to help make them more comfortable? Did it work? Let me know in the comments below!
OTHER CAT HABITS YOU MAY BE INTERESTED IN READING ABOUT