Hey Pet Parents & Pet Lovers,
Although cat sneezes are one of the cutest sounds I've ever heard my cats make, it can be concerning especially if your cat repeatedly sneezes.
Sneezes every so often are nothing to worry about, however, if your cat sneezes regularly (even if it's a few times a day) you definitely want to start investigating what the culprit may be.
It is always best to get your cat checked out by a vet to confirm, however, the following is a list of the most common reason why cats sneeze.
DUST
Let's start off with something we all have problems with… dust!
Since cats are so low to the ground, they are much more affected by dust than we are. A common trigger for sneezing tends to be dust and the solution is fairly simple… clean your house!
If your house is clean and the vet has ruled out all infections or illness the culprit could actually be your litter. If you are using a dusty clay-based litter you may want to switch it out for a higher quality litter such as World's Best Cat Litter.
I personally have a sensitivity to dust, meaning whenever I scoop clay litter I get fits of sneezing or my nose gets stuffy. That being said, I've had to try a number of litters and to this day World's Best is my favourite with Naturally Fresh at a not so close second. (World's Best for me is much more superior in quality.)
MOULD
Similar to humans, mould has a terrible effect on cats and can actually be more serious on them since they are smaller and closer to the ground.
If you notice dampness or wetness in your residence your cat may be sneezing because of the mould and it should be dealt with right away so your cat doesn't get sick from it.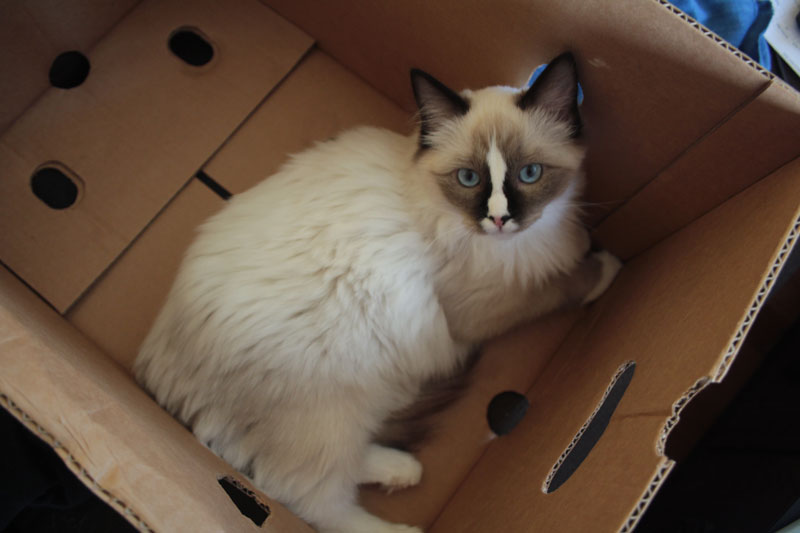 SMOKE OR OTHER CHEMICAL IRRITANTS
Whether it's perfume, tobacco, cleaning products or marijuana smoke, cats can be extremely sensitive to scents, smoke or smelly chemicals.
Take note of when your cat is sneezing and what room they are sneezing in. Commonly this type of sneezing happens in the same place, although smells and chemical irritants can linger in the nasal passage for a few minutes to a few hours.
If you are a smoker please choose to smoke outside or in a room that your cat is not in. Even though the smoke may not bother you, it can create long-term health problems for your cat, including longterm breathing problems or even cancers.
As for cleaning products, if you suspect that they are the culprit, begin purchasing products that either have no scents or don't have as many abrasive chemicals. While in the pet store we usually used Puracy Natural All Purpose Cleaner as it doesn't flare up any allergies and is completely pet safe.
As for perfumes, make sure your cat is not in the room when you spray your perfume and air out the room. If you wear perfume on a regular basis you may want to choose to apply the perfume in the same room every day and close off that room from your cat. That being said, perfumes tend to dissipate from the air fairly quickly, however, it does not dissipate from your clothes or body as fast so make sure you change your clothes or take a shower before handling your cat again.
SOMETHING IS STUCK IN THEIR NOSE
Cats are huge sniffers, it's one of the easiest ways for them to get around and understand where they are. That being said, it does mean that they get foreign objects or debris stuck in their nose from time to time.
For us, the main culprit used to be litter. We'd find little pieces stuck in Beau's nose, forcing us to have to clean them out.
This is one of the main reasons you're going to want to keep a close eye on your cat while they sneeze as foreign objects lodged in the nasal cavity can commonly lead to nasal infections.
Usually your cat will be able to sneeze out the object, however, if the object or debris gets lodged you may have a vet visit in the very near future.
This is another reason why you're going to want to make sure you clean your house and litter box regularly. You will also want to make sure the litter you're using is a higher quality one that is less likely to be sniffed up (another reason we steered away from clay litter.)
DENTAL DISEASE AND OTHER TEETH RELATED ISSUES
This is probably one of the lesser "common sense" reasons why your cat may be sneezing, however, everything in the body is connected.
If your cat is experiencing teeth problems, especially dental disease, it can often lead to bacteria moving to the nasal cavity.
This is most common when cats are experiencing issues with the roots of their teeth, so the teeth problems have to progress pretty far before they start affecting the nose.
In these situations, cats may have to undergo a tooth extraction or a run of heavy antibiotics to fix the situation. If the underlying tooth issue is not dealt with the sneezing will continue to get worse.
Even if you don't get your cat's teeth cleaned or checked yearly, it's very important that you check their teeth. Just like you, cats need regular cleanings and/or teeth examinations. If you have a good vet they will examine your cat's teeth at every visit as a precaution and should be able to tell you whether or not they are in need of a cleaning.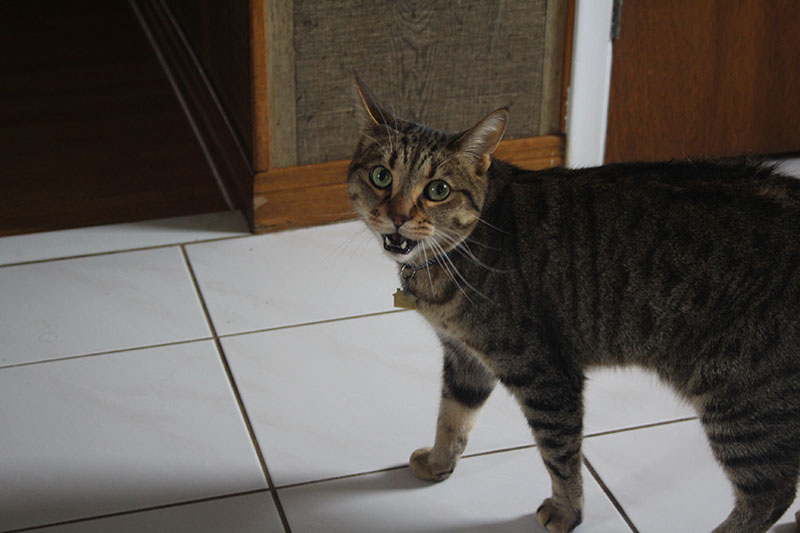 ALLERGIES TO POLLEN
Although not as common as it is for us pet parents, your kitty may actually be allergic to pollen.
That being said, if you start noticing your cat sneezing during a particular season the culprit is potentially those floaty yellow particles!
There is no real remedy for cats who have a pollen allergy, other than making sure that they are not exposed to pollen. You can do such by making sure plants aren't in your home and windows aren't open during "pollen season."
Commonly cats who have pollen allergies experience no long-term health problems because of it, however, it is important to think about the comfort of your pet!
CERTAIN MEDICATIONS AND VACCINES
It's unfortunate when medications are the cause of your cat's discomfort, however, this doesn't mean that you don't want to be facilitating them.
Vaccines and medications are extremely important for the wellbeing of your cat, however, they can sometimes cause discharge or cause your cat to sneeze for a few days after they are administered. This is especially true of intranasal vaccines.
Commonly this sneezing will go away on its own, however, if it is paired with bloody mucus, discharge from the eyes, lethargy, or loss of appetite, please make sure to take your cat back to the vet.
A BI-PRODUCT OF ANOTHER ILLNESS
If your cat is sneezing regularly or has been sneezing on and off for a few days make sure you get your cat checked at the vet.
Sneezing is actually the symptom of a number of underlying health conditions including, but not limited to:
Feline Chlamydia
Bacterial Infections
Feline Herpes
Feline Immunodeficiency Virus (FIV)
Feline Calicivirus Infection
Fungal Infection
Cancer
Pneumonia
Lung Infection
Rhinitis
SYMPTOMS THAT COMMONLY APPEAR WITH SNEEZING
It's important to know that when a cat is sick they commonly show multiple symptoms. That being said if your cat's only symptom is sneezing it doesn't mean that you're completely in the clear. Your cat may still have an underlying health concern.
The following are the most common symptoms that appear sneezing:
Noisy Breathing
Difficulty Breathing
Panting or Rapid Breathing
Ulcers in the Mouth
Weight Loss
Swelling around the nose
Lethargy
Dehydration
Nasal Discharge (should be clear, however, if yellow take to vet immediately.)
Loss of Appetite
Anorexia
Excessive Squinting
Difficulty Chewing Food
Ulcers on the Tongue
Inflamed Lymph Nodes
Diarrhea
Dry Coat
Wheezing
Coughing
HOW DOES A VET CHECK FOR ILLNESS
Oftentimes when a cat is sneezing vets will take a swab of your cat's nose, throat, mouth or even eyes to check for signs of infection.
CONCLUSION
It's always a good idea to keep an eye out on your kitty if they sneeze, even if it's a couple of times. Be sure to make yourself aware of any patterns.
The majority of the time sneezing is a one-off occurrence, however, in a situation where the sneezing becomes repetitive or constant make sure to take your cat to the vet, even if you don't think "it's a big deal."
A vet will be able to decide whether or not your cat is sick and will commonly ask you if you have seen any changes in their behaviours or new patterns.
It's easy to write off sneezing as not too serious, however, if it is attached to any medical condition you're going to want to make sure you catch it early.
Infections are usually easy to deal with, with a round of antibiotics. Even serious illnesses can be managed if given the proper prognosis early on.
I hope this article helped you out and I'm curious, do any of your cats sneeze? Was it a one-time occurrence or was something more serious happening to your cat? Let me know in the comments below!