Hey Pet Parents & Pet Lovers,
It can be hard to receive news that your little one is sick, especially if you've recently adopted them. While diagnosis can be scary and often earth-shattering it doesn't have to be that way.
One very common diagnoses for cats is Feline Immunodeficiency Virus (FIV for short) or often referred to as "Feline AIDS."
WHAT IS FIV?
FIV is a slow-acting virus which affects the immune system. Cats who have FIV become more susceptible to various secondary infections as their immune system is weakened by the FIV.
FIV is often confused for its sibling FeLV (or Feline Leukemia Virus), and although they share some of the same symptoms and cause some of the same conditions they are not the same disease.
Another misconception of FIV is that humans can get it, this is false. Humans cannot contact FIV as it only affects felines.
MY CATS GOT AN FIV VACCINE, CAN THEY STILL GET FIV?
Unfortunately, yes. FIV vaccines do not protect all cats and may actually interfere with the testing of this virus.
It is currently not recommended that you give your cat the FIV vaccination, but instead work at preventing your cat from being exposed to the virus.
This isn't to say that it is not important to get your cat vaccinated for all other diseases, it is to say that this is a disease that is rarer than most (affecting 2.5%-4.4% of cats worldwide) and it is better to get an accurate positive than a result that may be false.
Now, that being said, I would strongly recommend talking to your vet to see how the vaccine has developed over the years and if it has become more effective. Things may have changed from the time this article was published.
HOW DID MY CAT GET FIV?
FIV is passed through blood. It is most commonly passed when outdoor cats get into fights that involve biting. This means that indoor cats are less likely to be infected by this disease.
Although less common, mother cats can transmit this disease to their kittens.
Although very uncommon, FIV can be transmitted sexually as in some cases FIV is detected in semen.
To this day vets have not seen any spreading of the virus by saliva spread through grooming, or by sharing water and food bowls. Vets have also never found evidence that genetics have anything to do with acquiring FIV, however, genetics may have to do with how rapid the virus spreads.
HOW LONG DOES IT TAKE FOR SYMPTOMS TO APPEAR?
FIV is a tricky disease that might take years before any symptoms appear. That being said, once symptoms do develop they progress at different rates. Some cats will show signs of sickness immediately and rapidly, while others seem as healthy as a peach and slowly decline.
WHAT IS THE LIFESPAN OF A CAT WHO HAS FIV?
It is hard to say, however, it has been reported that cats who are kept in a stress-free, clean, indoor environment can live for many years before the disease becomes chronic.
Due to the fact that FIV effects the immune system, if a cat never gets another illness they will experience a normal life expectancy.
WHAT ARE THE SYMPTOMS OF FIV?
— Fever
— Diarrhea
— Anemia
— Weight Loss
— Sneezing
— Unkempt Coat
— Discharge from the eyes or nose
— Respiratory issues or trouble breathing
— Hair loss, itchy skin or redness
— Slow healing wounds
— Enlarged lymph nodes
— Various Dental Disease
— Kidney Failure
— Inflammations around the gums, mouth or eyes
— Sleep problems or disruptions while sleeping
— Physical and ehavioural changes including deafness, blindness, lack of energy or difficulty walking
— Frequent urination, straining to urinate or urinating outside of the litter box
HOW DOES A VET DIAGNOSE FIV?
Most vets will routinely be checking for FIV when you get your cat's bloodwork done.
It is important to understand that no tests are 100% accurate and while vets will routinely check for the FIV antibodies in the blood, they may require other methods to conclude that your cat has FIV.
Kittens may test positive if their mother has FIV, however, they should be checked again 6-months later to make sure that the results aren't a false positive caused by being nursed by the mother.
Many times a vet will run a urinalysis to rule out tumours; parasites; and bacterial, viral or fungal infections.
IS THERE A TREATMENT FOR FIV?
Yes and no. At the moment there isn't an antiviral treatment for FIV. That being said, vets will recommend treatments that will help extend your cat's life and ease them from any of the ongoing symptoms or secondary effects caused by the virus.
Some of these treatments include anti-inflammatories, immune-enhancing drugs, medication for secondary infections, fluid and electrolyte replacement therapy, parasite control and may even change your cat's die to ensure that they get all the nutrition they need.
ANY PRECAUTIONS I CAN TAKE FOR CATS WITH(OUT) THIS VIRUS?
Absolutely! As is with many diseases and viruses that can easily spread between cats you're going to want to make sure you keep your cat indoors. That way you are both protecting your cat from getting any other illnesses while making sure that the neighbourhood strays don't also get the virus.
This is very important when it comes to all feline related illnesses as we can help reduce the chances of other cats getting them. The more we are on top of our cat's health, the fewer chances other cats will get sick.
Make sure you are getting your cat checked by the vet at least two times a year. During these checkups be sure to be asking your vet about foods that you can feed your cat that will ensure that they get the nutrients they need.
Avoid any uncooked or raw diets (unless vetted by your vet and is cat specific.) It is so important to make sure that if you're going to feed your cat a raw diet that the meat does not have certain bacterias or worms. It is for this reason you want to make sure that if you feed an alternative diet you are making sure that it is safe for your cat.
If you take your cat outside make sure that they are always leashed and never left unattended. If your cat must be left with other cats, make sure that all the cats have been tested FIV negative.
WHAT ARE THE MOST COMMON SECONDARY FORMS OF ILLNESS?
To this date, the most common life-threatening conditions that are paired with FIV (not caused by) are kidney failure, cancer and different forms of blood disease.
It is important to stress that FIV does not cause these secondary ailments or life-threatening conditions.
It is also important to stress that these ailments will hit harder if FIV progresses and treatment should not wait until your cat gets sicker.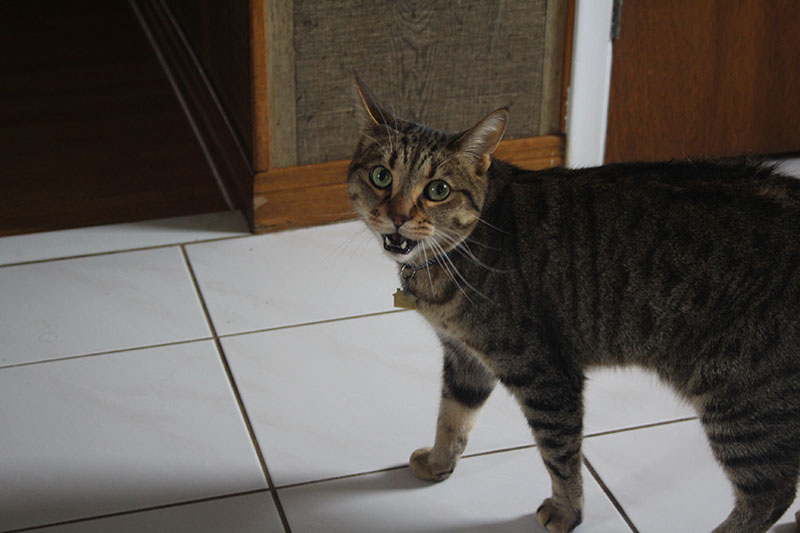 ARE THERE ANY CATS AT A HIGHER RISK OF FIV?
As mentioned, genetics don't seem to play in whether or not a cat will get FIV, however, it is documented that more intact males contract FIV.
This can safely be assumed that it is caused by the aggressive nature of intact males as they tend to be more territorial or dominant.
It is for this reason that you will want to look into getting your male cat neutered to ensure that they are less likely to get into fights with other cats. The same can be said about female cats in heat.
WHAT ARE THE STATISTICS?
"Within 4.5 to 6 years after the time of infections, about 20 percent of cats die; however, over 50 percent will remain without clinical signs of the disease." Ravi, Madhu, The Canadian Veterinary Journal 51.3 (2010):
CAN FIV+ CATS SAFELY LIVE WITH FIV- CATS?
Absolutely! As long as the cats get along and there is no biting, scratching or other forms of aggression, both cats can live long and healthy lives together!
Since FIV is much more difficult to spread in comparison to viruses like FeLV, FIV+ cats can still a perfect fit to adopt in a multi-cat household.
CONCLUSION
Although FIV is definitely a big diagnosis to receive, it isn't ultimately a life sentence. Many cats have been known to live long lives with the virus as long as they were properly maintained.
While there is no antiviral treatment for FIV currently, it doesn't mean that researchers aren't working at developing a treatment.
In the meantime, it is very important to make sure that you isolate your cat from affected cats or vice versa and make sure that they are kept as stress-free as possible. Most importantly, you just have to make sure you love your cat!