It feels like every day I learn something new about my cats. Their habits, their routines and especially what they are trying to say.
Over the years my cats have developed forms of communication to help us understand what they want. For example, Beau will always place his right paw on you when he's hungry. Beau also has different types of meows to let us know exactly what he wants. Some examples of things he has different meows for include a meow for when he's done pooping. for when he's feeling unwell, wants to cuddle, or cute enough… a particular meow for when he wants to play with his little sister Kalista!
Our youngest, Kalista, seems to mostly communicate with touch. She's a cat who tends to bite and then lick us, or will rub herself all over us. Sometimes Kalista will headbutt us, sometimes she rubs her face against various parts of our body and other times she rubs her whole body against us. The interesting thing is each form of "rub" means a different thing for Kalista.
Although each individual cat will develop their own forms of communication (some choosing to be more vocal and others being more physical) many share certain patterns in their behaviour.
Many cats will "scent" their owners, but the part of their body they use to scent may vary based on what the cat wants or needs. On the flip side, cats will alter their meows to let you know the difference between what they want.
Cats, being as intelligent as they are, will clue into whether or not their meowing, scenting or another form of communication is getting them what they want and will repeat this behaviour anytime it is necessary. This is also very heavily related to the cat's personality, but still closely related to how the owner has conditioned (or trained) the cat to behave in certain situations.
So, let's dive into some of the most common reasons why cats will rub themselves against you!
WE'RE A TEAM, BABES
Cats heavily rely on scent and general smells to navigate in the world around them. This is why cats may headbutt or bunt their surroundings and the people that they love. This is often regarded as behaviour that shows affiliation, as Dr. Stephanie Borns-Weil, who is a resident in Animal Behavior at the Cummings School of Veterinary Medicine at Tufts University.
A cat will rub their face or head against individuals as a form of grouping or way to mark them as safe. This is why your cat may rub their face against you if they haven't seen you in some time. It is simply to strengthen their scent on you to ensure that they and other cats around (if there are any) know that you are part of the same team (or family.)
Cats may also bunt or headbutt each other in hopes of mixing their scents and letting each other know that they are not a threat. Oftentimes the more dominant cat in the household will take this responsibility, however, it is not uncommon for multiple cats to take on the responsibility, especially if they are a bit of a scaredy-cat.
This is a trait that proves to be extremely beneficial, especially in the wild. Cats will scent each other in the wild to ensure that if a cat from another "tribe" or pack is nearby they are aware immediately. If a member of their "tribe" or pack begins scenting a foreign cat, the pack will then begin accepting the foreign cat.
I AM TRYING TO STUDY YOU
Cats who have a bit more confidence or who are considered "extra friendly" may rub their faces on strangers or visitors quite quickly. Borns-Well states that this behaviour tends to vary from cat to cat.
Some cats will rub themselves on strangers as a way to invite the stranger to give them some affection, though many are using this headbutt to get some information from the stranger. One of the most important pieces of information that a cat may be looking for is whether or not the stranger has any animals of their own.
This is why some cats will spend some time sniffing a stranger or even sniffing their shoes. Some cats will quickly grow to love a stranger because the stranger carries the scent of another cat. On the other hand, cats who are a bit more afraid may avoid a stranger because they are afraid of being approached by a foreign cat.
Cats will often mark a stranger after they have begun to get used to them as a way of including them to the team.
Note: A cat rubbing their head on a stranger on the first visit is still not considered an invitation to pet the cat. As mentioned, a cat may just want to gain some information about that stranger.
Due to this, it is a good idea to always monitor the rest of the cat's body language to ensure that they are interested in receiving extra affection. See whether the cat's tail is tucked in (a sign of submission or fear) or whether it is wagging freely. A cat may also flop over if they are interested in receiving affection, though a cat may also continuously rub themselves against you or begin meowing.
This is extremely important, especially when dealing with stray cats or neighbourhood cats. Many outdoor cats are initially interested in receiving information, but not interested in being pet or picked up. So, for that reason, it is always important to be safer than sorry. Trust me, being bitten and/or scratched is not fun!
THIS IS MINE AND I DON'T WANT YOU TO TOUCH IT!
Cats are always going to be territorial whether they are considered an Alpha cat or not. Cats will mark their territory to let other animals that they are around.
Cats will use their chins, foreheads, tails or even cheeks to scent both their humans and objects around the house. This is similar to how cats will spray (or urinate) on areas that they consider safe or their own.
Marking territory is considered to be a behaviour that helps calm anxious cats or again, allows them to understand that the area is "home."
Due to the fact that scent doesn't last forever, cats may frequently scent the same area(s) of a home to ensure that their scent is always potent.
Cats will also scent an area throughout the day to allow nearby animals to know that they are still around and should beware. Again, this is why some cats, especially new, are often wary about approaching you if you already have cats.
I WANT SOMETHING
Whenever I walk into my apartment, Kalista, will always come and rub herself against me. Well, she'll either rub herself against me or try to escape into the hallway. This is both due to the fact that Kalista wants me to smell like her, since I've been out for so long, and because Kalista often wants cuddles when she hasn't received them for a while.
Kalista will also repeat this behaviour throughout the day. She will make her way through our legs, pushing herself against us as if to say "look at me, look at me!"
The most common time cats will exhibit this behaviour is when they are hungry. Although many cats are vocal when they are hungry and often beg until their food is served to them, this is usually paired with some full body rubs.
Now, though this is your cat letting you know that they want something, it also has the purpose of making you smell like them. Since cats are extremely vulnerable when they are eating, you smelling like them helps make your cat feel protected from stranger danger.
Truthfully, this is behaviour only our cat Kalista exhibits, though it is very clear that she is much more frightful than Beau is.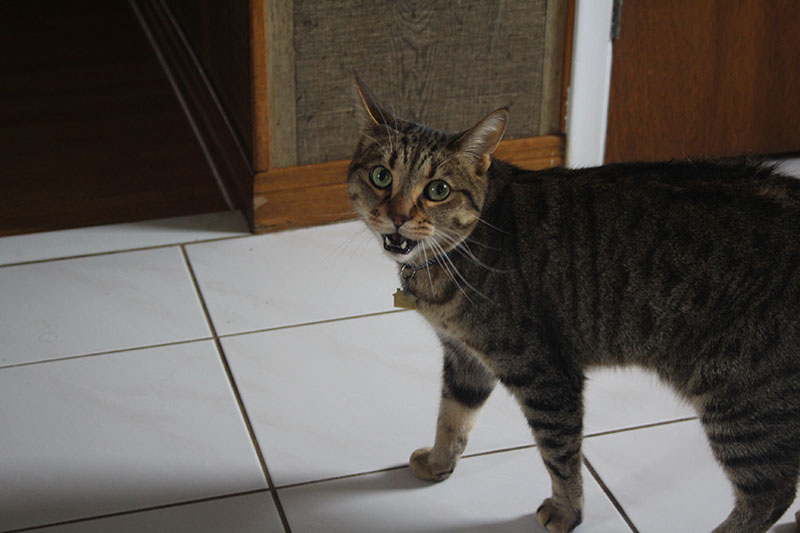 HOW DO I GET MY CAT TO RUB AGAINST ME MORE OFTEN
Honestly, cat rubbings are some of the sweetest interactions you can have with a cat, so it is understandable why you would want to get your cat to do it more. I will say that it is easier to get some cats to scent you than others.
My sister has trained her cat, Avery, to "kiss her" or scent her with his cheek anytime she taps her cheek and says "kiss, kiss!" Honestly, it's one of the cutest things I've seen in the world. The way she achieved this was by positively enforcing the action.
Anytime a cat exhibits a behaviour you approve of or enjoy, make sure to either pet them or give them a treat. This will help your cat understand that this behaviour or interaction is positive and that they should feel free to continue doing it.
Make sure that you do not pick up your cat after an interaction you approve of, especially if they do not like being held. This will help condition the animal into believing that they will always be picked up when scenting, which can be upsetting for many cats. Now, that being said, some cats like Beau won't mind being picked up and may even consider that a form of affection.
You can easily tell if your cat didn't like an interaction if they shake themselves off immediately after. In cases like this, it is a good idea to avoid said behaviour or slowly get them used to the type of interaction. Though that being said, not every cat is going to want to be cuddly and affectionate so it is a good idea to begin noticing what interactions your cat enjoys and which you're going to want to avoid.
CONCLUSION
Although it's extremely cute when cats rub themselves against their owners, cats tend to rub themselves on people to gain information or leave information behind.
Cats rely on the sense of smell to get information about the world around them. This behaviour comes from the need to mark territory which helps a cat feel safe.
Even in situations where cats are using headbutting or bunting as a form of showing affection, they are still putting their scent on you as a form of claiming you as part of the family.
It is healthy to encourage this behaviour as it helps make sure that they feel at ease and at home. Though that being said, some cats will scent their owners more frequently than others based on their comfort levels and whether or not there are other animals around them.
Cats may also use different forms of scenting or rub themselves against their owners in different manners to signify different wants or needs. These forms of scenting may vary from cat to cat even within the same household.
So, pet parents, I'm curious. How does your cat like to rub themselves on you? Let me know in the comments below!