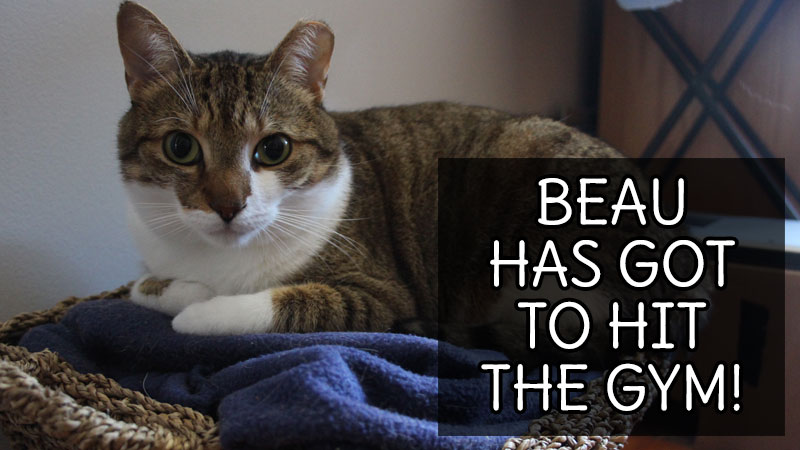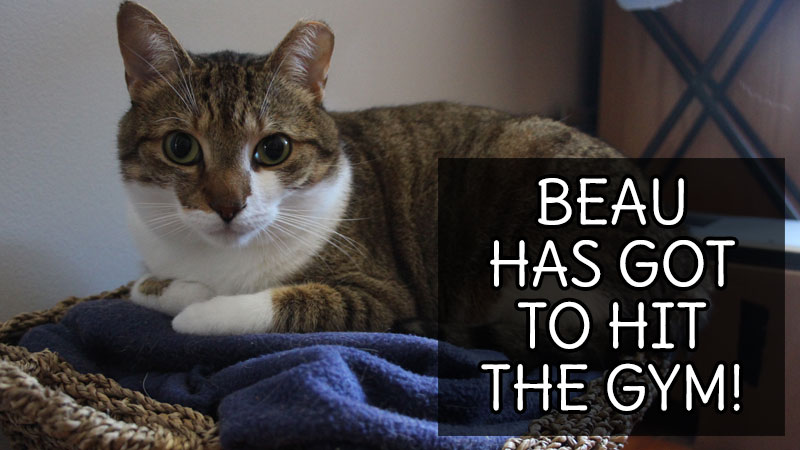 Hey Pet Parents & Pet Lovers,
Since my last weight update, Beau has gained quite a bit… which is starting to become a problem. As you may already know Beau is a very special kitty who needs a lot of dietary attention.
He is prone to UTIs…
Since Beau isn't a heavy, heavy drinker he is prone to UTIs. So far Beau has gotten two UTIs, which have been some of the worst experiences for me. Although it has only happened twice this is something that should never happen to a kitty. We've tried multiple brands of wet food to try to supplement water, but Beau isn't too fond of it. For a few weeks, Beau would eat La Isla Bonita made by Weruva, but he went back to his regular pickiness soon after. Every so often I get to slip him some wet food, but he never seems to want more than a few bites. (Feel free to comment some ideas of foods I should try with him if you've got a picky cat! Beau tends to like Salmon the most or anything fishy.) We've also supplemented water by mixing kibble in a small bowl to try to get him his daily intake. This works really well, but it depends if he has the attention span to finish it.
Beau has an undetermined allergy…
Beau recently was on the Science Diet C/D for his UTI and he would have the runs every few days. Even when his #2s were "more solid" the insides were still wet, which leads us to believe that he had an allergy to something from the food. We already knew that Chicken is a meat that his stomach is not so fond of so we had to avoid that all together. The C/D we chose for him was "Whitefish" but was actually made out of Pork… which seems to be the ingredient his stomach also doesn't like. When we asked the vet which food we should switch him to they stated: We can put him on Purina, but that's the best we can do… just keep him on C/D. Not necessarily the answer I was hoping for, especially as the Purina they were trying to sell me had way too many fillers and Beau had already gained 2lbs from the new Science Diet food.
Beau gets constipated easily…
If Beau isn't fed proper food he can't poop at all. Going back to the Science Diet… Beau would poop every other day to every 3 days. Definitely not something we want. Recently to solve all of his problems we added pumpkin into his diet, switched him back to a more pH balanced food (Blue Buffalo Salmon & Brown Rice since that seems to be the food he has the least problems with) and we have mixed water with kibble. The pumpkin seems to be the best addition to his diet. It's made him a lot more regular when using the litter box and his pee clumps are much bigger!
If Beau is bored, fed once a day, stressed, left alone for too long, underfed, or a variety of other things… he will eat things like tissue papers, plastic (both hard and soft), rubber, cardboard… basically anything he can find around the house. In hopes of reducing this, we actually had to find a food that was higher in fat, change his feeding schedule, be extra careful about leaving things out and around the house, and we make sure not to be out too long during the day. But now… unfortunately it means he has gained a lot of weight and it's time for him to lose the weight.
Beau used to be about 8lbs when we first got him. Since then his "housecat weight" sat around 9-10lbs. Now, Beau is pushing almost 13lbs. It's shocking to see how much bigger he's gotten since the past two food switches (Performatrin Ultra Lamb & Bronw Rice, Performatrin Ultra Healthy Weight and of course the Science Diet C/D.) All three of them really got Beau to gain weight and we've been doing our best to make him lose it. We've been throwing him half of his meal so he can exercise while eating and we've picked up a number of new toys for him such as the GoCat Da Bird Pull Apart Rod which he's already enjoying a lot (we knew he'd probably love it since he loves feather toys.) We're thinking of reducing his feeding again (He's currently at 1/2 a cup and 1 tablespoon of pumpkin) but we're so worried he's going to start chewing on our bedsheets again. Oh why, oh why does feeding have to be so tricky pet parents?
So tell me, what do you do for your little ones when they gain weight? Do you have any advice for me?