Ever take a look at your cat and think to yourself, did you just grow?
I know there have been plenty of times that I've looked at our youngest cat, Kalista, and wondered to myself "did you ever grow to your full size or are you still growing?" Even though Kalista is over two years old, she is still fairly small in size and quite frankly she's smaller than all of the cats in our family.
Kalista is an interesting cat though, in the sense that she did a lot of her growing well past the age of 1. Although it's a popular misconception that cats grow to full size by the age of 1, that's simply just not true.
It's understandable why it's most commonly believed that cats stop growing by the age of one because a lot of adult cat food specifies that it should only be fed once a cat turns one. Although it is true that the majority of cats finish having their growth spurs by the age of one, a good amount of cats continue growing on past this point.
Growth not only depends on the breed of the cat but also depends on whether or not the cat has been spayed or neutered and when the cat was spayed or neutered. That being said, let's break down all the information you may need to know.
WHEN IS A CAT CONSIDERED AN ADULT?
Cats are classically considered adults when they reach the age of one. Adulthood, however, is however similar to humans where cats must go through their "teenage years" where they go through growth spurts and puberty.
So technically a cat is a kitten until they are 6 months old, a junior (or teenager) until they are 2 years old and so on and so forth.
Cats go through puberty between 6-9 months old and females will begin going into heat, while boys may become more dominant or even aggressive. The reason I bring this up is that there's also a misconception that only adult cats can have babies, while this is not true. It is also around this time that a cat stops teething.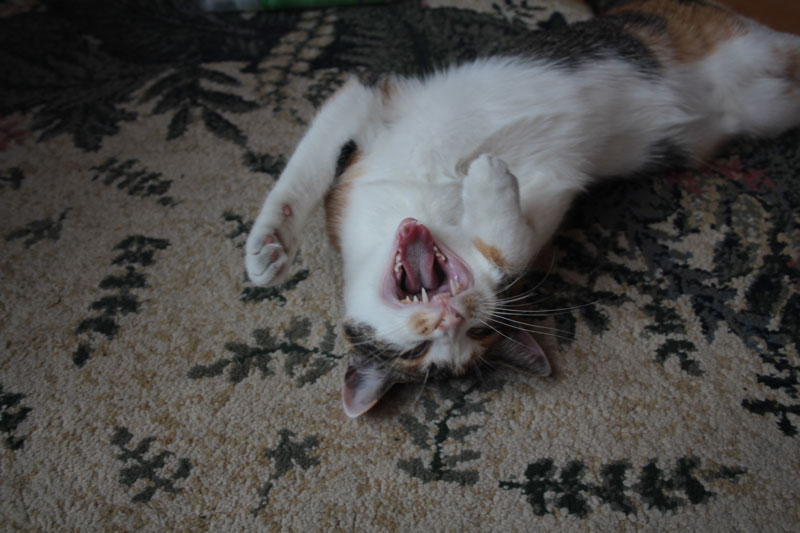 SO EXACTLY WHEN WILL MY CAT STOP GROWING?
As mentioned, cats do the majority of their growing during their teenage years. The majority of cats will reach close to their maximum size by 9 to 12 months of age. That being said, as mentioned many cats will continue to grow past the 1-year mark.
Growths after the one year mark will be fairly slow and in most domestic breeds will end at 18 months.
Maine coons tend to take much longer than any other breed to grow to full size and will typically take between 2 to 4 years to grow to their full size.
SO ABOUT HOW BIG WILL MY CAT GET?
Again, dependant on the breed and whether or not your cat has been neutered or spayed.
That being said, a healthy, typical, average-build cat will commonly weigh in at around 10 pounds, while larger breeds may weigh in at 20-25 pounds (between 3-4 feet long). Again, this will depend especially on the breed of the cat as some cats become much more muscular than others.
At the end of the day, it's a good idea to have a conversation with your vet about how fast your cat will grow and what size they are expected to grow until. If you know your cat's exact age, your vet will be able to make clearer estimations as it can be difficult to estimate your cat's potential grow-size otherwise. I say this predominantly to those of you who have adopted strays. I know both my sister and me had vets say that our cats were much older than they actually were, we knew that they were younger as we met them both as young kittens, but it was hard for the vet to tell since they were both fairly full-grown by the time we took them in.
DO BIG EARS OR BIG PAWS MEAN MY CAT WILL BE HUGE?
Yes and no. Big paws and big ears tend to suggest that your cat is still not fully grown, however, some cats will still have paws or ears that seem disproportionate to their body at full size.
So why do we think that big paws and ears mean big cats? Well, not only because it would make sense, but because there are certain animals who this is true for, most prominently dogs.
DO MALE CATS OR FEMALE CATS GROW LARGER?
Although this will vary from cat to cat, male cats do tend to grow larger than female cats. This is due to the fact that male cats tend to have longer growth spurts than females, though again this is not always 100% true.
There are a number of factors, such as nutrition that come into play when it comes to trying to figure out whether or not your female cat will outgrow your male cat. While at the end of the day the factor that weighs in the most is still genetics, cats who are not fed a properly balanced diet may not actually grow to full size.
Another mentioned factor is when cats were spayed or neutered. Studies have shown that spayed and neutered cats actually grow larger than intact cats. Interesting, eh?
Note: It is heavily recommended that you speak to your vet about when is best to neuter or spay your cat. This is especially important as you may avoid certain health risks or even longterm health complications if you get your cat spayed or neutered at the right time. Cats will not develop properly if they are spayed or neutered too early.
One of our vets actually assumes that our cat Beau got neutered too early because certain parts of him didn't develop to maturity. They actually said that it might be a big reason why we had to put him through surgery for his urinary tract infections.
ARE INDOOR OR OUTDOOR CATS BIGGER?
It is not believed that being an outdoor or indoor cat affects the size of a cat. However, outdoor cats tend to be much more active than indoor cats are, so they tend to be much more muscular.
Indoor cats, on the other hand, tend to range on the obese side due to inactivity and overfeeding. That being said, it's a good idea to talk to the vet about whether or not your cat is a healthy weight and if there are any changes you need to make in your cat's life.
It's also never a bad idea to get yourself some great toys for your cat to play with or without you.
WHAT LENGTH DOES EACH BREED STOP GROWING?
The following are the most cat breeds in order from longest to shortest! Let me know if I missed any in the comments below!
Maine Coon
Height: 8 to 16 inches (20 to 40.6 centimetres)
Length: Up to 48 inches (1.22 meters)
American Shorthair
Height: 8 to 10 inches (20 to 25 centimetres)
Length: 12 to 15 inches (30 to 38 centimetres)
Siamese Cat
Height: 8 to 10 inches (20 to 25 centimetres)
Length:11.5 to 14 inches (29 to 36 centimetres)
Ragdoll Cat
Height: 9 to 11 inches (22.9 to 28 centimetres)
Length: 15 to 26 inches (38.1to 66.04 centimetres)
Savannah Cat
Height: 10 to 19 inch (25.4 to 48.3 centimeters)
Length: 20 to 25 inch (50.8 to 63.5 centimeters)
British Shorthair
Height: 14 to 20 inches (35.6 to 50.8 centimetres)
Length:16 to 22 inches
Russian Blue Cat
Height: 8 to 10 inches (20 to 25 centimetres)
Length: 15 to 18 inches (38 to 46 centimetres)
Persian Cat
Height: 8 to 10 inches (20 to 25 centimetres)
Length: 14.5 to 17.5 inches (37 to 44 centimetres)
Sphynx Cat
Height: 8 to 10 inches (20 to 25 centimetres)
Length: 13 to 15 inches (33 to 38 centimetres)
Abyssinian Cat
Height: 8 to 10 inches (20 to 25 centimetres)
Length: 12 to 15 inches (30 to 41 centimetres)
Bengal
Height: Up to 11 inches (28 centimetres)
Length: 13 to 16 inches (33 to 40.6 centimetres)
CONCLUSION
So while it can take a few years for a cat to grow to full size, you should have a good idea about how big your cat may get at around 9 months to a year.
At the end of the day, each cat will vary on growth rate and size and the best way to figure out how large your cat may become is by taking your cat to the vet.
So, I'm curious pet parents, when did your cats stop growing? What breed are they? Let me know in the comments below!