It's been a while since I last had the opportunity to chase the cats around the apartment and get photos of them doing the things they do best (which pretty much means watching them lay around and do nothing!)
(This blog is going to feature all the photos I took of Beau since there were way too many of all of the pets to upload into one post. Much more to come!)
This past weekend was a holiday weekend for us in Canada, so we had some time on Monday to relax with our family. It was nice and calm, and most importantly we had both of my parents over since my mom is going to be staying over at our place soon. Why? Well, because we're headed off to visit my sister in Portugal really soon!
While the trip isn't a very long one, we thought it would be a good idea to invite my mom over to go through all of the tasks she would have to do while we were gone. Though, don't worry we also drafted up a list of things to do, so she could look at it when she needed it.
I can't tell if I'm nervous about my mom taking care of our pets, especially since we've had someone watch over our pets in the past. Plus, my mom has been really great with the cats over the past year and truthfully, I don't think I have to worry about her and Kalista.
Kalista seems to really love my mom. She goes up to her for attention every so often, talks to my mom, and even flops over for my mom to pet her. It's honestly so sweet to see Kalista interacting and socializing with people who aren't just me or my partner.
Kalista has even been getting closer to my dad, which truthfully happened all of a sudden. On Monday when they came over, Kalista didn't run at all, even when my dad opened the front door. Now, that's not to say that Kalista isn't scared still whenever you knock on the front door, because she's still scared of strangers. But, since my parents no longer knock and just walk into our apartment, it seems like Kalista is fine. So, I'm going to try this new thing where I pick up my friends from downstairs (instead of buzzing them in) to see if that will help Kalista become more acclimated to them quicker.
Who knows, it may be silly, but it's worth a shot!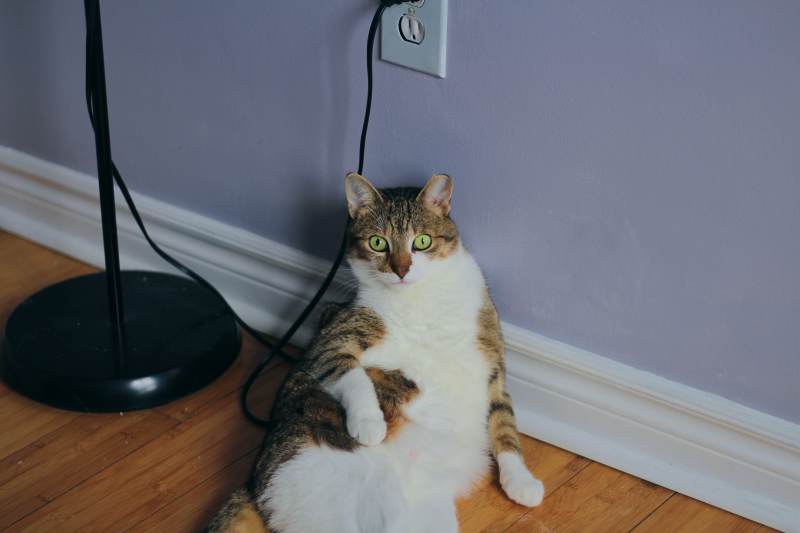 Beau, on the other hand, has always loved my mother. A little Pets Overload easter egg, the little picture at the top of my sidebar is Beau squishing his face on the inside of my mom's knee while Walker (my mom's cat) sleeps behind him.
Beau was always a little snuggle-puss. He loved being around my mom, especially because she would feed him little "treats" here and there. It was really my mom who couldn't get over the fact that Beau would chew on random things, but she quickly grew to love him especially when my partner and I got him to stop.
You can also tell that my mom misses Beau because the first thing she says when she comes to our apartment is, "Where are the cats?" and proceeds to look all over the apartment for them. It's truly very sweet.
She still teases him here and there saying that she's going to bring Walker over, or bring Beau back home to live with Walker (referring to when we all used to live together.)
While there were times where Walker and Beau were inseparable, just like Kalista and Beau, Walker and Beau used to be extremely naughty together. It's like they would bring out the worst in each other.
There was a time where we gave them both bowls with an equal amount of food and Beau kept trying to steal Walker's. Walker ended up eating both of their meals because Beau kept trying to get at Walker's.
You could tell that Walker was the Alpha, but Beau kind of let it happen, so we always had to separate them for feedings and sometimes sleep.

Things are different now, especially with Kalista around. Beau has softened up a lot and has become a lot more cuddly while taking on the title of "Alpha." The only difference is, he's a pretty docile Alpha.
He watches over Kalista from afar, and whenever she initiates a play session he always knows to make sure that she knows he'd win the fight. Although, I will say… Beau lets Kalista pick on him every so often, especially if he knows she really needs to burn off some steam. Eh… it could also be his laziness and unwillingness to engage at times.
That aside, Beau is still very interested in Kalista's food, but it doesn't seem like he's as worried about not having food. It seems like he understands that Kalista isn't trying to compete with him for resources and that at the end of the day he'll still go to bed with a full tummy (which didn't seem the case with Walker.)
I just remember how quickly Beau would vacuum his food up when he lived with Walker. We got him to slow down a bit with his slow feeders, but truthfully I think we're all happy that Beau and Kalista get along as well as they do. Honestly, they're such a perfect pair.

It's mostly Gary who I'm nervous about, but not because he hasn't been doing well or is too difficult to take care of. It's more of the: "this is the first time someone has to babysit our chinchilla.
Gary mostly needs a few checks a day, some quality time spent playing with him, two feedings and his cage to be cleaned every 3 days. So, while it's not a whole lot of work if you're not home to do it… Gary suffers.
Honestly, that's the main reason we didn't ask our friend to babysit again. Our friend works long hours that change weekly, so sometimes even getting Beau fed 4 times a day was a hassle. We wanted to make sure that whoever we found to babysit our pets had time to spare in their schedule, especially because we know Kalista can sometimes be finicky around food.
I'm sure everything is going to go smoothly for my mom and the pets, even though she semi-seriously asked if I would be calling in every day to check in on them. I'm trying, especially this time around, not to be a helicopter pet parent. Though I do hope my mom sends me adorable picture updates, because who doesn't love those!
All-in-all, I'm just hoping that there isn't a clunky transition between my mother taking over and us leaving.
I'm sure if Kalista is feeling uneasy or worried because we're gone, Beau will take over and do his brotherly duty keeping her safe.
I'm really glad that we've gotten more spaces for the cats to play around in and jump while we're gone, especially because one of them ended up being Kalista's favourite place to sleep.
But here's to getting some time to see my sister and meet her newest kitty, and here's to hoping that my cats love spending time with their grandma!