Beau is a little bit of a rascal. You see he was a stray that my sister helped rescue from her backyard and he has become my best friend ever since.
Beau is probably the best cat that I could ever ask for. He's always cuddly and never sleeps without me, and quite frankly I can't believe how much he likes to be held.
Beau's such a great cat that he gets along with pretty much everyone he meets. We had a friend watch him while we were visiting my sister and she sent us snapchats of Beau cuddling with her almost every night, which was absolutely adorable! My favourite part is that Beau has days where he wants to spend all of his time cuddling my partner, walking slowly into my partner's lap or in his arms. When my partner is sick Beau stays with him until he is all better.
Beau is actually currently sleeping by my thigh as I type this, which is one of his favourite things to do… well… or sleep on my lap while I work, or on my laptop, or desk, or his bed next to my desk, or in the cat tree by my desk, or anywhere he can be close to me… [takes in a large breath.]
Thing is… Beau has a bit of a naughty side because he's still a street kitty at heart. If he hears a bird, you know he's going to be on the windowsill trying to paw at it. Beau also has bits of Pica here and there and while we've pretty much got it under control, he has his moments of being… well naughty.
Every so often Beau gets this crazy look in his eyes and will walk up to a garbage can, put his paw on the rim and tip it over aggressively. It's kind of cute, especially because he looks like a baby raccoon, but it's a naughty behaviour that stems from his worries of not being fed. Oftentimes Beau isn't even going for meat or leftover food, he's sniffing around the garbage can for tissues, which seem to be his favourite inedible snack.
If Beau gets his paws on a tissue he will begin growling, guarding the tissue with all of his life. If Beau doesn't drop the tissue within the first few seconds he will begin running around the apartment, continually growling until he has a safe spot to attack, "kill" and eat the tissue paper. These days, Beau doesn't get many chances to actually eat the tissue paper (since we are pretty on top of watching him), but I can't deny that every so often Beau knocks over a garbage can because he smells/sees a tissue.
Now, stemming from Beau's obsession with eating things he's not supposed to eat, Beau's picked up some new habits from his cousin as well as his sister. Something you may not know is that my mom's cat, Walker, use to live with our cat Beau and at points, they were thick as thieves.
Beau and Walker got into a lot of trouble, running around the house knocking over glass vases, hopping into the sinks for midnight snacks (even when there was no food in them), and the real breaking point for us was how aggressive Walker would be with Beau. There were days you would swear that Beau and Walker were besties, spending time grooming each other, sleeping together or even playing; but overall Beau and Walker weren't a good match meaning we made the decision to separate them when I moved in with my partner.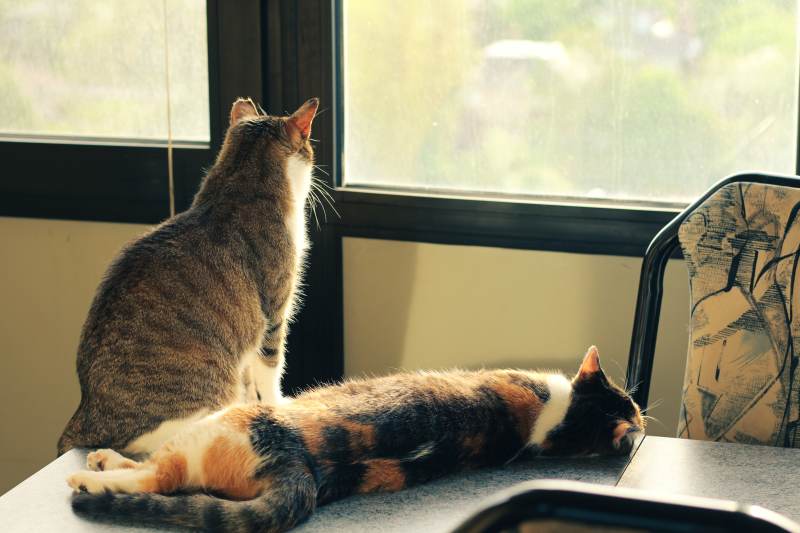 To be honest, separating them was one of the best decisions we've ever made because you could immediately tell how chilled out Beau got. We had a feeling that Beau had pica shortly after adopting him, but we didn't originally realize that it might have been heightened due to the stress Walker put him under. Beau would spend almost every night chewing on my mom's carpets, chewing the faces off of his toys (no joke), eating garbage or eating my clothes/bedsheets. Although we had taken Beau to a couple of vets at that time, both didn't know anything about Pica and so a lot of my questions had to be answered by online forums and pet blogs who wrote about similar experiences.
Shortly after we moved we thought that all of Beau's problems would be solved, now that he was separated from his cousin who was causing him so much stress, but within days of moving we saw Beau's pica peaking through.
Since moving we've built Beau feeders toys, we've bought Beau lots of feeder toys to be entertained with (and slow down his quick eating.) But Beau's now developed another habit…
Since introducing Beau to his feisty little sister, Kalista, he has followed her lead in doing some really naughty things. Something Kalista is well-known for is jumping on counters, especially our dining room table. For some reason, Kalista has chosen that the dining room table as one of her hangouts, occasionally running onto it, looking out the windows, then running around the apartment once more. Obviously, Beau, who is almost as playful as Kalista, chases her and copies her.
You see, Beau has the tendency to copy the people or cats around him. For example, for years we tried to teach Beau how to use a laser pointer, but it wasn't until we adopted Kalista that Beau actually started playing with one. Want to know something extremely weird? Beau actually started playing with catnip toys as of late which is something that he has NEVER been interested in and has never affected him (even though his cousin would go nuts over it).
Well, let's fast forward to now. Now that Beau has been copying Kalista when it comes to jumping on the table, he seems to have started a new bad habit.
Every night for the past week I've been hearing noises in the kitchen whenever I go to bed. Now, I noticed Beau wasn't coming to bed right away these days and I thought maybe he was just taking a bit of extra time to play with his sister, but it seems like he's taken the opportunity to jump on the kitchen counters whenever I'm about to sleep.
As mentioned in previous articles, I get hypersensitive around bedtime and have a difficult time falling asleep because I'm always worried that Beau is going to get blocked again, so hearing things move around and crying is usually a terrible sign in our household.
Well normally when I run to the kitchen I'm already too late and whoever was there mucking about is usually gone, but two nights ago I caught the culprit!
It was Beau, with our grease tray in his mouth! The weirdest thing about it was… it was clean!
Now, I understand that Beau may be interested in our grease tray because we've been making burgers and chicken in our grill more frequently, but for him to be interested in it when it's clean… Gee-Wizz do cats have an amazing sense of smell!
I think what's most shocking to me is that Beau has never been a cat who has jumped onto counters (especially after he moved out from my mom's house.) We've never found him on the stove, or in the sink or anywhere else he's "not allowed" in the 2.5 years since we've moved out… so what makes this different? I'm personally going to blame Kalista… How dare she teach our little angel to be so naughty! 😉
I'm just happy this naughty behaviour isn't eating random pieces of garbage though. I can handle Beau trying to steal our grease tray every so often, but I'm not excited to see what other behaviours our little ones teach each other.
So, I'm curious… what are the weird things your cats have taught each other? Let me know in the comments below!